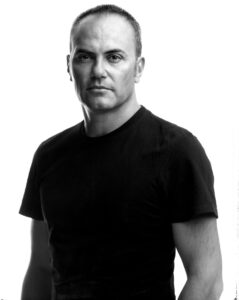 Fred Ventura is the Italo Disco legend who had a number of European club hits such as 'Wind Of Change', 'Heartbeat' and 'The Years (Go By)' between 1984-1989.
Born Federico Di Bonaventura in Milan, he generally wrote and sang his own material, something that perhaps wasn't so prevalent in the world of Italo Disco.
The first Fred Ventura solo single 'Zeit' took its lead from his passion for German language pop and 'Der Kommissar' by Falco in particular, although it baffled Italian audiences!
And while his music was later influenced by NEW ORDER and PET SHOP BOYS, it would be fair to say that some musical transfer also occurred in the opposite direction.
On 'Late Night Train', there may have been some data exchange with Messrs Tennant and Lowe for the sparkly synth riff from 'Domino Dancing', while 1987's 'Imagine (You'll Never Change Your Mind)' and 'Heart' have much in common. Meanwhile recorded in 1985, 'You Want Me' has some striking musical similarities with NEW ORDER's 'Shame Of The Nation'. But by the release of his first album 'East & West', Fred Ventura was already disillusioned with where European electronic dance music was heading and looked towards Chicago House for solace.
Continuing to record in a variety of guises and later running his own Disco Modernism label, he formed ITALOCONNECTION with engineer and producer Paolo Gozzetti with the aim of using classic vintage sounds while looking towards the future. Although they did not release a single in their own right until 2012 with the rousing 'My Rhythm', Fred Ventura's reputation was such that ITALOCONNECTION were immediately in demand as remixers.
In 2010, the pair reworked HURTS 'Better Than Love' while in 2011, their radio mix of THE HUMAN LEAGUE's 'Never Let Me Go' was actually BBC Radio 2's preferred version for airplay.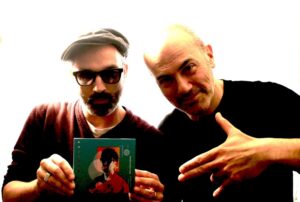 ITALOCONNECTION released their self-titled debut album in 2013 which comprised of their own tracks as well as productions and remixes for other artists, so 2017's 'Metropoli' featuring 'Humanize' could be considered their first album proper.
Some of their more recent productions can be heard on three songs for 'Dollars & Cents', the 2019 debut long player by Britalo exponent KNIGHT$.
With the release of a new ITALCONNECTION album coming soon, Fred Ventura kindly took time out to chat with ELECTRICITYCLUB.CO.UK about his career to date.
What got you interested in the sound of electronic music?
My first contact with electronic music was around the mid-70s, KRAFTWERK 'Radio-Activity' and Giorgio Moroder productions were innovative and pretty unique to the ears of a 13-14 year old boy living in in the suburbs of Milan, even if it was punk rock that grabbed my attention in 1977.
You have been quoted as saying 'Blue Monday' by NEW ORDER was the record that changed your life, can you remember the first time you heard it?
'Blue Monday' was such a positive shock for even someone like me who was already a fan of JOY DIVISION and NEW ORDER. At the time I was starting producing myself some electronic demos and one morning I woke up and switched on my radio and heard 'Blue Monday' for the first time, it was played every hour for 24 hours, it was the record of the day for the station, I remember checking it every hour for almost all day…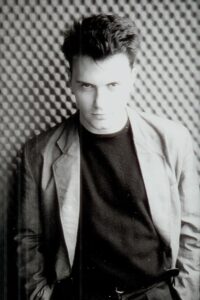 You started with a Roland Juno 60 and Oberheim DX, what led you to choose those as your first instruments? How did you find them to use?
It was not easy to buy the more expensive synthesizers like the Jupiter 8 or the LinnDrum so we had to start with cheaper instruments, more affordable but good enough to sound credible.
After using a few other instruments that were rented, I decided to buy the Oberheim DX and a Juno, they sounded fantastic to me and easy to use, I still own both of them.
What can you remember about making your first single 'Zeit' in 1984?
'Zeit' was the first thing I wrote with a new awareness, after 'Blue Monday' I felt legitimated to flirt with dance music and 'Zeit' was my personal idea of disco, I was very naïve but I knew what I wanted. The main goal was to make a record, I went to the Disco Magic label office, there I met Roberto Turatti who proposed for me to go in the studio with his partner Miki Chieregato to produce the song for a 12", a dream come true, I was 21 and full of hopes…
When did you realise there was some sort of an Italo Disco sound emerging, although of course it wasn't called "Italo" then?
I started to feel part of a sort of movement a bit later, at the beginning it was all about individuals trying to propose their own brand of dance music. Common influences were THE HUMAN LEAGUE, and HEAVEN 17, Bobby Orlando and Patrick Cowley… near the end of 1984, all those Italo records were charting in Italy and starting to spread all over Europe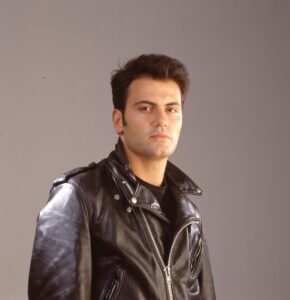 Did you consider SAVAGE and RAF as rivals or brothers in arms?
I never felt rivalry with any of my contemporaries, I'm still a good friend with SAVAGE and I love 'Self Control' by RAF.
You signed to Time Records and had this European pop career, how do you look back on that period as a "star"?
I was not conscious of my sort of popularity, "success" came too late and short, I was already bored of the evolution of the Italo sound, all the producers were becoming more and more commercial.
I felt totally out of place when the BPMs were jumping to 140. Chicago House was getting big in the clubs, I thought it was time for a personal revolution and I quit the scene…
What were your own favourite songs that you recorded in this phase of your career? How do you think they stand up in the pantheon of European pop music?
I'm not that proud of the records I made from 1986 to 1989, I still like the songs but I'm not so in love with the production, the introduction of digital sounds and sampling were changing the feeling of my own demos. By the way, 'Wind Of Change' still sounds good to me and is still getting great feedback during my performances.
The UK never really embraced Italo Disco BUT would accept it through the back door via PET SHOP BOYS and NEW ORDER, were you ever frustrated by the hypocrisy especially from the British press? One journalist admitted "Despite the fact that I love the PET SHOP BOYS as much as I loathe MODERN TALKING, I have to admit that musically, they're not that different!"
Honestly, our main goal was to reach the European market, we felt the UK market was too complicated to reach, considering how many extremely good productions were coming from there. I love the PET SHOP BOYS and NEW ORDER and I have to admit they were my biggest influence. Probably our biggest limits were the lyrics and the Italo-British accent, something that in the rest of Europe was never noticed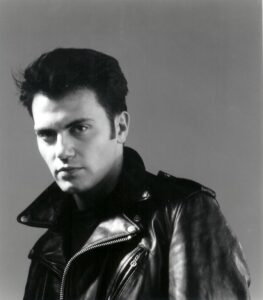 In some ways, you were unusual as an Italo artist who wrote and sang their own material, which was not always the case with a number of acts from the genre?
Yes, this was the main difference between me and other Italo artists, songs were written mostly by their producers, I still regret about accepting to record 'Night & Day' that was written by my producers of the time, Farina and Crivellente.
Did you feel the 'character' artists like Den Harrow and Baltimora tarnished the credibility of Italo Disco?
The fact that many of the "so-called" Italo artists were miming didn't help to make it a credible genre of music, that's for sure, but today at last, people are into the music, not the gossip or the fashion.
How did you think electronic dance music has been developing over the years since then?
The evolution of electronic music, it's been always been associated with technology, after analog synthesizers, we had FM synths, then samplers, then plugins and laptop. There's not that much left to discover nowadays, so everybody has the possibility to give a look back to old technology and refresh it with a contemporary attitude. It's a great feeling to be able to use such a variety of old sounds and new technology together, the most important thing to me is to try to use all the knowledge to create something that sounds modern.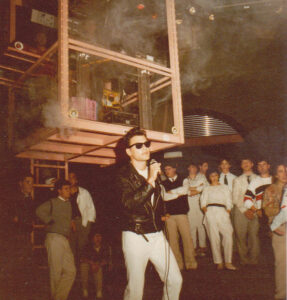 Did you ever get frustrated enough to want to make a guitar-based album like Karl Bartos did?
During my career, I have been able to fulfil almost all my music desires, I have made various albums and projects under different names, from my post-punk band STATE OF ART to VIBRAZIONI PRODUCTIONS to BEDROOM ROCKERS, via Milano 2000 Records and Evolution Records, they were all very important steps in my career.
From 1990 until 1994, I was running Evolution Records, a label dedicated to house and techno. After that period, I made a few albums under the name VIBRAZIONI PRODUCTIONS, downbeat stuff, soulful and jazzy.
Then in 2001 together with Enrico Colombo, I did an album as BEDROOM ROCKERS for Universal Italy.
So how did ITALOCONNECTION come into being? Is the concept as the name suggests?
ITALOCONNECTION is the result of over twenty years of friendship and occasional creative meeting between me and Paolo Gozzetti. In 2010, we decided to join forces and give more continuity to our electronic raids using the ITALOCONNECTION pseudonym. The aim is to revive the glories of the early 80s Italo Disco and Synthpop in a modern form.
When was the point when you realised there was still a big love for Italo disco? Did you feel vindicated at all?
Now is more than 20 years since this sort of Italo revival started, travelling around Europe made me realise how big the interest was for this genre. Nostalgia for the past makes people dig and rediscover old music, today there are so many revivals happening at the same time. Actually I never had a vendetta plan in my life, I'm enjoying these moments because I'm having the possibility to produce new music for an old audience but also for a new one that is discovering Italo thanks to the web.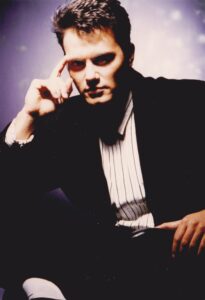 A sign of this was when Italians Do It Better released the 1984 demo version of 'The Years (Go By)' with its corresponding instrumental in 2011, how did this come about?
Back in the day, thanks to Myspace, I was able to get in touch with Italians Do It Better and after listening to several of my unreleased songs, they decided to release the demos of 'The Years', my most popular song which I wrote together with Turatti and Chieregato back in 1984. I was very happy to make these demos available on vinyl, considering also that I was a fan of the Italians Do It Better sound.
You co-produced three tracks with Britalo artist KNIGHT$, what do you think about these acts who have been influenced by you?
I have to admit that is a great feeling to see new acts showing respect for so many Italo artists and producers, I would never even imagined that one day, I would have become an influence for somebody.
ITALOCONNECTION is now your main project, what does it give you that perhaps wasn't possible in your solo work?
The opportunity to collaborate with somebody who shares the same feeling and attitude is a real gift, ITALOCONNECTION is a real team and we enjoy every side of our work, playing live together is definitely the thing we love more.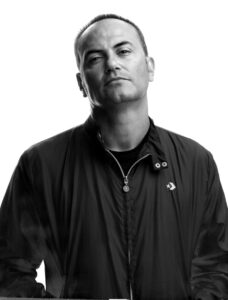 Is there anyone ITALOCONNECTION would particularly like to do a remix for in the future?
I really would like to remix NEW ORDER, PET SHOP BOYS and Paul Haig. Recently we had the opportunity to remix Etienne Daho, another of my favourite artists so all is possible.
What is happening next for you, either solo or with ITALOCONNECTION?
A brand new ITALOCONNECTION album is on the way, it took a while to produce the right follow up to 'Metropoli', considering also that we have been busy producing and remixing other artists. The album also will feature a host of special guests, more news coming soon…
---
ELECTRICITYCLUB.CO.UK gives its warmest thanks to Fred Ventura
Special thanks to Sebastian Muravchik of SNS SENSATION and HEARTBREAK
The compilation 'Disco Modernism (1983 – 2008)' is released by Clone and available via the usual digital outlets
A selection of music by Fred Ventura can be obtained digitally from https://fredventuramuzik.bandcamp.com/
ITALOCONNECTION 'Metropoli' is available from https://italoconnection.bandcamp.com/album/metropoli
https://www.facebook.com/Fred-Ventura-320089268041361
https://www.instagram.com/fred_ventura_muzik/
https://www.facebook.com/italoconnection
https://www.instagram.com/italoconnection/
https://open.spotify.com/artist/4wJf9Xnypopb0m96Up3xtC
https://open.spotify.com/artist/2H89jjAoarp9VqMxT8W0et
---
Text and Interview by Chi Ming Lai
17th February 2021