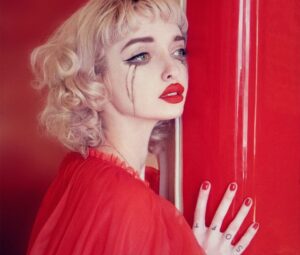 If LANA DEL REY is the "Gangster Nancy Sinatra", then Los Angeles-born GLÜME is the self-styled "Walmart Marilyn Monroe".
Like a tattooed Norma Jeane Mortenson dropped into Twin Peaks, GLÜME is a shimmering new starlet in the Italians Do It Better stable with her debut album 'The Internet' is due out later this year. While 'The Internet' does not include her marvellous chilling cover of THE FLEETWOODS' 'Come Softly To Me', it will feature a previous single 'Body' and her latest offering 'Get Low'.
'Get Low' is an intriguing slice of accessible avant pop about the high of falling for someone and how it effects your brain chemistry and nervous system. While that may seem exceedingly cerebral, GLÜME suffers from autonomic dysfunction and a heart condition. So the feelings conveyed are from her own personal experience and reflect how her love ride can feel like a roller coaster.
Directed by We Suffer For Fashion Films with choreography by Mark Marchillo, the video accompaniment for 'Get Low' is mysterious but glamourous and sees GLÜME tap, fan and ballet dancing while also plonking away on a primitive electric keyboard. Applying some rumbling electronic bass, stabbing vintage synths and simple but prominent digital drum beats, 'Get Low' comes over like a wonderful experimental B-side by a fragile girly OMD!
Described as "black lodge music for the blue youth of the internet age", with song titles like 'Nervous Breakdown', 'Crushed Velvet', 'What Is A Feeling' and 'Don't @ Me', expect GLÜME's debut album to be a melancholic but enticingly celestial affair.
---
'Get Low' is released as a digital single by Italians Do It Better
https://italiansdoitbetter.com/glume/
https://www.facebook.com/babyglume
https://www.instagram.com/babyglume/
---
Text by Chi Ming Lai
19th February 2021