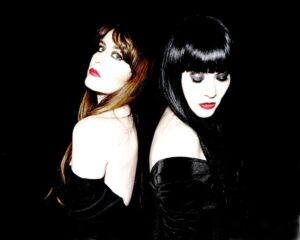 BUNNY X are the playful American duo comprising of Abigail Gordon and Mary Hanley.
Exponents of an Italo disco / retrowave hybrid with influences ranging from early Madonna to FM ATTACK via PET SHOP BOYS, their upcoming debut long player 'Young & In Love' parties like it's 1986 in their most straightforwardly pop statement yet.
Ultimately as this interview shows, Abigail Gordon and Mary Hanley are just girls who want to have fun…
They kindly talked to ELECTRICITYCLUB.CO.UK about the making of their eagerly anticipated first album and if they were in 'Pretty In Pink', would they have chosen Duckie or Blane?
You started releasing music as BUNNY X since 2013 and its only now you have completed your debut long playing record, why has it taken this time and how have you changed in that period?
Abigail: Such a great question. I think the short answer is probably that we weren't terribly active for a while there due to general life responsibilities such as full-time jobs and the like. I think at one point I had 3 jobs at the same time. The New York hustle is real! So, from about 2013-2017, I think we only averaged about 1-2 new songs a year. We were playing live quite a bit though in those years and also released a few videos so even though we weren't producing a great deal of new content, we were still pretty active with the project.
We started to become much more active in about 2017, which is when we decided to dip our toes into more retrowave-inspired waters as opposed to sticking solely to Italo disco. We didn't really have a proper game plan since we were still mostly in an experimental phase, so I think that's why it's taken us so long to fully realize our vision enough to be ready to work on a full-length album. In the end, I think it was the right thing for us.
Mary: We have definitely taken our time with the LP. I guess it felt like we were more interested in releasing singles there for a while but eventually, with Conrad Kaneshiro's help, we released our 'We Demand Fun' EP. We also booked and played quite a few gigs in the meantime. We always considered the idea of doing a complete LP at some point but life always seemed to take us in other directions. So, once the pandemic hit, we decided it was time to make this record finally happen.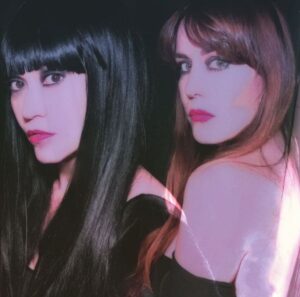 Did you have any particular inspirations as to the format and type of music for BUNNY X when you conceived the idea?
Abigail: So, BUNNY X really started as a synthpop project and was very much influenced by Madonna's early demo tracks such as 'Stay ('81)' as well as early DEPECHE MODE. We released an EP called 'Lovespy' in 2012 but it wasn't that great honestly as we didn't really know what we were doing at that point. So, when we began working with Conrad Kaneshiro on more Italo disco / Hi-NRG-inspired tracks in about 2012-2013, everything started to make a lot more sense and come together.
Over time, we began to drift into the synthwave / retrowave space and started working with different producers that had experience in the genre but we still write with Conrad and will hopefully release more Italo tracks with him next year.
Mary: Since Abbi answered your question already, I'll just add that, as far as the inspiration for the upcoming album, we decided we wanted to pay homage to those 80s coming-of-age films we all know and love. To this end, I got inspired to write some lyrics for what later became 'Young & In Love' which ended up becoming the album title. The tracks are very much coming from a high school perspective and include themes like being in love for the first time.
How do you look back on your 2013 single 'Berlin, In December', had you been to the city at the time you put the track together?
Abigail: 'Berlin, In December' was a co-write with Conrad Kaneshiro, who had actually travelled all the way to Berlin from Mexico City (if memory serves) only to have his heart broken. So, the credit definitely goes to him for inspiring that cut. Mary and I pitched in a bit on that but the vision was his for sure. We had a lot more involvement on 'If You Say Yes' which came out around the same time as 'Berlin, In December.' I have been to Berlin a couple of times though and it's a fantastic, vibrant city.
Mary: Berlin is definitely a destination I must see. The song as it was, was complete!
You have described 'Young & In Love' as a "high school nostalgia" concept album…so tell me about your childhood? 😉
Abigail: Well, being a child of the 80s, I grew up idolizing 'Jem & the Holograms' and all the big female pop acts of the era such as Madonna, Cyndi Lauper, Kim Wilde, Whitney Houston, etc.
I would sit by the radio wearing my dad's enormous brown Sony headphones and would frantically hit record on the stereo anytime I would hear the opening notes to the songs I liked and wanted on my mixtapes.
I remember always being irritated when the DJ (Casey Kasem anyone?!) would keep talking and talking when my favorite songs started playing. I just remember thinking: "shut up, shut up already!" Oh the things we had to endure back then LOL.
Mary: It is exactly that! As far as my childhood, I drew upon thinking about how special young love is and how it's a rarity to be so open and willing to risk anything and everything for that kind of love.
Were you both hairbrush as microphone types of girls?
Abigail: I was 100,000% a hairbrush as microphone girl and frankly still am! In fact, my claim to fame occurred at summer camp sometime in the late 80s when the girl that was supposed to perform Kim Wilde's version of 'Keep Me Hangin' On' at the camp's end of summer talent show developed a terrible case of stage fright. Before I could protest, a "microphone" consisting of a wooden spoon with the spoon end wrapped in aluminum foil was thrust into my hand and I was unceremoniously shoved to the front of the stage. Not unlike my counterpart, I was terrified at first as well, however, I quickly recovered and before I knew it, I was belting "set me freeeeee why don'tcha babe" at the top of my 9 year old lungs.
Mary: Ummmmm HECK YES!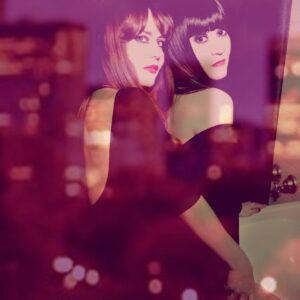 So bearing in mind the early MTV era, Madonna or Cyndi Lauper?
Abigail: I LOVE me some Madge but I had a serious Cyndi moment and would lose my shit whenever I heard Casey announcing that 'Time After Time' was in the queue. And, I fell in love with every song on 'She's So Unusual' and wanted to be just like Cyndi for quite a number of years. Even still.
Mary: BOTH PLEASE!
What about BERLIN versus MISSING PERSONS?
Abigail: I love them both, but I'll never forget seeing the video for 'Take My Breath Away' on MTV and just being completely enamored with Terri Nunn and her amazing two-toned hair blowing in the wind as she stood atop a downed aircraft in a mysterious, dystopian wasteland. Once I was old enough, I attempted to duplicate her look many times however I was never as successful as she.
Mary: Not gonna lie, LOVE them both!
'Young & In Love' moves away from the Italo blow-out of the 2019 EP 'We Demand Fun' for a more pop focussed direction, but what was it like to work with the Italian disco legend that is Fred Ventura?
Abigail: Mary and I met Fred Ventura in January 2015 when we were lucky enough to share the stage with him (and other Italo legends such as Brian Ice and Fancy) at the Patrick Miller Italo disco festival in Mexico City. It was a dream come true to be in such company and he truly could not have been more kind and fun to be around. In fact, we all had a blast hanging out and exploring the city together that weekend and have stayed in touch ever since. So, when our long-time producer Conrad wrote the track 'Words' and asked Mary and I and Fred if we'd be interested in singing on it as a duet, we were all about it. Fred is such a talented musician and writer but Mary and I found him to be extremely humble and down to earth too, which just makes him even cooler.
Mary: It was fantastic. We were all recording from different places so it took a while to complete but 'Words' was very special to us as we truly love Fred. He's a lovely person and a super talented artist.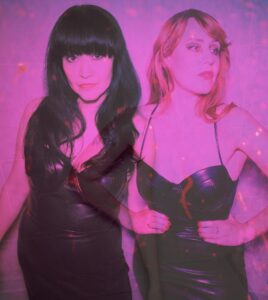 What did you think of the 'Italo Disco Legacy' documentary?
Abigail: It was a fantastic documentary and quite thorough for being on the shorter side. And it was really neat to see people we've met, spent time with and even collaborated with being interviewed on the big screen, as they well deserve to be. It's paramount that these stories are preserved and documented so they can continue to be shared with younger generations of listeners.
Mary: I'd love that, as I haven't seen it!
You've referenced several John Hughes movies for this album, which are your own favourites?
Abigail: That's a tough question! I guess I would have to go with 'Pretty In Pink'. Even though Duckie was her ride or die, there was something so satisfying about Andie ending up with the guy she really wanted to be with. And I like that the film (and others, such as 'Sixteen Candles') was largely from Andie's point of view which was pretty forward-thinking considering the era. Plus, the soundtrack is just awesome.
Mary: I love 'Pretty in Pink', 'Some Kind of Wonderful', 'Sixteen Candles' and 'The Breakfast Club'. All of these movies reference the kind of angst so pervasive in most teens. The characters are a bit too cool for school… then there are the personal walls that finally fall down (especially in 'The Breakfast Club'). Being vulnerable is always good and letting people in teaches us more things (as we know as adults). There's also the family money dynamic in 'Pretty In Pink', the "wrong side of the tracks" thing. But as they say, love conquers all.
So who would you have gone for out of Blane and Duckie in 'Pretty In Pink'?
Abigail: I always tend to root for the underdog so I would have gone for Duckie!
Mary: I'd love the Duckman as a best friend, but of course, I'd be crossing all fingers for Blane.
Any retrospective hindsight thoughts about how gothy Ally Sheedy was "madeover" by Molly Ringwald and only after then appealing as love interest?
Abigail: It's total BS! Leave Ally alone, she was perfect to begin with.
Mary: She was definitely gothy, but Molly Ringwald's character treated Ally's character with kindness, so that's something. And once she looked in the mirror, she seemed really happy!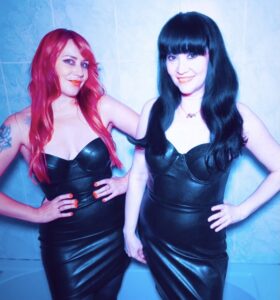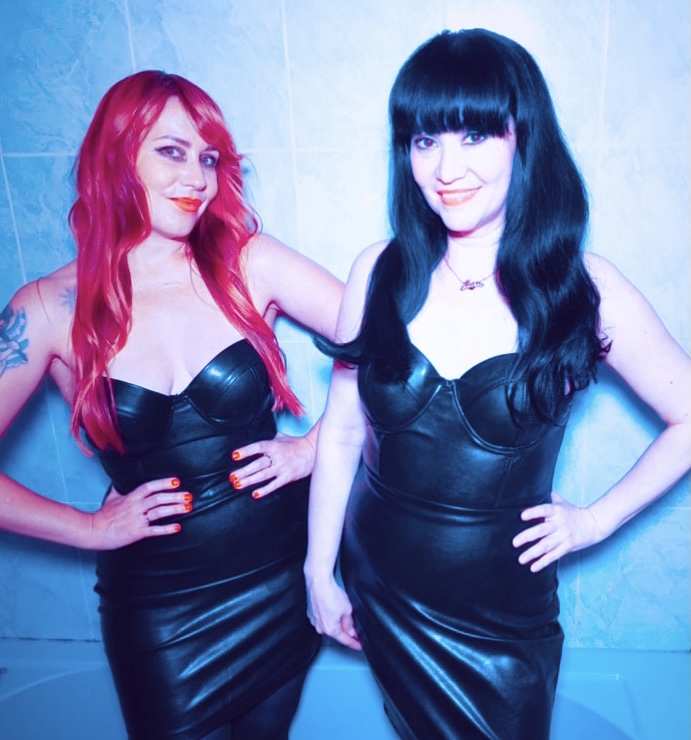 You worked with Don Dellpiero on 'Perfect Paradise' which uses some big electronic drums, how did the song come together?
Abigail: I follow Don Dellpiero on Bandcamp so when I received an email notification back in January that he had released a new album, Believe in Magic, I'm pretty sure I clicked on it and listened right away. I love 'Never-Ending Summer,' the collaboration he did with Badison, and then when I got to 'Perfect Paradise', it just blew me away. I quickly started hearing a vocal arrangement and lyrics for it in my head so, on a lark, I decided to record a demo of the idea and sent it over to David (Don Dellpiero) to see if he'd be at all open to a collaboration.
Luckily for us, he was. He also agreed to let us reimagine his awesome track 'Rolling Down Memory Lane,' taken from his album 'That Friday Feeling' for another track on our upcoming album called 'Lost Without You.'
Mary: Don Dellpiero's music for this was perfection and Abbi wrote wonderful lyrics for 'Perfect Paradise' – all I had to do was sing it!
You also worked with SELLOREKT/LA DREAMS on a number of 'Young & In Love' songs, how would you describe your creative dynamic?
Abigail: Kevin is a dang genius. He's like a hit factory, just churning out amazing album after amazing album. It's really something. He's been extremely generous with us because I just kept bugging the poor guy with more and more collab ideas and he graciously agreed to each and every one. As such, we ended up doing three collab tracks with him on 'Young & In Love'. He's been a dream to work with and super easygoing with things and I'm thrilled that we plan to continue working together after this album release.
Mary: I mostly focused on working out the harmonies for the tracks we worked on with SELLOREKT/LA DREAMS, which are so lovely and dreamy.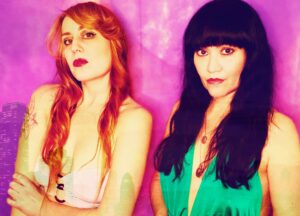 Collaborations have been a regular thing within BUNNY X, has there been a highlight for you over the years?
Abigail: We've been fortunate enough to work with a bunch of incredibly talented artists over the past few years such as MARVEL83', CASSETTER, TURBO KNIGHT, CJ BURNETT, DRIVER86, KSMTK, VINCENZO SALVIA and DIAMOND FIELD (to name a few) and have enjoyed every minute of it.
A big highlight for us was when the legendary Italo DJ and producer Flemming Dalum offered to remix our track 'Stay' which ended up being released on vinyl via Fresh Colour Music in February 2019. He did an amazing job on the remix and it was a true honor to work with him.
Mary: We have definitely enjoyed our collaborations over the years and are excited to see how the new ones will turn out!
There is this big STARSHIP thing going on with 'Can't Wait', was the film 'Mannequin' on your minds?
Abigail: Yes! The music is that of SELLOREKT/LA DREAMS and was originally released as 'In Common' on his awesome album 'Sparks', which came out late last year. The song instantly grabbed me and I started hearing this really uplifting vocal arrangement for it. You'll have to ask Kevin since he composed the music, but I imagine he'd be pretty happy with that comparison being a lover of all things 80s 🙂
Mary: Hmm! I actually hadn't thought about that yet but now I'm intrigued!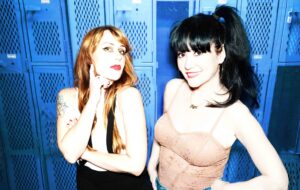 The 'Young & In Love' title song is rousing synthpop that celebrates holiday romances, do you have a funny story you can recall from one?
Abigail: I don't know about one story in particular but I did have a remarkable ability to completely embarrass myself in front of my grade-school crushes. I mean, we're talking epic levels of embarrassment.
Once, when trying to impress a crush (this goes out to you Braxton), I decided it'd be pretty awesome if I quickly jumped off my friend's bike (I was standing on the rear pegs) as she was pedalling. In a clear case of expectation vs reality, instead of looking cool and casual, I flew through the air like a poor man's Supergirl and landed in a crumpled heap on the sidewalk in full view of my crush. There really wasn't any coming back from that. Hopefully Braxton has long since forgotten the incident.
Mary: I loved going to the beach as a kid. I'd pack my little cooler, my magazines and just hang out all day. On one occasion, a bunch of guys decided they wanted to come over and chat with me. I must have been about 18 or so at that point. In any event, we spent the day together and talked about hair bands of the 80s and the like. It was a fun day and a great memory.
'Who Cares What They Say' is potentially quite trancey but you've kept it midtempo, had the seed of this song started quite differently?
Abigail: It is on the trancey side and Laura from Aztec actually had a note about that very thing. When our producer Gosteffects and I went to rework it though, we found that we had actually gotten pretty attached to the sound and we decided to keep it as is. This was the first track we worked on together for the album and it ended up informing the theme of the record as it's about bullying and being made to feel like you don't fit in. So, this one goes out to all the misfits out there.
Mary: I would just add that the midtempo vibe made it a very easy song to sing, and I love the lyrics and the message of the song.
'Back To You' is one of those songs you can imagine in any romantic scene from a Brat Pack movie featuring Demi Moore. Most people focus on the guys but who were the Brat Pack era girls that you looked up to?
Abigail: I loved all the Brat Pack girls but probably identified the most with Molly Ringwald's characters as she was very much an "every girl" type of character in my view.
Mary: I'm a huge fan of 'St. Elmo's Fire', so I'm saying Demi Moore (of course) but I also loved Mare Winningham and Andi MacDowell, who had a cameo in the film. Kelly LeBrock of 'Weird Science' was also amazing and of course, all the John Hughes' Brat Pack gals like Mary Stuart Masterson in 'Some Kind of Wonderful' and Lea Thompson… Let's hear it for the girls!
'Lost Without You' is the track on the album that veers away from the main electronic pop template, using more guitar and piano for an AOR presence, had this been intentional in the context of the album?
Abigail: So, this was from Don Dellpiero's track 'Rolling Down Memory Lane' which was originally released on his album 'That Friday Feeling'. I instantly loved the energy of the track, including that ripping guitar solo, and started to hear a vocal arrangement for it after just a few listens. We definitely restructured the song so the vocal line would fit, but fortunately for us, David was completely game and let us reimagine it to what you hear on the album. The original demo we did for it was actually way less structured – and much longer – than the edited cut that ended up on the record. We went a bit into leftfield for this one but I personally like shaking it up sometimes.
Mary: I think that having a bit more of an instrumental presence is always enjoyable. I would have to ask Abbi about it being intentional, but in general, I think the break gives the track a nice interlude.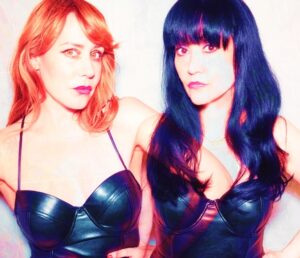 'Diamonds' sings of "an electric shock through my heart" and features some gorgeous counter melodies, what is the song about?
Abigail: 'Diamonds' is about that electric, buzzy feeling we get when we're around that certain someone. When you feel your heart start to pound out of your chest as your crush walks by or even just when you're thinking about them. I think we can all relate to that feeling, when you literally walk into walls because you can't concentrate on anything else. Oh, just me? 😉
Mary: This is a quintessential song about being in high school and wanting so badly to talk to someone but just being too shy to make a move. Shyness was a big thing for those of us that didn't have the moxie at the time to make it happen. 'Diamonds' has a really lovely vibe and cadence and I really enjoyed singing on this one. The last thing I can say is that I'm rooting for our heroine here.
You allow some sax in on 'Go Back' and 'Still On My Mind', it's an instrument that can provoke mixed reactions, what are your thoughts?
Abigail: I immediately fell head over heels for the sax on 'Still On My Mind,' originally released as 'Look Away' by SELLOREKT/LA DREAMS. In fact, I loved the saxophone on the track so much that it ended up completely inspiring the vocal arrangement as I found it to be so moving. I originally shared my little demo for the track on our Instagram and tagged Kevin of SELLOREKT/LA DREAMS, who then ended up messaging me and, long story short, a collab was born. After that, I kept bugging the poor dude with other ideas I had and, lucky for us, he continues to humor us.
Mary: I have nothing against a little sax, it's definitely a hallmark from the 80s and I personally am into it! As for the mixed reactions I can understand that, but the sax makes me happy!
What tracks are you are happiest with on 'Young & In Love'? Who do you think the album will appeal to?
Abigail: They all have a special place in my heart and I'm really happy with how everything turned out. We received so much amazing support (and excellent suggestions) from Laura and Ariel of Aztec Records and absolutely loved working with NYC-based producer Gosteffects (John Bourke) who was instrumental in turning our vision into a reality. I think 'Perfect Paradise' is such a crowd-pleaser and I think it has the potential to appeal to a larger audience as the music is so infectious and warm. The title track, 'Young & In Love,' arranged by Mary, is a fun synthpop number and I think it also has the potential to appeal to both retrowave and non-retrowave listeners. But, on a personal level, 'Still On My Mind' has a lot of meaning – I mean that sax! It hits me right in the feels.
Mary: Honestly, I am in awe of and super happy with all of these tracks. They are like our babies if you will! I think the album has the potential to appeal to young people who might find themselves in uncharted territory when it comes to dating and I also think it might appeal to the Gen X crowd, who, like myself, remember all that mooning over cute boys/girls and trying to figure out how to make something magical happen.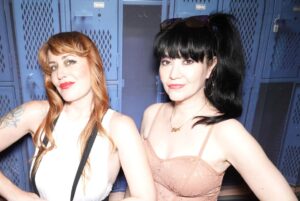 What's next for BUNNY X? Any live work and new collaborations?
Abigail: We have a bunch of fun collaborations we're working on at the moment. We are thrilled to be collaborating with THOUGHT BEINGS on not one but two tracks and we have other projects lined up with MORPHICE, MONDMANN, THORISSON, BINO BISCOTTI and ELEVATE THE SKY.
We're also hoping to finish up a bunch of half-completed Italo tracks with Conrad that have been works in progress for a while. We do have a live show tentatively scheduled for late October but we're apprehensive with all the news about the delta variant so we might wait until the situation improves a bit before playing out again. Fingers crossed!
Mary: We're working on some collaborations now and have a few other artists that are interested in working with us which is always great. We're excited to see how the tracks we recorded recently will do and we will definitely keep you posted. We really enjoyed answering your questions, thanks so much for having Abbi and I along!
---
ELECTRICITYCLUB.CO.UK gives its warmest thanks to BUNNY X
'Young & In Love' is released by Aztec Records on 5th October 2021, available as a CD, vinyl LP, cassette and download from https://bunnyx.bandcamp.com/music
https://www.facebook.com/BunnyXmusic
https://twitter.com/bunnyxmusic
https://www.instagram.com/bunny_xmusic/
https://open.spotify.com/artist/1Jm30qu7cd4QfXkJSoYL6y
---
Text and Interview by Chi Ming Lai
11th September 2021, updated 15th February 2022