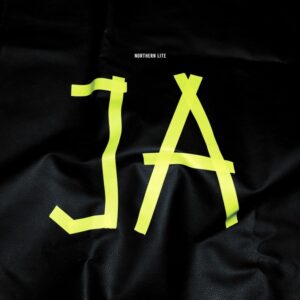 The project of Andreas Kubat and Sebastian Bohn, NORTHERN LITE's 2001 single 'Treat Me Better' was a cult favourite on the electroclash scene, as was their remix of LADYTRON's 'Playgirl'.
For their 14th album 'Ja', the German duo have voiced all the tracks in their own language for the first time in their 23 year history.
Despite being considered an electronic dance act, NORTHERN LITE have always incorporated a guitar-driven goth aspect to their work as exemplified by 2005's 'Go With The Flow'.
More recent recordings such as 'Right Now' from 2017 'Hollywood Girl' EP from 2017 exhibited a more purely electronic template and incidentally featured militaristic cover of DEPECHE MODE's 'Enjoy The Silence'.
While Andreas Kubat's haunted vocal remains, what comes with 'Ja' is not only a hybrid of techno, goth, punk and dance but also a catchy synthpop flavour and sardonic wit that sparks a optimism not heard in their previous work. It reflects that not only has the world has changed but so have NORTHERN LITE.
So NORTHERN LITE, they say "yes" and the long player begins with the tense techno rock of 'Ich Sage Ja'. But despite behind inspired by THE CURE, 'Ich Fürchte Nein' remains possibly their most pop-oriented offering of their career. Translating as "I don't think so…", 'Ich Fürchte Nein' embraces the enforced isolation and staying sane with a jolly melodic section contrasted by an anxious vocal of a more disposition.
The sombre 'Lisa' exhibits a gothic exuberance that is then punctuated by synthy stabs while the marvellously stark 'In Ganz Berlin' is unsettling yet weirdly danceable, a glorious celebration of the expressive diversity of Berlin with fierce buzzes and drones set to a crunchy mechanical backdrop.
The chip-tuned influenced electro-punk of 'Alles Gewinnen' uses gaming analogies and even throws in drum 'n' bass rhythms while despite its droll nature, 'Wir Reisen Zusammen' celebrates freedom of movement with a sparking keyboard riff in its chorus that provides a wondering melodic lift, boosted by a solo middle eight.
But the melancholic 'Bin Ich Nun' reflects on the here and now although it does point to some light at the end of the tunnel. 'Nicht Über Liebe' is as the translation suggests "not about love" and throws a curveball as an acoustic ballad with understated drum machine accompaniment.
Still on the gloomy side, 'Kannst Du Küssen' adopts a steadfast Schaffel with distorted guitar for a slice of techno-gothic glam as Kubat expresses how he longs to be kissed. The frantic machine rock of 'Seltsam' acts as a "strange" album closer but the incessant rhythm is hypnotic and will no doubt trigger "one person fight" dances at Amphi and M'era Luna.
Having name dropped RAMMSTEIN and THE WEEKND in their publicity for 'Ja', while the description is not wholly accurate, the diverse combination does point to NORTHERN LITE's vision and how there have been no boundaries in realising and refining their hybrid sound.
The contrast of nonchalant Deutsch vocals, deep electronic bass, uplifting vintage synth tones and occasional guitar gathered on 'Ja' works a treat, complimented by NORTHERN LITE's authentic spirit and dry humour. It shows that despite some lean years creatively, Germany is still capable of producing of quality electronic pop with a looming darker edge.
---
'Ja' is released by UnaMusic in double vinyl LP, double CD and digital formats
https://www.facebook.com/NorthernLiteBand
https://www.instagram.com/northernlite_official/
---
Text by Chi Ming Lai
15th June 2021