If you've ever been fortunate enough to see German Industrial rockers RAMMSTEIN tour in the past, the main question you will end up asking yourself is "will they be able to top their previous show?".
The answer to that question after ELECTRICITYCLUB.CO.UK witnessed their only UK date this year was a resounding "ja!", but more about that later…
An early arrival at the Stadium MK was greeted with the sight of an enormous part 'Mad Max', part Fritz Lang inspired stage set which immediately reassured the gig goer that this band WOULD be able to fill and deliver to a 20,000+ venue.
The warm-up was by pianist duo DUO JATEKOK who (set up on a podium midway in the standing area) treated the crowd to an eight song set from RAMMSTEIN's 'Klavier' album for two pianos and four hands. The piano versions that the duo delivered showcased RAMMSTEIN's songs in a different light and revealed unheard layers which aren't always immediately apparent in their bombastic guitar-driven incarnations. After a crowd sing-along to 'Sonne', DUO JATEKOK disappeared from their podium and the sense of expectation in the crowd for the headliners was palpable…
The strains of Handel's 'Music for the Royal Fireworks' was accompanied by the raising of a digital RAMMSTEIN flag on the central structure within the stage design. Drummer Christophe Schneider took to the stage first, raised both arms, hit his drums and an earthshaking barrage of fireworks exploded across the stage.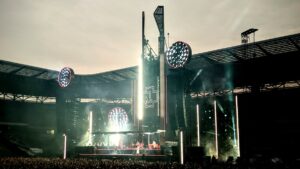 Entering one by one, the band started their set with the downtempo 'Was Ich Liebe' from their eponymous new album; keyboardist Christian 'Flake' Lorenz dressed in a fetching shiny gold outfit (which from a distance made him look like C3PO) and bassist Oliver Riedel in a red cat gimp suit. This was a very different set starter than previous UK shows and for RAMMSTEIN could even be classified as 'understated'(!).
Normal service was resumed when the marching sample of 'Links 2-3-4' filtered through the PA system and the band's signature twin guitar attack was back with a vengeance. For a band well known for their pyrotechnic usage, RAMMSTEIN held back the fire and flames until later on in the set, but for the MK crowd this didn't matter one iota when most of the songs had their own stunning individual theatrical set-pieces.
From 'Puppe', which saw vocalist Till Lindemann wheeling out a huge metal pram replete with a disfigured animatronic baby (which he duly set on fire), through to 'Mein Teil' with a giant cooking pot which revealed 'Flake' who is well known as the band's 'whipping boy'. At the song's climax, Lindemann brought out progressively larger flame-throwers until he was left with what could only be described as a giant artillery fire cannon which left the poor synth player (now wearing a full fire-retardant suit) waving the white flag of defeat.

So what was new? The single 'Deutschland' provided an epic highlight of the midpoint of the set; starting with Richard Z. Kruspe's dance remix being played from a DJ booth which was raised like a flag in the middle section of the set. The remaining members of the band then donned black bodysuits with hoodies which subsequently lit up as stick men and delivered a comical dance routine through the remainder of the song. The usual band version of 'Deutschland' was delivered afterwards, showing that the band was willing to take risks and not just stick with their tried and tested stage dramatics.
Their new album is arguably their most synth / sequencer-oriented since the band's first two hybrid electronic metal albums 'Herzeleid' and 'Sehnsucht'. The recent single 'Radio' is a case in point, which as well as being very synth dominated, is also one of the band's catchiest earworm singles for many a year.
The band's main signature synth / guitar track 'Du Hast' was the first in the set to fully feature a blitzkrieg of fire effects with keyboardist Flake delivering his Nord keyboard parts whilst on a moving treadmill which was introduced on the band's last world tour. Structures set further back in the arena also set off pyrotechnics in case you didn't feel the full force of those set off on stage; this truly was a mind-blowing immersive experience which was continued with the next track 'Sonne'.
After a full band version of 'Ohne Dich', the five members of the band then re-appeared on the podium / pilot stage with DUO JATEKOK to play an acoustic 'Engel', the lyrics running Karaoke-style on the stage that they'd just left. The next part of the show was a moment of pure theatre with the band (minus Lindemann) jumping into three rubber dinghies and 'boat-surfing' across the MK crowd and back to the stage. Lindemann then re-appeared there to greet them with a "Willkommen" sign, providing one of the few moments of political commentary within the show.
Appropriately the next track to be delivered was 'Ausländer' ('Stranger'); this song has provoked some frenzied Reddit debate as to its meaning and depending on your viewpoint, it's either a commentary on the refugee crisis or sex tourism. But as usual with RAMMSTEIN lyrics, they are deliberately left open to (mis)interpretation! In terms of song omissions in the set, only two were missed, 'Feuer Frei!' and 'Keine Lust', both previously long-term set favourites, but probably maneuvered out to make room for some of the RAMMSTEIN's newer material.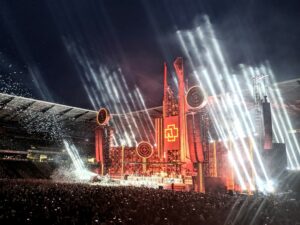 Sadly, all good things must come to a (fiery) end and the band climaxed their MK show with versions of 'Du Riechst So Good', 'Pussy' (with Lindemann shooting a massive foam cannon into the crowd), 'Rammstein' and 'Ich Will'. Truly no other band can compete with RAMMSTEIN for a show of this scale and although it would be easy to stereotype them as 'just a Metal act', the diversity of the crowd at Milton Keynes disproved this, with ages from 8 up to 60 somethings present.
It is a cliché, but this is a bucket list band to see before you die and one that you should beg, steal or borrow to get a ticket for; don't quibble on ticket prices, you will NOT be disappointed and you will get a stadium-sized show in a stadium. At this point in time, RAMMSTEIN unquestionably provide the greatest live show on the planet…
---
'Rammstein'
is released by Universal Music Group and available in various formats
https://www.facebook.com/Rammstein/
https://twitter.com/RSprachrohr
https://www.instagram.com/rammsteinofficial/
---
Text and Photos by Paul Boddy
13th July 2019