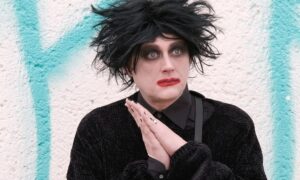 Flashback to 1991 and the British BBC TV topical sketch comedy show 'The Mary Whitehouse Experience'.
Featuring young comedians David Baddiel, Rob Newman, Steve Punt and Hugh Dennis, one of the regular skits was a parody of THE CURE, with Rob Newman playing Robert Smith, performing a cheerful song or nursery rhyme in a forboding gothic rock style.
In the amusing video for 'Ich Fürchte Nein', the new single from German electronic duo NORTHERN LITE, it looks like Hugh Dennis is in the role of Robert Smith. Translating as "I don't think so…", vocalist Andreas Kubat amusingly sends up THE CURE frontman to a tee, embracing the enforced isolation while exercising and marginally staying sane.
In a chorus that can be roughly interpreted: "You can't be happy and by liked by everyone at the same time", 'Ich Fürchte Nein' itself is a delightfully catchy synthpop tune that has a bright and jolly melodic section contrasted by a vocal of a more anxious disposition.
The project of Andreas Kubat and Sebastian Bohn, NORTHERN LITE's 2001 single 'Treat Me Better' was a cult favourite on the electroclash scene, as was their remix of LADYTRON's 'Playgirl'. There has always been a guitar-driven goth techno hybrid aspect to NORTHERN LITE as exemplified by 2005's 'Go With The Flow'.
However, a more purely electronic template existed on songs such as 'Right Now' off the 'Hollywood Girl' EP from 2017 which also included a cover of DEPECHE MODE's 'Enjoy The Silence'. After the 'Piano Sessions' reworks of 2020 and following up the recent melancholic single 'Bin Ich Nun', 'Ich Fürchte Nein' is possibly their most pop-oriented offering yet of their two decade career.
---
'Ich Fürchte Nein' is released as a digital single by UnaMusic
https://www.facebook.com/NorthernLiteBand
https://www.instagram.com/northernlite_official/
---
Text by Chi Ming Lai with thanks to Volker Maass
8th March 2021