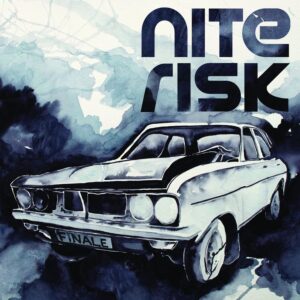 Denton-based NITE RISK describe themselves as two pale brunettes from the distant past, "One hailed from the piney East, the other from the concrete-clad West. Their paths merged and their voices became one in the morbid heart of Tornado Alley."
Taking the lead from the British new wave of alternative bands like THE CURE, SIOUXSIE & THE BANSHEES, THE SISTERS OF MERCY, THE MISSION, GENE LOVES JEZEBEL and FIELDS OF THE NEPHILIM that found a huge following in unexpected quarters of the US, NITE RISK recreate that template using synthesizers and drum machines on their debut album 'Finale'.
It's not difficult to imagine 'Architects' being played by a goth rock band but piercing synths are prominent. The baritone is doomy although not as foreboding as an Andrew Eldritch or anthemic as Wayne Hussey, but use of the vocoder is an interesting twist to proceedings
'Revolving Door' is the sound of THE SISTERS OF MERCY gone electro while 'Life Dreams' cuts a similar black cloth. Meanwhile, 'Déjà vu' and 'Your Name Goes Here' both adopt a more steadfast droning pace. Although maintaining a dark austere, album highlight 'Sign Of The Times' is more distinctly synthpop in construction and even throws in some prog with the surprise of cosmic keyboard swirls.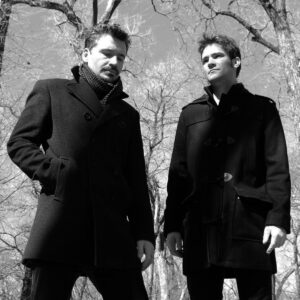 'Ghost Girl' is brooding but 'Salad Days' is distinctively darkwave with its chilling synthetic strings. Free of drum machine, 'Darkness Hides' allows for some impassioned doomy drama while album closer 'Beneath the Green' adds a stark moody rhythm to that funereal template.
'Finale' is not quite as accomplished as the appealing gothwave of VANDAL MOON and their breakthrough long player 'Black Kiss', but for those who prefer their synth to be shadier and have a penchant for THE SISTERS OF MERCY, then this Texan take of friendship, struggle and survival may appeal.
---
'Finale' is released by Fellowshipwreck as a download album available as a "name your price" offer from https://niterisk.bandcamp.com/
https://www.facebook.com/niteriskband
https://twitter.com/niteriskband
---
Text by Chi Ming Lai
10th March 2021