Synth You've Been Gone…
BBC4's marvellous 'Synth Britannia' celebrated the rise of the synthesizer and how it changed popular music forever, particularly in the UK.
Superbly produced and directed by Ben Whalley with interlinking cultural commentary provided by 'Rip It Up And Start Again'  author Simon Reynolds, it was an empathetic documentary that captured the spirit of a golden era.
The contributors to the programme read like a 'Who's Who?' of electronic music: Wolfgang Flür; Daniel Miller; Richard H Kirk; John Foxx; Gary Numan; Phil Oakey; Martyn Ware; Andy McCluskey; Paul Humphreys, Martin Gore; Vince Clarke; Andy Fletcher; Midge Ure; Dave Ball; Alison Moyet; Susanne Sulley; Joanne Catherall; Bernard Sumner; Neil Tennant; Chris Lowe.
They were to become the heroes of the revolution, rebels with a cause, poster boys and girls of the VCO! Although there were a few errors, especially with regards dates like when OMD signed to Factory and the single of ULTRAVOX's 'Vienna' was released, this was an entertaining 90 minutes.
The new attitude brought about by punk in 1977 was still a bit too rock'n'roll for some like the young Daniel Miller, learning three chords was still three too many! But armed with newly affordable silicon-chipped technology by Korg and Roland from Japan, the true DIY spirit encouraged by the new wave would be fully exploited. Wonderful and weird sounds could be made using just one finger, knob twiddling would become the new art! Daniel Miller and Martyn Ware gleefully tell of their first synth purchase, in both cases it was the Korg 700s. The accessibility of the budget priced synthesizer offered the ultimate challenge to musical convention. It was electric dreams over acoustic nightmares!
Like some on this programme, my first introduction to the sound of the synthesizer came via KRAFTWERK and Walter (now Wendy) Carlos. In the summer of 1976, my junior school teacher was the young and pretty Miss Neilson.
She'd already shown her Bohemian colours by naming our pet guinea pig 'Bilbo'!! But one day in PE, she made Class4 interpret movement to 'Autobahn' and the soundtrack to 'A Clockwork Orange'!!!
Although too young to really appreciate what was going on, my aural palette was being shaped by this fantastic cacophony of electronics. Novelty instrumental hits like Jean Michel Jarre's 'Oxygene Part VI' and SPACE's 'Magic Fly' soon followed and caught my pre-teen futuristic mind as I eagerly waited for the next episode of 'Space 1999'! The importance of science fiction in the development and imagination of electronic music cannot be underestimated with 'Dr Who' and the writings of JG Ballard being particularly important influences.
Donna Summer's 'I Feel Love' was Year Zero for modern electronic pop music as we know it. Producer Giorgio Moroder's throbbing sequencers and dance beats were "the future of the future".
But Gary Numan's first appearance in May 1979 on 'Top Of The Pops' was for many including myself, their 'Ziggy Stardust' moment in the birth of synthpop, 'Are 'Friends' Electric?' was cold and detached, the discordant Moog machinery and the haunted vocal sneer connected with many during this gloomy period in Britain.
It seems unbelievable now, but it was the talk of school the following morning. Electronic music had just found its first pop star!
Unemployment in the UK was at an all time high. Margaret Thatcher was now in power while across the Atlantic, Ronald Reagan was "President Elect"! With fascist gods in motion, the Cold War had heightened to the point where no-one's future on this earth could be guaranteed. Whilst OMD's 'Enola Gay' related to the nuclear holocaust paranoia of the time via some incongruous melodic warmth, there were a number of other pop-orientated bands just around the corner.
The new Mk2 version of THE HUMAN LEAGUE, SOFT CELL and DEPECHE MODE all possessed a defiant spirit of optimism in the face of adversity because ultimately "everybody needs love and affection"! The music was emotive and avant, all at the same time! "We never wanted to be KRAFTWERK" says Phil Oakey, "we wanted to be a pop band!"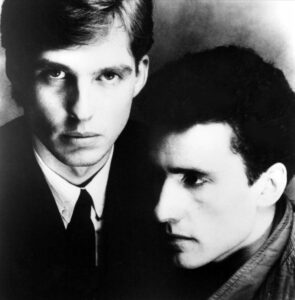 The use of synthesizers was a statement of intent, like an act of artistic subversion. But as Marc Almond once said, you can only truly subvert when you have access to the mainstream. How can you change the world if no-one hears you? Musically, the best way to achieve this was going to be through pop songs! Whilst owing a debt to KRAFTWERK and taking advantage of the door opened by Gary Numan, these acts managed to appeal to people who didn't necessarily know what a Linn Drum Computer was! Joanne Catherall and Susanne Sulley amusingly recalled when the UK's first Linn LM-1 was delivered to Martin Rushent's Genetic Studios for the making of 'Dare': "They were all very excited… OK boys!"
There are several technology driven insights like Paul Humphreys playing 'Enola Gay' on the Korg Micro-Preset, John Foxx demonstrating the ARP Odyssey and Daniel Miller operating the ARP 2600 which was used on all the early DEPECHE MODE albums. There were often misconceptions about how this stuff worked though. "The number of people who thought that the equipment wrote the song for you: 'well anybody can do it with the equipment you've got!'" remembers Andy McCluskey, "F*** OFF!!"
"You've got to remember it was the first time ever that someone could sit and make a record on their own" says Midge Ure, stating the recording of EURYTHMICS 'Sweet Dreams' in a basement on an 8 track tape machine as an example! But as the success of synthesizer continued, the backlash set in. Numan was particularly the victim of some venomous media attacks; not only was he doing electronic music but he had none of the anti-hero stance of punk… he wanted to be a popstar: "I don't speak for the people because I don't know them!" he exclaimed!
Andy Fletcher tells of the Battle Royale that DEPECHE MODE were always having with the press. People insisted it wasn't proper music. The Musicians Union even tried to ban the use of synths in studios and live performance!
I remember fellow classmates unceremoniously smashed up and burned a copy of 'Cars'… AND THEN presented me with the remains! If I wasn't already feeling isolated, then this sort of intimidation was certainly going to seal it!
Martin Gore quotes a disgruntled rock journalist who described the genre as being for "alienated youth everywhere, and Germans!" As an outsider with a typical post-war 'Boys Own' fascination for Airfix kits and Messerschmitts, this music would define me! What did these narrow-minded hooligans know?
Worshipping America was not what I wanted! To me, soul and jazz funk (much like R'n'B today) was the horrid soundtrack of the school bully! SYNTHPOP and its Mittel Europa romanticism appealed to my sense of elitism. I could wear my intelligence on my sleeve, it would become my badge of honour! Pretentious… MOI?
The move towards today's electronic based dance music as pioneered by Giorgio Moroder is symbolised by the success of NEW ORDER and PET SHOP BOYS. Legend has it that KRAFTWERK were so impressed by the sound of 'Blue Monday', they sent an engineer down to Britannia Row Studios to check out the equipment only to find out it was comparatively unsophisticated! But 'Synth Britannia' actually goes on to suggest that the success of the third generation acts like Howard Jones and THOMPSON TWINS was the death of this fantastic period.
"There was too much synthpop around, it was all very well being on a synth but actually the melodies and how some of the songs were structured was quite traditional and trite…" sighs Simon Reynolds, "it wasn't that inventive as electronic music!" – he was right!
Unfortunately by the mid-80s, most of our heroes had given up the fight and went conventional. "We were all a bit lost by then" says Phil Oakey, "like we didn't have anything to prove!" After declaring in 1980 that 'Travelogue' contained "synthesizers and vocals only", THE HUMAN LEAGUE had by the disappointing 'Hysteria' credited Jo Callis with "guitars, keyboards, vocals", sadly in that order!
Meanwhile OMD went from listing all their equipment on their 'Dazzle Ships' and 'Junk Culture' albums to Paul Humphreys simply being on "vocals, electronic keyboards, piano" for 'Crush'! The lure of dollars to water down the synthesized sound for synthobic America just couldn't be resisted anymore! This classic era of quality synthpop was sadly now over!
However, while the others fragmented, DEPECHE MODE got darker and stuck to their electronic blueprint, eventually achieving massive success in the US from 1988. So it would seem these pioneering acts' original Eurocentric electronic manifestos had been right after all.
Their legacy is evident today: LITTLE BOOTS and LA ROUX have hit the Top 10, and collaborated on the marvellous BBC6 Music 'Back To The Phuture' live sessions with Gary Numan and HEAVEN 17 respectively; rock band MUSE credit "synths and programming" on their new album while featuring a song that sounds like 'Vienna'; and a girl group cover of 'Just Can't Get Enough' is a 'Comic Relief' charity single!
Meanwhile, the synthpop era's big international No1s 'Don't You Want Me?' and 'Tainted Love' are still being played at weddings and night clubs, ironically often being sung along to by the same bully boys who were setting fire to Gary Numan records years earlier!! "It was exciting to be part of a musical movement that had never been done before, it was a fine time" smiles Vince Clarke.
'Synth Britannia' ends appropriately enough with 'Together in Electric Dreams' and this final quote from Andy McCluskey: "We were trying to do something new, that is specifically why we chose electronics, we wanted to sweep away all of the rock clichés! And then what happens towards the end of the 80s and even worse, the mid 90s? Everybody decides guitars are back, synthesizers are somehow old fashioned AND, we get Oasis!!"
McCluskey holds his hand to his head in despair but today, most of the acts featured in 'Synth Britannia' are still playing to packed audiences around the world.
What was originally an electric dream is now a full blown reality. JUSTICE and a job well done 🙂
---
Ohm Sweet Ohm! The 'Synth Britannia' Soundtrack
DEPECHE MODE New Life
WENDY CARLOS William Tell Overture
WENDY CARLOS Title Music from 'A Clockwork Orange'
KRAFTWERK Autobahn
THE CLASH White Riot
THE NORMAL TVOD
THE NORMAL Warm Leatherette
THE FUTURE 4JG
THE HUMAN LEAGUE Being Boiled
DONNA SUMMER I Feel Love
CABARET VOLTAIRE Seconds Too Late
CABARET VOLTAIRE Nag Nag Nag
OMD Messages
OMD Enola Gay
JOY DIVISION Atmosphere
JOHN FOXX Underpass
THROBBING GRISTLE Still Walking
THROBBING GRISTLE Hot on the Heals of Love
FAD GADGET Back to Nature
SILICON TEENS Memphis Tennessee
TUBEWAY ARMY Are 'Friends' Electric?
GARY NUMAN Cars
VISAGE Fade to Grey
THE FLYING LIZARDS Money
DEPECHE MODE New Life
DEPECHE MODE Just Can't Get Enough
DEPECHE MODE Sometimes I Wish I Was Dead
THE HUMAN LEAGUE Don't You Want Me
HEAVEN 17 – Penthouse & Pavement
CABARET VOLTAIRE Landslide
SOFT CELL Tainted Love
YAZOO Only You
YAZOO Don't Go
OMD Maid of Orleans
EURYTHMICS Sweet Dreams
ULTRAVOX Vienna
KRAFTWERK The Model
DEPECHE MODE Everything Counts
DEPECHE MODE Master and Servant
PET SHOP BOYS West End Girls
NEW ORDER Ceremony
NEW ORDER Blue Monday
PHILIP OAKEY& GIORGIO MORODER Together in Electric Dreams
---
Text by Chi Ming Lai
27th March 2010, updated 29th November 2014