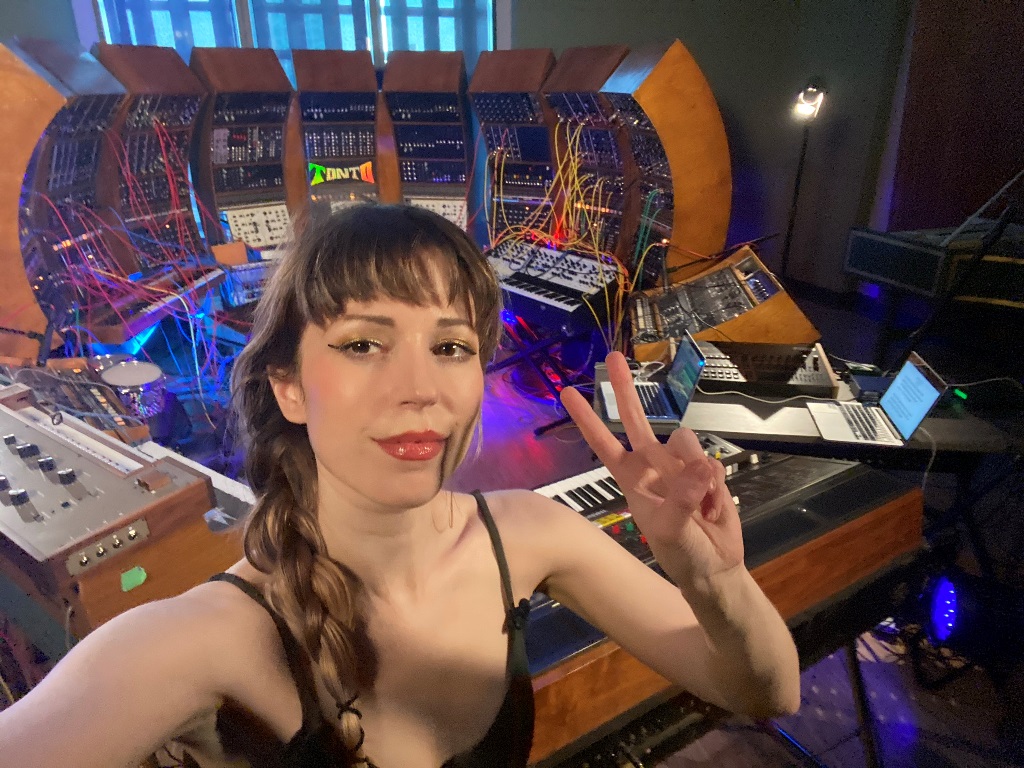 A wonderful delightfully odd experience that is accessible on many levels, 'T.O.N.T.O.' is the fifth album in 3 years by the Canadian musician Robin Hatch.
The eight track body of work uses the huge customised synthesizer system created for the music of TONTO'S EXPANDING HEAD BAND, the duo comprising of Malcolm Cecil and Robert Margouleff who together co-produced some of Stevie Wonder's best known albums such as 'Talking Book' and 'Innervisions'.
Hatch was first introduced to "The Original New Timbral Orchestra" by Cecil at a Los Angeles trade show in 2015 while later, she met up with Margouleff to discuss the suitability of her compositions for T.O.N.T.O. Having previously issued piano and experimental works, Hatch's fourth record 'Noise' featured vocals and drum machine with occasional inclinations into pop.
But the entirely instrumental 'T.O.N.T.O' was written and recorded by Hatch at the National Music Centre in Calgary where "The Original New Timbral Orchestra" is now based, just before Malcolm Cecil passed away at the age of 84. Hatch has dedicated the album to him, which has also been mastered by Robert Margouleff.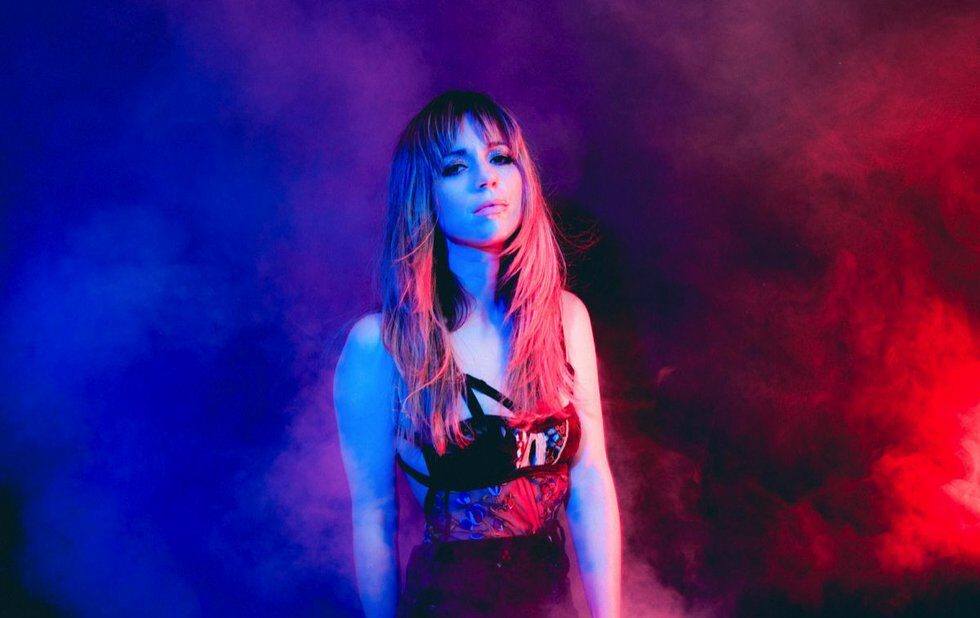 Robin Hatch kindly chatted to ELECTRICITYCLUB.CO.UK about her career to date and utilising the vast possibilities of T.O.N.T.O. for her own expressive purposes under some challenging circumstances.
You have described yourself as "a classical player trying to play jazz and not being very good at either", why did you say that?
I don't practice enough, so I think it's just a way to cover my bases there, plus it immediately lets people know about my neuroses.
You effectively lead a triple life as a musician in classical, alternative rock and experimental synth, are your tastes quite eclectic? Is there any genre which you don't embrace?
I enjoy listening to all types of music — left to my own devices, I generally listen to yacht rock or music that sounds like it could be on 'The Immaculate Collection'. I don't like present day Top 40 pop music all that much, but you still get a good song in there every couple of years or so.
How did you get into synthesizers and what was your first acquisition or experience?
I think my first synthesizer purchase was for an all-female WEEZER cover band I played in, SHEEZER. I got a digital Roland Juno-Di I think because it was the cheapest synth available where I could easily replicate the ElectroComp 101 sound that they used on 'Pinkerton'. My first analog synth was a used Nord Lead 2X that I picked up when I joined OUR LADY PEACE on tour.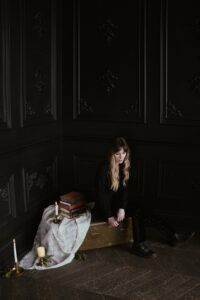 You've cited avant garde composer John Cage as an influence on your approach as he "embellished the weird"?
I love John Cage, he was so strange. I like how he treated the composition of music as high art that you might find in a gallery (such as his list of New York waltzes where it's a list of groupings of three streets, and performing the waltz requires you walk between the three streets), and then could go on television and show a TV host how he'd made a distorted microphone face mask and laugh maniacally at his own invention.
I think there is a fine line between this and insanity and John Cage was always good at remaining in the academic realm. I'm reading a book called 'Where The Heart Beats' right now about how he got into Zen Buddhism.
I once did DJ set of 4'33" covers between live acts during an event that even made Jonathan Barnbrook who did the minimalist artwork for David Bowie's 'The Next Day' raise an eyebrow, what's the craziest thing you've ever done for the sake of artistic expression?
Ha ha! Well I never went to school for theatre or visual art so in my early 30s, I think I'm just discovering sides of performance where people who study performance might roll their eyes. I get pretty outrageous on Twitter and I think it's interesting to call that artistic expression, whether or not that's valid artistic expression. It's about as artistic as a personal blog, I suppose.
There's a very vibrant outspoken guy here in Canada named Frank D'Angelo who is a very successful businessman, film director, and jazz musician. He also hosts his own talk show called 'Being Frank'.
I had chirped him one day on Twitter, saying a song of his that I'd heard on the radio sounded like it was ripping something else off.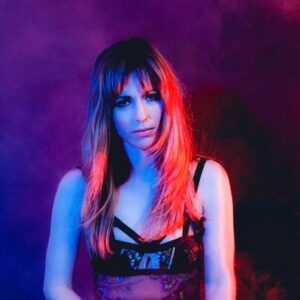 He name-searches, so he replied right away and ended up inviting me on his talk show, where I played one of my strange 5/8 time signature piano pieces.
He gave all the guests on the show that day (me and many Canadian television actors) a copy of his latest film script, and told me he'd "f*ckin kill me" if I ever showed anyone. It was a fun day overall and hope to work with him again someday.
After the experimental 'Hatch' album plus your previous piano works, you opted to feature vocals and drum machine on your fourth album 'Noise'? 'Tie A Bow' is almost the closest you've got to pop?
I'm trying harder for these new songs I'm working on! If I had unlimited budget, the rest of it would have sounded poppier too but still sort of figuring out mixing and arranging on the fly.
'Planetarium' sounds as if you are exorcising demons?
Yeah, I was trying to be as strange as possible. I think I had this idea during Covid that I could do some sort of girl version of Klaus Nomi. I can't even listen to it now because the vocals embarrass me so much.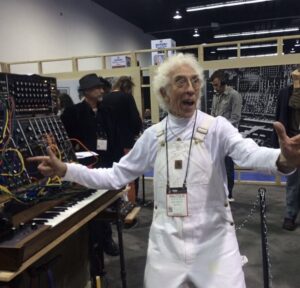 So how did you discover T.O.N.T.O. and its history?
I was in LA for a trade show called NAMM in 2015 to try and network myself for sponsorships. I had auditioned for Dave Stewart the day before to play in his daughter's band, and turned down the gig offer because I had a boyfriend back home (like an idiot!).
This was the final day of the trade show, and this is still true but it's pretty hard to get taken seriously by most people you speak to as a female musician, so I was on my way out with my tail between my legs and saw a mad scientist-looking fellow frantically pointing around over
by the Moog booth.
I basically walked up and cold-asked him who he was… it was Malcolm Cecil and he very kindly told me all about T.O.N.T.O. and gave me an autographed copy of TONTO'S EXPANDING HEAD BAND CD. I was already a Stevie fan from Motown cover bands I was playing in back in Toronto, and that interaction sort of solidified that love.
It represented for me, at that time, an appreciation for music which was separate from needing to have success within the industry, plus I got to see the tip of the iceberg in terms of the type of knowledge you need in order to create any synthesizer, let alone a massive Frankenstein like T.O.N.T.O.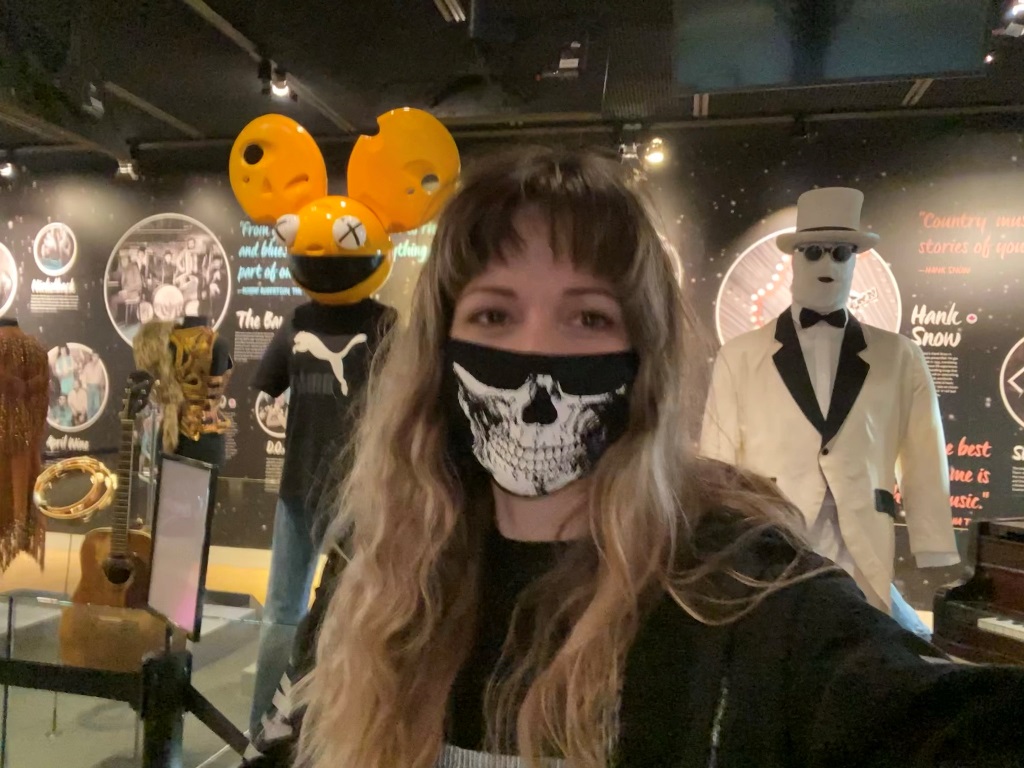 How did you come to conceive a work around T.O.N.T.O.?
In the summer of 2019, I toured the National Music Centre in Calgary, AB, where T.O.N.T.O. is currently housed, and found out about residencies they offer there.
I posted about that to my Instagram, and a friend of mine reached out that he knew Robert Margouleff through the VR microphone industry.
I was in California that fall for a wedding and went to meet Robert mostly out of corny fan interest in picking his brain for stories. At that time I had released my first album, 'Works For Solo Piano', and Robert asked to hear some of the songs off of it.
He is the only person who has ever immediately identified Béla Bartók as one of my influences, ha! He comes from a classical background as well. It was Robert's advice to try to sort of re-conceive the contrapuntal piano pieces I already write as separate voices in chamber pieces, and to run those parts into the separate synthesizers in T.O.N.T.O. essentially treating it as a MIDI chamber group automaton.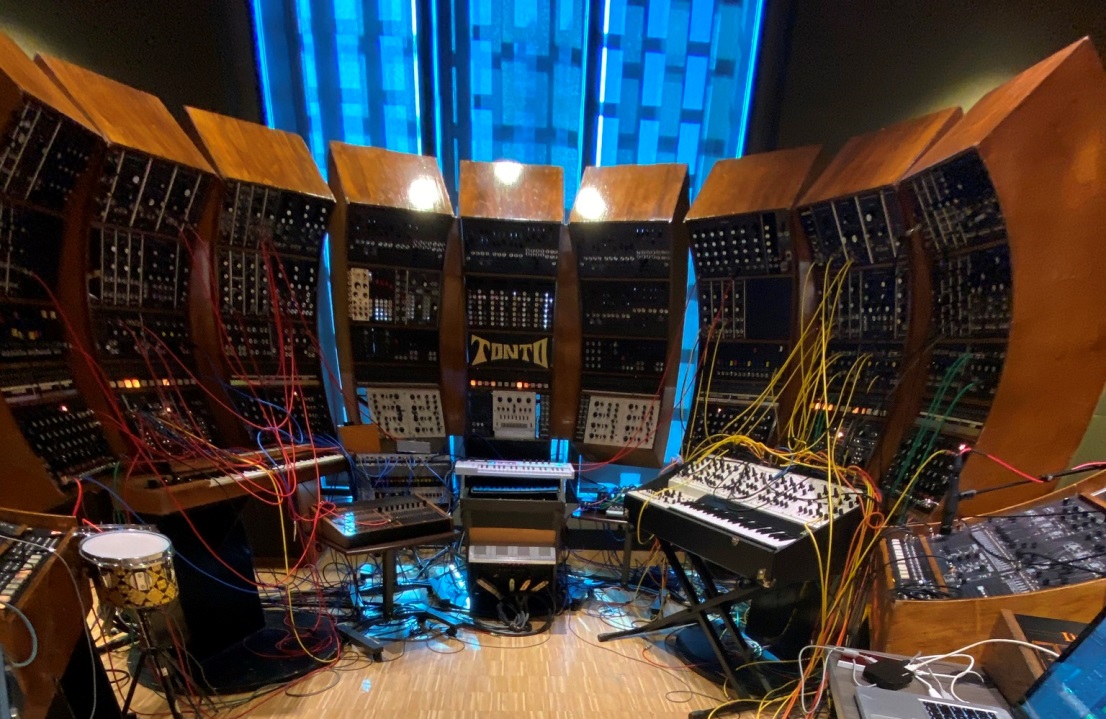 For the uninitiated, please can you tell us what is incorporated within the T.O.N.T.O. system and how did you find using it?
It has two Moog Modular 3 systems, two ARP 2600s, Oberheim SEM modules, and custom Serge modules as well as modules designed by Malcolm and Robert. While I was there, the Oberheim modules were out of commission so I used Studio Bell's Four Voice instead.
There was a massive learning curve. It helped to study the Arturia Vintage VSTs in advance and get somewhat of a sense of the layout of those synthesizers. It is incredibly difficult to keep the thing in tune and most of the time, the best you can get it to sound, 50 years since it was built, is sort of like when you hear a group of children playing their first violin recital.
Jason Tawkin at Studio Bell had a lot of hands-on experience with Malcolm Cecil and (the late engineer and equipment technician) John Leimsider who restored T.O.N.T.O. – so Jason's expertise in assisting with programming was invaluable, especially for songs like 'Water'. I found the ARP 2600s easier to dial in, but the Moog modulars were a nightmare.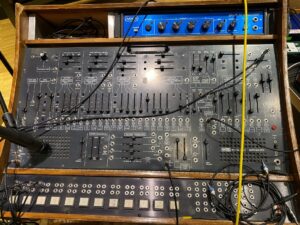 Was a four day residency enough to fully explore the possibilities of T.O.N.T.O.?
No… originally it was supposed to be twelve days but because of COVID, it was postponed for a year and pushed back to four days. I could have used a lot more time plus "heads up" time to write the record, but I wasn't about to complain when I got the e-mail it was moving forward!
'Buttercups' and 'My Lucid Mind' recall Wendy Carlos, has she always been a source of inspiration for you?
I am a massive fan of Wendy Carlos' early film scoring and if it reminds you of those, that is extremely flattering.
I think I was trying to rip off the orchestrations from 'Peter & The Wolf' and then Robert Schumann for 'Buttercups'… I had written the melody part on electric guitar and then fleshed it out more via that ostinato line. Then 'My Lucid Mind', I was trying to experiment with the tritone and diminished scales plus adding a countermelody that could play with and bounce off of the main melody.
You bring in a LinnDrum Computer for 'Rest Stop', was it the LM-1 which didn't have enough chip memory for a cymbal crash?
I think that's true of the LM-1. I was working with an LM-2 which had been hacked so it had MIDI. You know, I only had four days in studio and wish I had had more time to dial in a proper Linn sound for the record. It was what it was, but I almost wish I had overdubbed the song with VST LinnDrums because they don't sound as full as I'd like.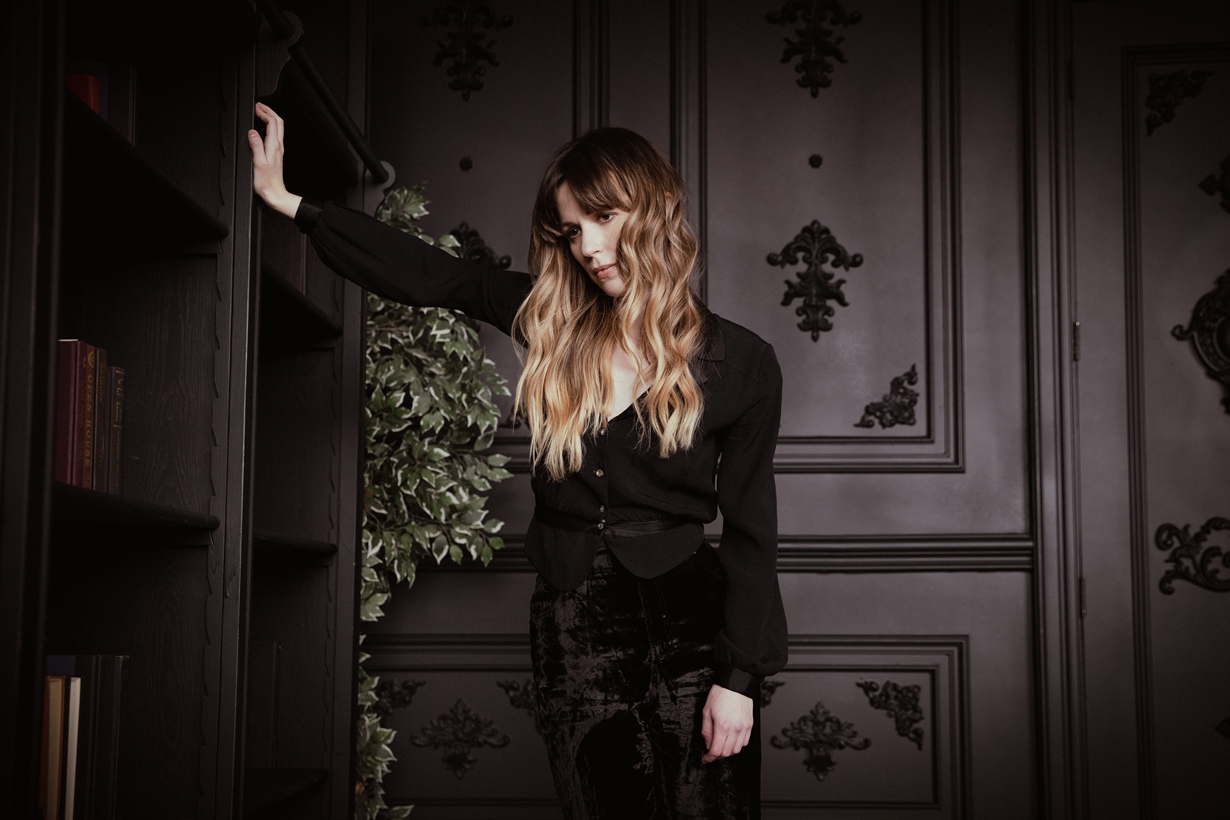 How do you find the digital drum machines compared with the primitive analogue rhythm boxes?
In terms of digital drum machine emulators of vintage analogue rhythm boxes, it's pretty difficult to tell the difference at this point.
But it's a lot more difficult to get a good sound from the analogue rhythm boxes and I imagine they sound beefier live.
'Brazil' ventures into jazz, what's the story here?
I think the goal was to try and make something that sounded musically like a Stevie Wonder song, the spaces in modal jazz where you can't tell if someone is playing in sharps or flats. It originally had LinnDrums similar to those on 'Rest Stop', but as a shot in the dark, I asked Eric Slick if he would drum on the song, and his playing plus Leland on sax just caused a more jazz-like sound.
'Airplane' is very solemn and tense, it features the violin of Laura Bates?
There was a Therevox (Canadian-made version of the Ondes Martenot) in the production room and I decided to attempt my best Jonny Greenwood there. Not being a string player myself, only about 20 seconds of that ended up on the recording, but Laura Bates, who is an incredible violinist and has a great metal band called VOLUR, helped me out with nailing the rhythm properly on those lines.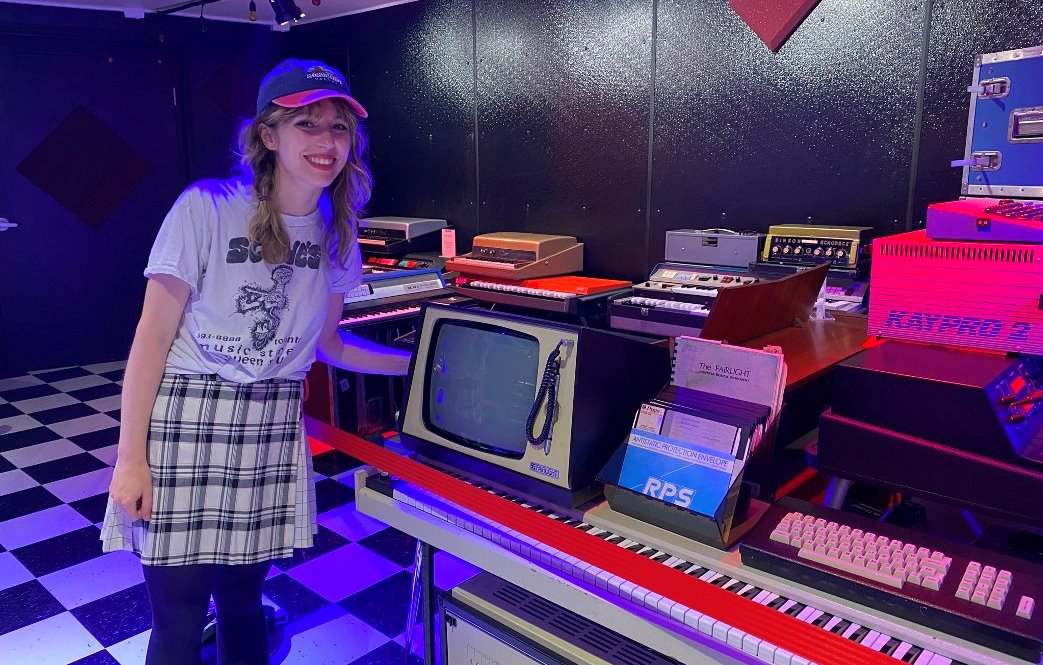 Amongst all the analogue synths on the 'T.O.N.T.O.' album, you use a Fairlight VST for a voice sample on 'Mockingbird', but have you ever used a real Fairlight CMI before?
No. I got to see one in person at EMEAPP this past month in Harleysville, PA. Hoping to get to use theirs someday. It's on the "bucket list".
Are there any other synths you would like to try out or are you happy with the set-up you have for the moment?
That new ARP2600 that Korg has out is pretty killer. I have a Prophet 12 that I'm still learning the ins and outs of, and I picked up an Elektron Rytm MkII drum machine last year with some of my pandemic unemployment, so I've got plenty to keep me occupied before I delve into modulars, for instance. I wouldn't say no to a Moog Grandmother.
There's a great distorted pipe texture on 'Inspector', how did you sound design that?
That is basically a sine wave patch where one of the oscillators is then running into a ring modulator. It gets pretty gritty towards the end but the ring modulator happened to be in tune enough and it was my favourite take of that song.
You used an RMI Explorer with its Flying Hammers?
I played the RMI Explorer on 'Water' and 'My Lucid Mind'. For the former, the (excellent) engineer Jason Tawkin had helped me patch in a sound similar to water flowing on one of T.O.N.T.O.'s two Moog Modular 3 systems, which we were using on 'Airplane' and it was the end of the second day and we decided to jam out over that particular sound, and that plucked RMI Explorer patch seemed to complement the flowy, river-like nature of the Moog atmospherics.
For 'My Lucid Mind', it was the final day and I was tossing off some overdubs to add a more whimsical, weird circus-like energy to the song.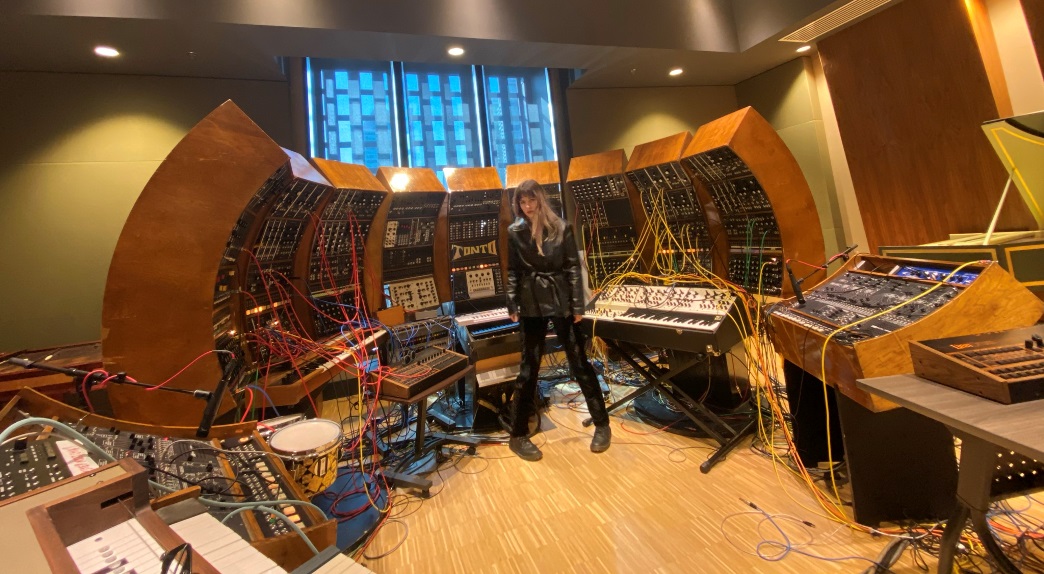 What were your personal favourite moments during the making of the 'T.O.N.T.O.'?
I had some free time and I dialled in one of the sounds listed in the original ARP2600 patch book called "Jonathan Synthesized Seagull", and it sounded exactly like a seagull. I'll send you a video clip of it.
It made me laugh to think of the guy who stayed up and designed that for the manual, and how keyboard patch name humour hasn't really changed much over the decades.
Just before the pandemic hit, I passed the audition to play in Dweezil Zappa's band for some summer dates, and it felt like I was finally able to break out of the glass ceiling. I've been sober for four years now and it has been a real struggle to get my life back in order. I live with my parents and one of them was high-risk so I hardly had any social interaction for the entire year. Obviously a bleak year for everyone; I was extremely depressed and the Canadian employment benefit was running out.
So having this residency scheduled was sort of like going to heaven, or getting the golden ticket to go to the chocolate factory. It was a Cinderella moment to get an e-mail asking which of the other synthesizers in the museum's collection I'd want to use for additional overdubs.
Are you tempted to build a modular system of your own in the future?
Hmm. I doubt it.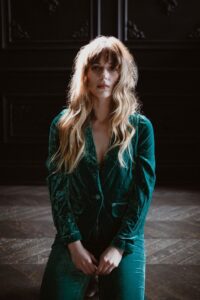 What's next for you? Do you think you might venture into songs and vocals again?
I am working on more pop-focused synthesizer music that is influenced equally by indie music of the early noughts as it is by early 80s Top 40 New Wave… I actually read a lot of the synthesizer track breakdowns posted on ELECTRICITYCLUB.CO.UK to get ideas! Then I think it would be a good idea to finally get out and play some shows… I'll likely do another piano album at some point. Playing my first American show this month in New York City, and hopefully some more US dates down the line.
I've got a New Year's gig playing in Andy Kim from THE ARCHIES' band that I'm quite jazzed about. Aside from that I've been writing music for podcasts, and hoping to break into film and TV composing. Like all musicians, I am incredibly desperate for work at this time!
---
ELECTRICITYCLUB.CO.UK gives its warmest thanks to Robin Hatch
Special thanks to Jake Saunders at Ramp Global
'T.O.N.T.O.' is released by Robin Records as a CD, vinyl LP and download, available from https://robinhatch.bandcamp.com/album/t-o-n-t-o
Robin Hatch plays New York's Berlin Under A on Friday 19th November 2021
https://twitter.com/robinhatch
https://www.instagram.com/robin__hatch/
---
Text and Interview by Chi Ming Lai
Photos by Stephanie Montani and Robin Hatch
15th November 2021