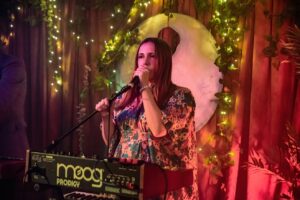 Synth earth mother Alice Hubble recently returned to follow-up her acclaimed 2019 album 'Polarlichter' with the similarly inspired 'Hexentanzplatz'.
Previously best known for fronting cult favourites ARTHUR & MARTHA and COSINES, she has presented another mix of the forlorn avant pop and endearing instrumentals that characterised her debut, but with an expanded textural palette.
Released by Happy Robots Records, tracks from 'Hexentanzplatz' have already secured BBC radio airplay from the likes of Janice Long, Lauren Laverne, Cerys Matthews and Steve Lamacq. From auroras to mountains, ELECTRICITYCLUB.CO.UK spoke to Alice Hubble about the making of 'Hexentanzplatz' and retaining that mystic but accessible air within her work.
Judging by album titles, was 'Hexentanzplatz' very much a variation on the theme of 'Polarlichter'?
I didn't set out for the album to have a German title, it just sort of happened! I like the way the words feel in your mouth. The name of a mountain translates to mean "the Witches Dance Floor", it was so perfect in its nature / disco / witchy connotations that I couldn't help be drawn to it.
So it's "a beautiful mountain" but did you actually get to visit Hexentanzplatz?
In Summer 2020, I was lucky to take a visit to Germany. As with everything in the pandemic, it was quite an ordeal getting there, our flights were cancelled three times, so when we got there I couldn't quite believe it and it was quite a surreal visit. One day in our trip, we visited the Harz mountains to go to the Unicorn Cave, mainly because they filmed some of the TV series 'Dark' at the cave, but also I like a good cave (see 'Ruby Falls'…) as much as I like a good mountain. This is where the back cover photo of the LP was taken.
On the drive to the cave, I learnt of Hexentanzplatz, the mountain is an old Saxon cult site known for its Walpurligsnacht celebrations. We were hoping to visit this summer but our visit is now planned for December. I'm so excited to visit the mountain, but I'm prepared for the reality to be a bit different to the mystical wonderland inclusive disco party I've imagined!
How was your overall approach to 'Hexentanzplatz' compared to 'Polarlichter'?
A few tracks were started before, but the majority of the LP was written during the first lockdown. Though none of the tracks were explicitly about lockdown, I feel the anxiety of the time is so clearly captured in the music. With the first LP, I was working out what Alice Hubble is, whereas with 'Hexentanzplatz', my overall writing approach was more focussed and confident.
I went to the recording studio last October and I spent 10 days in Ramsgate working on additional recording and mixing with Mike Collins at Big Jelly Studios. It was really nice to have this concentrated time to focus on the record.
Did you have any new or different toys at your disposal? How was the recording process this time round?
I bought a Roland RS202 string machine which is quite prominent on some tracks. With this LP, everything happened a lot quicker and the record sounds more spontaneous as a result. With the first LP, I felt the need to be very much in control in every creative decision. With this record I felt a lot free-er and relaxed in working with a producer and open to external suggestions.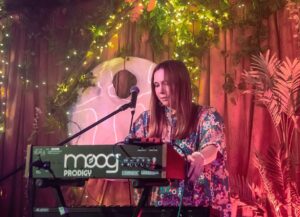 Your trusty Moog Prodigy still make a fabulous noise…
Of course ??
You've continued to combine standalone instrumentals like 'West Reservoir' and 'Gleichfalls' alongside your songs, do you have any particular artists whose work is primarily instrumental that you have been inspired by?
Manuel Göttsching and Laurie Spiegel who have been big influences on my instrumental work. I've also been listening to Kitaro and early 80s library music records which my partner plays at home a lot.
The first single from 'Hexentanzplatz' was 'Power Play', how do you feel about recent events closer to home which have made the lyrical content even more poignant?
The lyrics to 'Power Play' were sparked from reading an article about the mass hex of Brock Turner, but also my comment on what happens in a post #metoo world, when the news stories have been had.
I'm not sure what particular recent events you're referring to (there are sadly so many), but I think the whole system of sexual assault trials and convictions needs a reform, the "innocent until declared guilty" track doesn't support victims in any way and one of the reasons why a lot of cases get dropped or don't get to court in the first place.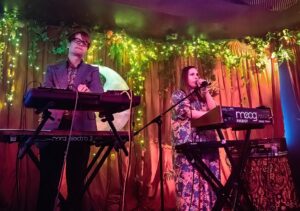 'Projections' recalled NEW ORDER's 'Love Vigilantes' with a quite rousing chorus?
This is probably the oldest song on the LP, it's probably at least 5 years old, and was a song that I wrote to confront myself regarding past affections with woefully inappropriately located men. A lot of the time you write these songs and they're actually too personal to put out there at the time. Having some distance from the song definitely helped me.
NEW ORDER was definitely a reference, though the 'Republic' era was what I was going for. 'Love Vigilantes' has definitely been a favourite through over the years though. The track also has a guitar solo on it, which feels quite adventurous for an Alice Hubble track!
You had an opportunity to reflect on your late parents with 'My Dear Friend' while the music was reminiscent of the earthier moods of LADYTRON when they made 'Gravity The Seducer'?
I'm ashamed to say I don't know that LADYTRON album, however 'Witching Hour' is definitely an LP I referenced a lot when making 'Hexentanzplatz'. I do gravitate music that mixes the synthetic with the organic, 'Seventh Tree' is my favourite GOLDFRAPP LP.
Which tracks on 'Hexentanzplatz' are your own favourites?
Oh my it's hard to say, I love 'Make Believe' cause it sounds so unsettled and heavy, and 'Gleichfalls', I know I made all the sounds on that record happen, but I'm still not sure how it happened!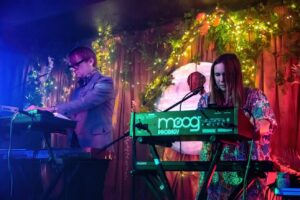 You've expanded the line-up for your concerts, do you feel more confident with the challenges of live performance?
I'm glad I did play solo, but being the only person on stage is a lot for anyone to take on. I'd be trying to perform but also then would be worrying about all the tech stuff too, it was fun, but at times quite stressful, especially with a laptop which is on the brink of death!
Bringing in Tom Hilverkus to the live band was a natural choice, he's already in the Hubble Bubble (he's my partner), but also is a great musician and has a real calming influence on me and can look after some of the techy stuff. This gives me more mental space to focus on performing and also gives us more flexibility to make the live show more interesting sonically.
What's next for you?
Looking to next year, there'll be some UK and German dates and festival shows. There's another EP at some point and I also need to find space to write some new tracks.
---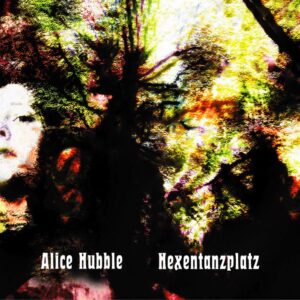 ELECTRICITYCLUB.CO.UK gives its sincerest thanks to Alice Hubble
'Hexentanzplatz' is released by Happy Robots Records in vinyl LP and digital formats, available direct from https://happyrobotsrecords.bandcamp.com/
https://www.happyrobots.co.uk/alice-hubble
https://www.facebook.com/alicehubblemusic/
https://twitter.com/alice_hubble
https://www.instagram.com/alice_hubble/
---
Text and Interview by Chi Ming Lai
Photos by Adrian Hextall
11th November 2021