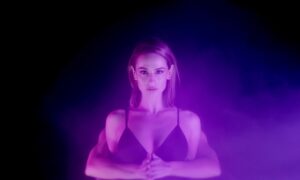 Long distance relationships are never the easiest, even at the best of times.
But the new KID MOXIE single 'Better Than Electric' encapsulates the melancholically longing and the ultimate joy with an arrangement like the Roy Orbison song 'A Love So Beautiful' (itself based on Puccini's 'Nessun Dorma') reimagined for 'Twin Peaks' soundtrack.
Fittingly written by Elena Charbila as a remote collaboration with James Chapman of MAPS who also provides chorus harmonies, the lyrics reflect on a distance that keeps two lovers apart. Charbila said "Is there anything more powerful than Electricity? It has the power to instantly connect things and people and it is a force so powerful yet it's something you don't see, you only feel it."
Directed by Joe Rubinstein and embroiled in an exquisite sexual tension, the 'Better Than Electric' video stars Charbila and Russian dancer Olka Sokolova. "This is a very emotionally raw and honest love song and video, about longing for someone who is far away" added Charbila, "the video, this otherworldly girl and I become one. We improvised a lot of the movement and choreography which really worked in terms of producing a very natural and real connection between us."
"Tonight this city breathes with me, she makes me dream big" Charbila sings in a gorgeously haunting soprano, before declaring with love that "you and I, are better than electric". After all, electricity cannot exist unless there is a connection.
Following up the previous KID MOXIE single, a cover of ALPHAVILLE's 'Big In Japan' and the dance flavoured 'Love & Unity' EP with LUXXURY, 'Better Than Electric' comes from the new KID MOXIE album out in 2022.
---
'Better Than Electric' is released by Pasadena Records and available via the usual digital platforms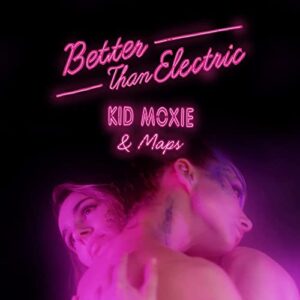 https://kidmoxie.bandcamp.com/
http://www.facebook.com/kidmoxie
https://twitter.com/KIDMOXIEMUSIC
https://www.instagram.com/kid.moxie/
https://www.facebook.com/MapsMusic
https://twitter.com/thisismaps
https://www.instagram.com/thisismaps/
---
Text by Chi Ming Lai
9th November 2021