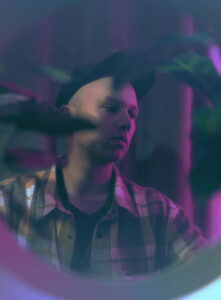 Matthieu Roche is the enigmatic Parisian behind FRAGRANCE.
A purveyor of dreamy synthpop in the vein of PET SHOP BOYS, he released his debut EP as FRAGRANCE. in 2016 before presenting his first full length release 'Now That I'm Real' in 2019 on Synth Religion. From it, 'So Typical' was a particular highlight while there were also collaborations with Maya Postepski of AUSTRA, TR/ST and PRINCESS CENTURY fame plus Hélène de Thoury, best known for her solo project HANTE. and as a member of MINUIT MACHINE. Singing primarily in English and often leaving vocals en Français to his female collaborations, Roche exudes a classic elegance, musically recalling TR/ST but using a far less polarising singing style than that of Robert Alfons.
As a result, those who might be put off vocally by TR/ST might find FRAGRANCE. much more accessible. A modest man, Roche lets his music do the talking and with his second FRAGRANCE. album 'Salt Water', he continues his production partnership with Sophia Hamadi from the French duo OPALE, while a new artistic relationship comes in the shape of New York-based Venezuelan singer and photographer Lulannie.
Developing on the mood and dance template of its predecessor, 'Salt Water' opens with the boisterous 'Forevermore' where body mechanics sit within the trancey backdrop. The squelchy French house of 'Attiré Par Le Chaos' is suitably vibrant and hypnotic while dreamy yet danceable, the wonderful electro-disco of 'Covered In Gold' comes over like a Gallic PET SHOP BOYS, smoothed by Merlot and additional ethereal voices from Sophia Hamadi.
While 'Twisted Way' doesn't quite hit the heights of what came before, it is enjoyable in a drifting atmospheric kind of way, but returning to something rhythmically harder, the arpeggio-laden 'Tears' offers a tone of resignation yet sparkles.
The energetic 'Bind Me Up With Your Flesh' throws in some sinister shade to the spacey club friendly vibes but with a beautiful piano intro, 'The Cure' eases itself in before reverberant synthbass and metronomic beats kick in to do what FRAGRANCE. do best with the alluring middle eight prose from Lulannie only adding to the pleasure.
'Love Bites' bubbles as Roche sings of something "dead in the water" as it rings with a number of understated electronic hooks, while the propulsive 'Crisis' brings a dark anxiety into proceedings although things are never too intense or doom laden, always giving hope to a possible solution. 'A Million Replays' ends 'Salt Water' with a contemplative night drive soundtrack building into a percussive coda and then ocean waves in a reflection of the album title.
Exquisite and melodic, 'Salt Water' utilises prominent rhythms that are never overbearing. Swathed in an absorbing melancholy for a superbly produced collection of appealing music, its ten tracks sit as comfortably at home as they do on the dancefloor, not an easy feat to pull off. Mais oui!
---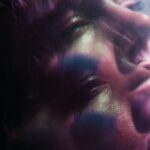 'Salt Water' is released by Synth Religion, available as a CD, baby pink or black marble transparent vinyl LP and download from https://fragrancemusic.bandcamp.com/album/salt-water
https://www.facebook.com/thisisfragrance/
https://www.instagram.com/fragrance.music/
https://linktr.ee/fragrancemusic
---
Text by Chi Ming Lai
Portrait Photo by Jennifer Medina, Artwork Photography by Anne-Fleur Sire
18th November 2021