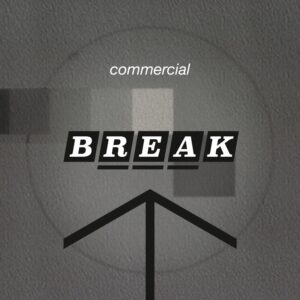 Never one to sit still, Neil Arthur explores a new direction for BLANCMANGE's 14th album 'Commercial Break'.
While the synthesizer framework remains, the unexpected textures of acoustic six string and various field recordings permeate on this reflective work co-produced by Benge at his Memetune Studios in Cornwall.
To add some of that air and atmosphere that can be missing from many modern productions using computerised media, Neil Arthur has absorbed audio captures of electric saws, seafronts, conversations, bird song and old water pumps into the backdrop.
To a background of sea breezes, a lone bass synth squelches from 'Share Out The Light'. In the frustrated vein of the classic Northern English comedy show 'Whatever Happened to The Likely Lads?', Neil Arthur decides that "A knock on the door, I don't want to know the score" as the mood envelopes over 5 and a half minutes as "we learn from mistakes". Cut from a similar cloth, 'Endless Posts' is harsher, adding electric guitar in a cutting percussive attack on social media obsession.
Offering something more in the vein of classic OMD, 'This A State' sees Neil Arthur still as dry as ever with his wordplay, declaring "this is the state we're in"! But as our hero is switching channels due to a 'Commercial Break', he declares "It's five to five and it's Crackerjack" over an a stepped lattice of pulse and throb! Meanwhile with a hypnotic rhythmic backbone behind creepy minimal texturing, 'Dog Walk In A Cloud' requests listeners to "make something of it"…
But after all the electronics, 'Empty Street' surprises with an acoustic guitar instrumental! With a solemn monologue and accompanied by field recordings, 'Strictly Platonic' takes the minimal guitar structures further while it electrifies them on the instrumental 'On A Ride'.
'Duo' is stripped down even further with tape manipulations and lone arpeggios but with basic percussive clatter and occasional six string picking, 'Long Way Road' adopts a sigh of resignation as its surroundings slowly build with an array of subtle synths in all frequencies.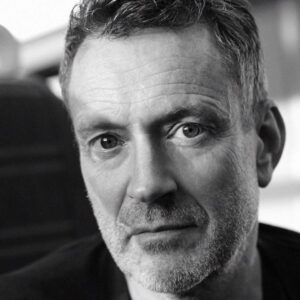 'Looking After Aliens' could be THE DURUTTI COLUMN with its layers of guitars in a neo-classical style, and is an instrumental that can be as far away from 'Feel Me' or 'Living On The Ceiling' although an understated set of ARP2600 generated pulses are a reminder that this artist is still BLANCMANGE.
The second half may come as a shock to long standing BLANCMANGE fans but it shows Neil Arthur's appetite to evolve and try something different. He remains the most prolific member of the Synth Britannia generation and one of its most interesting, using the enforced slower pace of the last 18 months as a creative spur.
---
'Commercial Break' is released by Blanc Check on 24th September 2021 in CD, vinyl LP and digital formats, available from http://blancmange.tmstor.es/
Other works by BLANCMANGE are available as digitally direct from https://blancmangemusic.bandcamp.com/
BLANCMANGE's rescheduled 2021 'Mindset' tour includes:
Tunbridge Wells Forum (11th September), Colchester Arts Centre (16th September), Norwich Arts Centre (17th September), Birmingham Institute 2 (18th September), Gloucester Guild Hall (23rd September), Exeter Phoenix (24th September), Nottingham Rescue Rooms (25th September), Blackburn King George's Hall (29th September), Newcastle Riverside (30th September), Edinburgh Liquid Room (1st October), Glasgow Oran Mor (2nd October), Southampton The Brook (13th October), Bristol Fleece (14th October), Northampton Roadmender (22nd October), Manchester Club Academy (27th October), Leeds The Wardrobe (28th October), Liverpool Grand Central Hall (29th October), Brighton Concorde 2 (17th November), Harpenden Public Halls (18th November), Cardiff Portland House (25th November), London Under The Bridge (26th November), Shrewsbury Buttermarket (27th November)
https://www.facebook.com/BlancmangeMusic
https://twitter.com/_blancmange_
https://www.instagram.com/neilarthur/
---
Text by Chi Ming Lai
6th September 2021