Having been mooted for several years and postponed twice, HEAVEN 17 finally delivered their 40th anniversary celebration of THE HUMAN LEAGUE albums 'Reproduction' and 'Travelogue'.
"We're not pretending we were reforming THE HUMAN LEAGUE, all the publicity states this is HEAVEN 17's interpretation of those two albums" said Martyn Ware, "As you well know, I was the major writer on most of those tracks. I always felt they deserved a wider audience, hence why we've played a lot of those songs live with HEAVEN 17 anyway." Although it was Fast Product that released the first version of 'Being Boiled' in June 1978,  Virgin Records, under the A&R directorship of Simon Draper, had the foresight to see the wider potential of THE HUMAN LEAGUE's sound containing synthesizers and vocals only.
But how important are these two records in the development of pop music using synthesizers? Using the Roland System 100, Korg 700s, Roland Jupiter 4 and Korg 770, 'Reproduction' and 'Travelogue' are certainly up there with landmark British albums such as 'Replicas', 'The Pleasure Principle', 'Metamatic' and 'Vienna', while a case can definitely be made that they are on a par with international works such as 'No1 In Heaven' and 'Die Mensch-Maschine'.
Former member of both THE HUMAN LEAGUE and HEAVEN 17 Ian Craig Marsh once imitated the deep voice of Seiko watches on an early demo and declared "THE HUMAN LEAGUE, one day all music will be made like this…" and it all turned out to be rather prophetic. Deputising tonight at The Roundhouse for the long absent Marsh, alongside Ware and HEAVEN 17 front man Glenn Gregory, was keyboardist Flo Sabeva, while acting as Director Of Visuals in place of Adrian Wright was Assorted iMaGes design director Malcolm Garrett.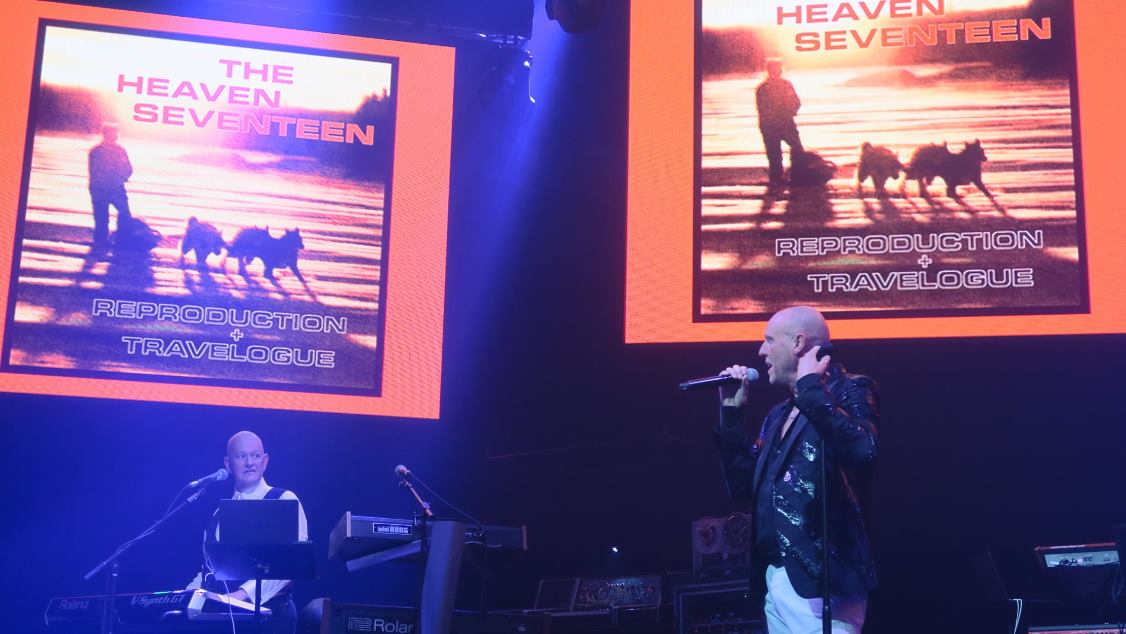 Using a four screen 'Reproduction' of the album's inner bag as the stage set, synths-wise, Ware had his Roland trusty V-Synth GT at his disposal alongside a vintage Roland System 100, mini-Korg 700s and a Jupiter 4 on loan from Irish synth artist CIRCUIT3. Meanwhile, Sabeva kept the tech up-to-date with her Fantom 6 and System 8 arsenal from Roland.
The aggressive synth-punk of 'Almost Medieval', naturally opened proceedings while the harrowing 'Circus Of Death' followed, both displaying their percussive System 100 dynamics. A rallying call to rebel against conformity, 'The Path Of Least Resistance' was as relevant as ever while fun came on 'Blind Youth', summing up another sad observation that could be applied today, especially with its known anti-Covid vaccine elements.
The Schaffel nursery rhyme of 'Empire State Human still came over as the mighty hit it never was, illustrated by world monuments and the achievements of the US and Soviet space programmes. Using the System 100 for its lonely sequence, 'Morale' segued seamlessly into the ring modulated tick-tock of 'You've Lost That Loving Feeling' with Gregory and Ware doing their familiar Righton Brothers duet, to convey the eerie soundtrack's desolate emptiness.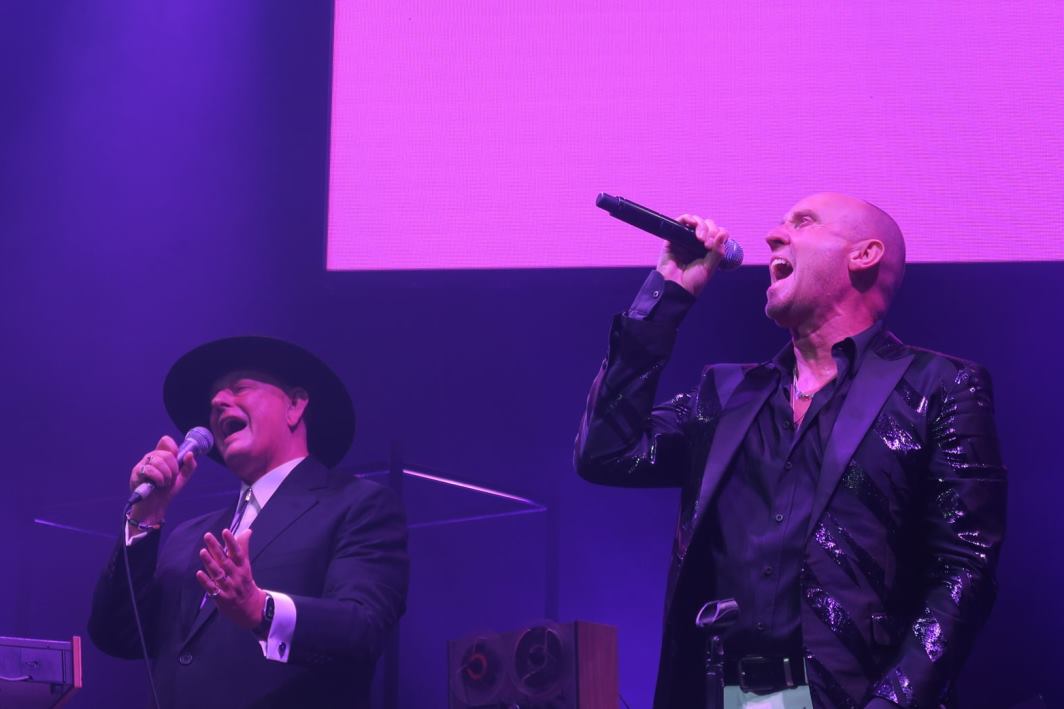 As the fierce acceleration of 'Zero As A Limit' climaxed the 'Reproduction' section of the show, the 'Travelogue' part was introduced by the harsh screeching frequencies of 'The Black Hit Of Space' as it all went up another gear with this still entertainingly humorous Sci-Fi story about an infinite chart topper. Meanwhile, the minimal synth rendition of Mick Ronson's 'Only After Dark' prompted an audience chantalong while the under-rated 'Life Kills' proved to be something of an electronic pop evergreen.
But it was all hush for the poignant prog synth of 'Dreams Of Leaving'; with a narrative about the traumatic escape of refugees who then try to settle into a new home, the alignment of sad, happy, fast, slow with its uplifting pipe-pitched climax was proof that 40 years on, emotional responses can still come from the machines of Roland and her sisters.
For the instrumentals 'Toyota City' and Jeff Wayne's 'Gordon's Gin', Gregory took his place on a Sequential Prophet 6 but as backing singers Rachel Meadows Hayley and Hayley Williams joined in and danced to the vicious backbone of 'Crow & A Baby', it wasn't difficult to imagine this number as a prototype of 'The Sound Of The Crowd'; squinting from the balcony, it could even have looked like "Phil, Joanne and Susan" were on stage!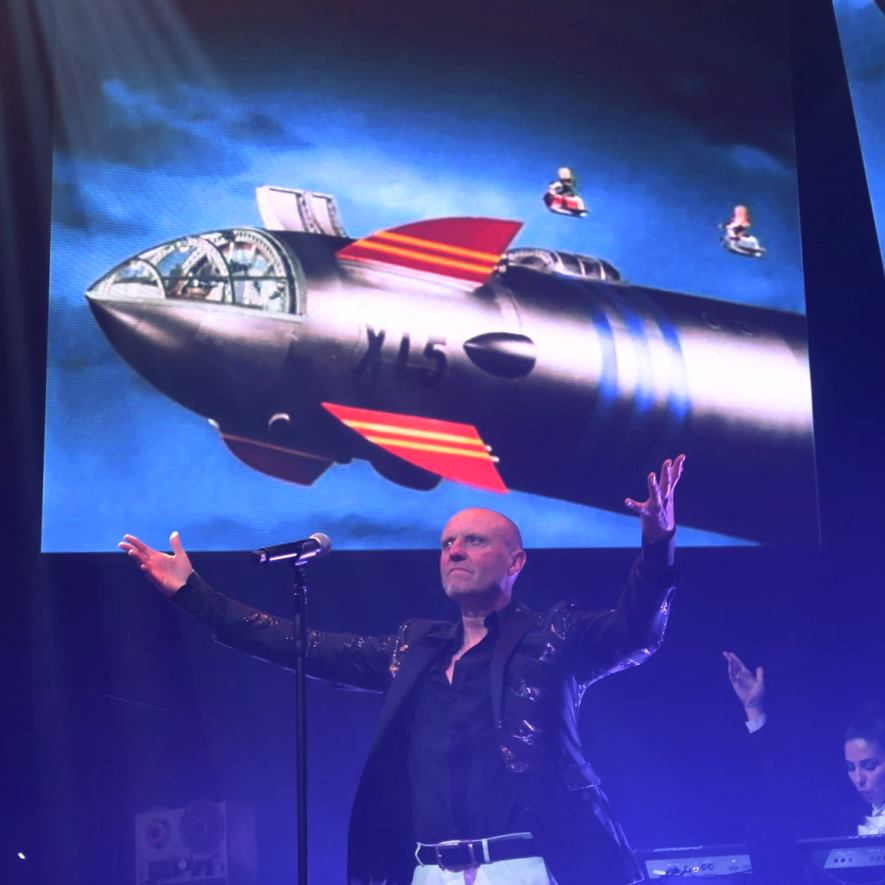 An epic synth reimagination of PARLIAMENT and FUNKADELIC, the reworked 'Being Boiled 2.0' with Phil Oakey's surreal lyrics about the extermination of silk worms never sounded so glorious and further memories of the mature audience were triggered by the incongruous but effective use of slides featuring characters from Gerry Anderson's iconic Supermarionation shows 'Fireball XL5', 'Stingray', 'Thunderbirds', 'Joe 90' and 'Captain Scarlet'.
A dystopian song about the mechanisation of radio stations which inadvertently predicted the Spotify playlist, 'WXJL Tonight' closed the 'Travelogue' section with Gregory adding the tones of Neil Diamond to his delivery.
But the evening was not over yet as tracks from the companion 'Holiday 80' EP were aired. The stupendous 'Marianne' with its three part vocal counterpoint and multiple harmonies over its crashing rhythmic barrage was worth the ticket price along while Iggy Pop and David Bowie's 'Nightclubbing' somehow got an even more sinister funereal treatment.
But then things went disco as 'I Don't Depend On You', the 1979 that was released prior to 'Reproduction' under the alias of THE MEN, took its place in the set but importantly, highlighting how THE HUMAN LEAGUE might have mutated into how HEAVEN 17 eventually sounded even if there hadn't been a split.
Ever the raconteur, Gregory jokingly threatened a performance of 'Dare' but settled on stories about the formation of THE HUMAN LEAGUE and HEAVEN 17. But an unexpected HEAVEN 17 encore reminded the sold-out crowd that we don't need Fascists, especially that nasty little race traitor Ugly Patel and her scruffy bumbling posh boy mate! But ultimately, all anyone in life really desires is 'Temptation' with dimes in that hot slot!
Prior to these shows, THE HUMAN LEAGUE faithful inevitably questioned the validating of HEAVEN 17 performing these albums without Phil Oakey, but is 'Fade To Grey' any less valid sung by its co-writer Midge Ure than it is by the late VISAGE front man Steve Strange? By using many of the original synth sounds, this celebration of these two seminal albums was both authentic and appealing.
Sometimes celebrations can actually be more entertaining than modern day incarnations of an original act, as proven with DEPECHE MODE and their various tribute bands showing more spirit and respect for their legacy. At the end of the day, the stars of this evening were the songs themselves, a collection of pioneering electronic adventures that have been forgotten by the mainstream who largely think THE HUMAN LEAGUE appeared by magic with 'Don't You Want Me?'.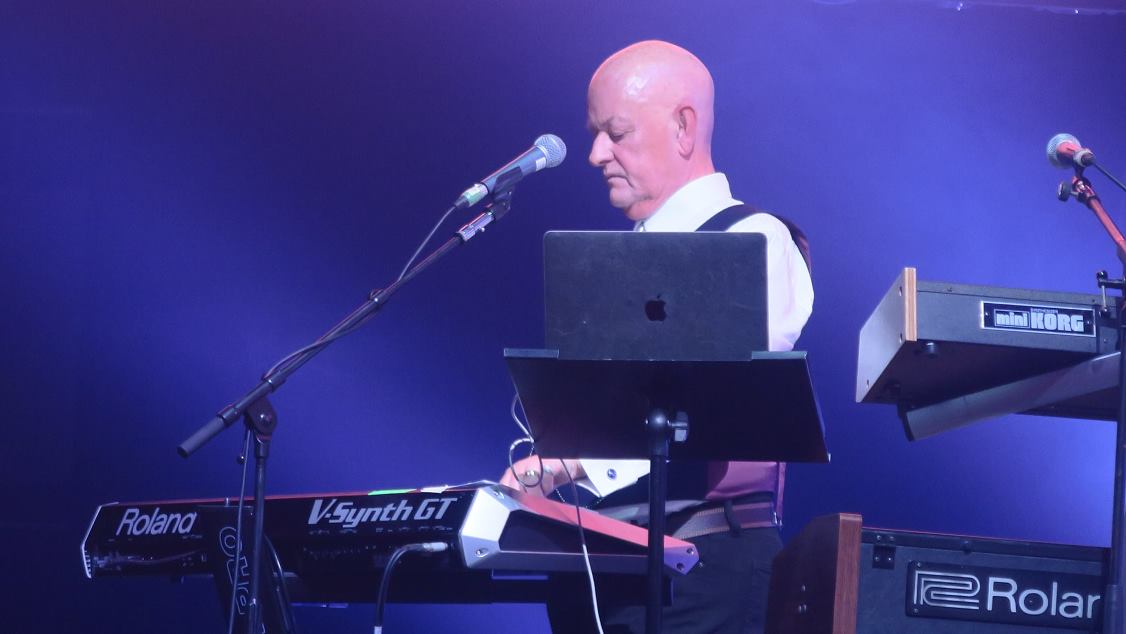 Those who want to see THE HUMAN LEAGUE performing the 'Dare' album can do so at the end of 2021. But for those who preferred to recall the excitement prevalent at the start of the Synth Britannia era, tonight at The Roundhouse was the place to be… the way it was in the past, a long long time ago!
---
'Reproduction' + 'Travelogue' were released by Virgin Records and are still available in the usual formats
https://www.facebook.com/heaven17official/
https://twitter.com/heaven17bef
https://www.instagram.com/heaven17official/
---
Text by Chi Ming Lai
Photos by Richard Price except where credited
6th September 2020