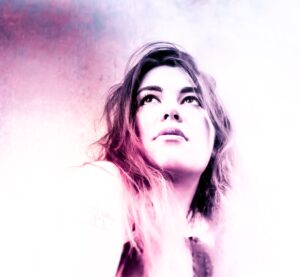 With her debut album 'Moving Spaces', Laura Dre has presented an impressive musical statement that positions her between the sophistication of Nina and the gothier overtures of Kat Von D.
A musician, producer, graphic designer, model builder and gamer, the German-Filipino songstress has many talents. While she may be a new name in synth, Laura Dre offers a cooler take on electronic pop, the five decades old form having recently had a mainstream boost internationally  thanks to THE WEEKND with Max Martin-assisted tunes such as 'Blinding Lights' and 'Save Your Tears'.
Previously the front-woman of feisty electro-rock combo VINYL BLACK STILETTOS whose second EP 'Electrical' was produced by PET SHOP BOYS programmer and engineer Pete Gleadall, Laura Dre has a fascination for yesterday's tomorrow, with the rainy dystopian air of 'Blade Runner' lingering with a mysterious sexual tension.
Laura Dre spoke to ELECTRICITYCLUB.CO.UK about her creative ethos and how artistic independence has empowered her to be 'Moving Spaces'…
You have been making music for a number or years, particularly with a more alternative rock edge so what inspired you to focus on synths, had there been any artists from this ilk that turned you onto this instrumentation?
My love for alternative rock, grunge, punk and metal was quite strong up until I discovered electronic artists. I think it all started with German electronic artists in 2003 that had a cross-over between synths and indie sounds in their music: STEREO TOTAL, MIA; 2004: SPILLSBURY (Electro-punk); 2006: PEACHES, FISCHERSPOONER, GOLDFRAPP, YPPAH and in 2007: NEW YOUNG PONY CLUB.
I love the bold expression and simplicity of PEACHES, the synth melodies and alluring vocals of GOLDFRAPP, the rhythmic syncopation and ambience whenever I listen to a YPPAH record, and the mesmerising synergy of instruments from NYPC. Of course, there was also a lot of 80s and 90s EDM growing up – all this has influenced me what I do today.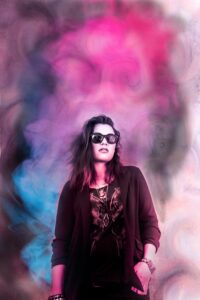 In your writing process, are you quite "synaesthesic" in approach with your musical imagination?
Almost. If we are purely talking about sounds itself, then I most often have already a particular synth sound in my head whilst writing my song. The good thing is, I know exactly what I'm looking for and how it's made of (ie saw, square, sine, triangle) and then I would modulate / manipulate / shape the sound to match the sound in my head, with LFOs / envelopes and additional effect plugins. It really helps being familiar with a synthesisers functions and controls, which I learned during my time at University studying music production.
I scored 10/10 when my tutor was testing us if we recognise wavetable sounds. So that already gave me a good indication of my ability to identify sounds and reconstruct them from scratch.
You apply a strong visual aesthetic to your artwork, photos and social media, how important do you think this is as an artist?
I think this goes hand-in-hand with music and visuals are very important these days to promote the music you're doing, to grab people's attention and to express music on a visual level. Since we live in a world full of advertisements, it's even harder now to cut through the social media noise to stand out, so that's why I think it's really important to have images accompanying the music as well as portraying the artist itself.
From my own personal opinion, I found it even more important that this is carried out through ORIGINAL images / content, something that the artist creates themselves rather than using other people's artwork like I see it often happening on Instagram. Aren't you bored of seeing the same image shared over and over by multiple artists?
Yes, it may look aesthetically pleasing to someone who just wants to see specific kind of images, but on the other hand it's unoriginal and basically it's stealing other people's artwork, causing potential copyright infringements. I've seen it often happening that other people's artwork is not even credited, which is bad practice. I also don't see the logic in doing these things because it's not really contributing to the artists' music or image itself. I'm sorry to be blunt, but it comes across as 'visual portfolio of stolen images for lazy artists'. That's my personal opinion and it's something that people don't have to agree with.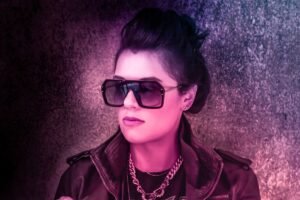 Did you ever consider hiding your face like some of the acts who featured in 'The Rise Of The Synths'? Can it ever be "just about the music" as some claim in that film?
I have no shame in saying that I've not watched this film, just like I never heard about synthwave until last year. No, I have no reason to hide my face, personality nor sexuality. I think hiding is a personal choice – whatever makes you feel comfortable.
Do you have any guilty pleasures in terms of inspiration, unexpected loves like Country & Western or Schlagermusik?
I'm not a fan of German Schlagermusik, but I wouldn't mind classic Country music (ie Johnny Cash), Hillbilly stuff, Psychobilly Rock N' Roll, and some Benny Goodman and Bobby Hutcherson here and there. I love Oldies, Jazz, Classical Music, 90s Hip Hop – I can pretty much listen to any genre as long as the music is good.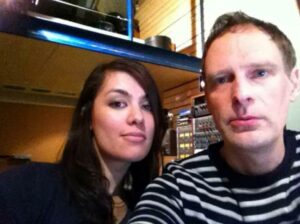 Robert Harder, who you worked with in VINYL BLACK STILETTOS, mixed the 'Moving Spaces' album, how would you describe your creative dynamic?
It's easier to work with someone when you know that person and what they are like. With Robert, he always worked with the cool bands that I admired (SOHODOLLS, WHITE ROSE MOVEMENT, WHITEY etc) So I had no doubt that he would be a good fit for my sound, which he has proven with my very first VBS EP from 2011.
In terms of dynamic, we both work remotely and super quick. He puts a lot of effort into mixing my music creatively and the vocal production, like he added this wonderful dreamy outro on 'I Wanna Be Your Only One' which I originally did not have. I absolutely love it!
What tools were you using on the album, was there any particular hardware or software that you turned to and enjoyed using?
I don't own much analog hardware, mainly just a good pair of speakers (Focal Twin 6 BE), a good valve microphone (Telefunken AK-47 MkII) and a UA6176 – the rest is done in the box. To me it's never been about the gear you own, to make music with. One could have the most expensive Studio equipment, but if you're not a good songwriter you will still make crap music, no matter how expensive your gear is.
The same principle applies for recording – you could be recording at Abbey Road Studios with the world's best sound engineer – I will repeat this again: it doesn't matter if everything is top range, your songs will still be cr*p if you've never learned how to write and compose good songs.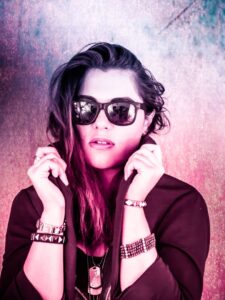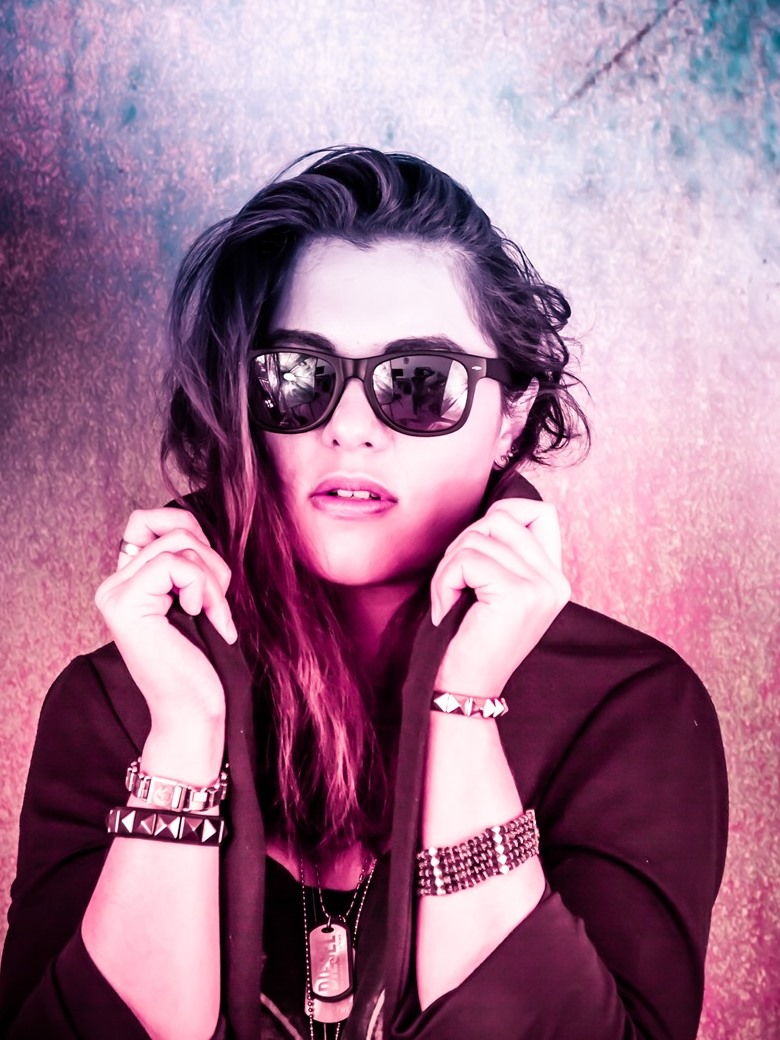 Were you tempted to bring out your bass guitar or were you strictly adhering to the synth aesthetic?
I'm not afraid to use any kind of instrument at all, as long as it fits the track. In my case, the bass guitar doesn't really suit my music, so I will only use my guitar here and there, where it complements the melodies and harmonies I create. At the end of the day, I'm not here to please people by strictly adhering to a limited range of instruments or musical style or aesthetics. I see my music as complete different entity not connected to anything, except the electronic genre (which is super broad) but with 80s infused sounds in a modern way.
So did 'If Looks Could Kill' begin life as one of your rockier tracks?
That was the third track I created out of the 'Moving Spaces' album, and initially I did a fast 4/4 beat with modulation on the synths, but due to an accident during transfer, Robert had to re-program my drums on this track and accidentally gave me back a 2/4 beat, which I totally loved because it was so 80s! Like Michael Sambello's 'Maniac'. I'm so glad this happened, because it just sounded better! I wouldn't call it 'rockier' but in my head I visualised an image of an 80s pool party and this song playing in the background. I mainly create music to images in my head.
The 'Moving Spaces' title song launched you solo to the wider world, why did you pick that as the track to premiere your synth sound with?
I let Outland Recordings pick the track, I wasn't really fussed which track went out first as I loved them all. Besides that, it's better to let the average listener pick, because as a producer / artist, I often can't see the forest as a whole, I can only see individual trees.
How did Outland Recordings become involved? Was the 'Moving Spaces' album already recorded? Was it important for you to have a label?
No, it wasn't fully recorded. I had 8 songs at the time I started looking for a label. And yes, it was important to me to get a label because I made a deal with my Instagram crush. The deal was that she would have to go out with me on a date if I get a record deal. So 100% motivation right there! 😉
'All Day, All Night' has this lovely PET SHOP BOYS feel, right down to the instrumental break, are you a fan?
I've seen PET SHOP BOYS live on their 'Nightlife' tour in Bremen, it was my very first concert ever. My friend had a spare ticket, so that's how I ended up there. I still love 'For Your Own Good', but I wouldn't say I'm a big fan. They are okay. If I have to pick a 90s EDM act, I'd prefer ORBITAL, THE ORB, FAITHLESS, UNDERWORLD or THE FUTURE SOUND OF LONDON. If 'All Day All Night' sounds like PSB to some listeners, then that's fine, but I had no intention of making it sound similar to them. What I had more in mind with this song was a modern version of 80s Citypop.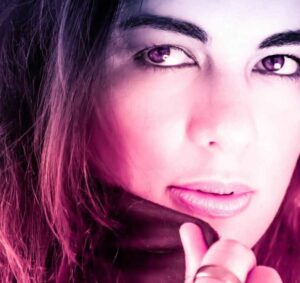 'Superficial Cyberlove' gets quite gothic and then goes all EBM, how was this track conceived?
Gothic? *laughs*
I never had this in mind when I composed it. I visualised something more 80s cyberpunk in my head, like 'Blade Runner' meets techno. Sci-fi and Neon Club vibes.
While unrequited love is the theme of the album, how much of the lyrical content is you playing a character and how much is autobiographical?
The lyrical content is a mixture of both. The feelings are from my real life experiences whilst the setting and vibe of the songs have different imaginative settings, for example 'Superficial Cyberlove': Whilst the lyrics are about having a crush on your ideal model that you shaped inside your head, this model has a set and certain type of partner in their mind, thus they're all 'superficial' and you'll never be good enough for that person.
Then, we're also connected to our computers on a daily basis, so people cyber-stalk the one's they like and possibly develop deeper feelings for them that are unrequited, to the point that they are letting go of them ('I Turn Away From You'). To bring the lyrics together with the music I chose a 'cyberpunk' setting in this instance, that I try to convey with dark retro sounds, tempo and intensity of the song that gradually increases.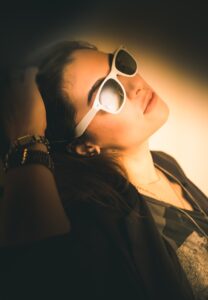 Are you actually an 'Ice Maiden' in real life?
Hahaha! I don't know how other people observe me, but my ex-girlfriend was certainly an 'ice maiden', and so is the girl that I made a deal with.
'I Wanna Be Your Only One' mentions 'Bonnie & Clyde', but which couples, either real or fictional have most inspired you?
Catra and Adora from 'She-Ra & The Princess of Power' *laughs*
They are obviously fictional, but they have a very complex relationship that made the whole story of the show really good, I could watch this over and over! I'm not surprised there are many fans out there that want a Season 6 now!
You sing that 'Loving You Is A Beautiful Sin', but how do you see the world at the moment in its quest for equality, tolerance and being free from the threat of violence?
I think as humans in this current state of the world we have a lot of things to combat that unfortunately will not change overnight, such as Asian-hate-crime, homophobia, climate change, poverty, trans rights, domestic violence, wars, human trafficking and rape amongst many, many other things that are problematic.
It's horrible when we think about these things and the fact that they all exist somewhere in the world. I think this is an ongoing quest that will not be resolved for the next centuries sadly. I still like to dream about a world where currency and poverty doesn't exist, where all life forms whether alien or human are equal, which is Gene Roddenberry's world – it's the reason why I'm so fond of 'Star Trek'. Who you love should not be an issue, but sadly in many countries, it still is.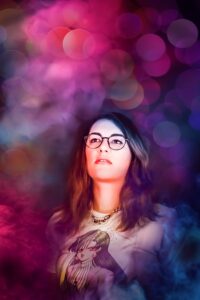 Which are your own favourite songs from the album and why?
I don't have any favourite songs, they are all my "babies" so I love them all. 🙂
Is playing live as a solo synth artist on the cards for you or is the recording of a second album first more likely?
The second album is nearly done! I will have it finished by end of September, then it will be mixed and mastered by Robert Harder again. Once that is done, I will perform live shows again, hopefully with the first stop being Tokyo, Japan.
What are your hopes and fears as the world begins to open up again?
My fear is that every damn venue will be booked up! Hahaha. I think most bands are getting ready now to start playing live shows soon, which might become a nightmare in terms of wanting to book a time slot. As for hopes, I'm hoping that Japan will open their borders soon so that we can start booking my first tour.
---
ELECTRICITYCLUB.CO.UK gives its warmest thanks to Laura Dre
Special thanks to Outland Recordings
'Moving Spaces' is released by Outland Recordings, available in CD, blue vinyl LP, cassette and digital formats from https://lauradre.bandcamp.com/
https://www.facebook.com/lauradreofficial
https://www.instagram.com/lauradre/
https://twitter.com/LauraDreMusic
https://www.twitch.tv/lauradreofficial
https://soundcloud.com/lauradre
https://www.youtube.com/channel/UC-i6CW5oGLsKIOOIHV9sEHA/
https://open.spotify.com/artist/1AdbxZ3LVADmRfwzJxZwrS
---
Text and Interview by Chi Ming Lai
Photos by Wiebke Kreinick, except studio selfie by Laura Dre
1st August 2021