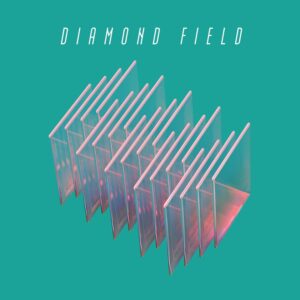 DIAMOND FIELD is the musical vehicle of Andy Diamond, the New York based Kiwi who despite associations with the North American synthwave movement, looks to studio icons such as Hugh Padgham, Peter Wolf and the sadly departed Rupert Hine as his heroes.
The songs 'Won't Compromise' with BMX freestyle godfather Bob Haro and 'Freedom Pass' with Dana Jean Phoenix reinforced the perception of a purer synthesizer affinity. But the self-titled debut springs a surprise by mixing traditional instrumental colours with electronic production techniques.
So as can be expected from an artist whose production moniker is named after a Pat Benatar song, electric guitars, live bass and real drum feels are combined with drum machines, sequencers and synths. But the stars of the record are the songs and each of their various international guest vocalists recruited and recorded via the joys of the internet.
With stabbing keyboard themes plus a combination of solid synthbass and loose live sounding drums, 'New Situation' with Nina Luna taking lead vocals provides a driving opener that comes over like a more sprightly take on TEARS FOR FEARS 'Head Over Heels' if it had been reinterpreted for use in 'Pretty In Pink'.
Then comes the brassy electro-funk of 'Bring Back Love' with Matthew J Ruys approximating Stevie Wonder and the riff laden 'Glowing In The Dark' featuring Kiwi songstress Miriam Clancy which sexily rouses like BERLIN before providing an effective slowed tape stop. The college radio rock of 'In This Moment' though crosses the darker shades of ECHO & THE BUNNYMEN and THE CURE while referencing SIMPLE MINDS 'Chelsea Girl', although the synth riffs along with Nik Brinkman's mannered delivery point to fellow New Yorkers NATION OF LANGUAGE.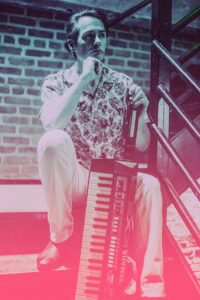 However, the exotic rhythmic moods and jazzy cosmic solos that shape 'Spills Like Love' make for a joyous turn from Cody Carpenter that is the antithesis of his work with his Horror Master father, while 'It's Your Time' sung by Becca Starr of Scottish retrowavers THE VAN DAMMAGE offers a percolating rock-infused stomp with a passionate vocal.
With a backing track like NEW ORDER's 'Your Silent Face' reworked by OMD, 'A Kiss Apart' is superb and sees a velvet performance by Belinda Bradley of New Zealand collective SELON RECLINER; akin to the other Belinda, Ms Carlisle crossed with Marcella Detroit (who co-wrote 'Little Black Book' with THE GO GOS front woman), a gorgeous chorus and some great synth interventions in the instrumental break recall Mute trio PEACH who contributed 'On My Own' to the 'Sliding Doors' soundtrack.
And speaking of Belinda Carlisle, Chelsea Nenni of LATE SLIP pays homage on 'Used To Be' which plays with that sunny rock flavour that THE GO GO's once took to No1 with 'Beauty & The Beat'.
With bursts of gratuitous sax and the vocal presence of Kyle Brauch, 'Look To The Stars' goes very New York in its mighty machine generated groove. But 'Out Here For Love' is the 'Mighty Wings' of the collection and as that did on 'Top Gun', it ends DIAMOND FIELD's eponymous debut with Matthew J Ruys returning to give proceedings some blue-eyed growl in the manner of LIVING IN A BOX's Richard Derbyshire.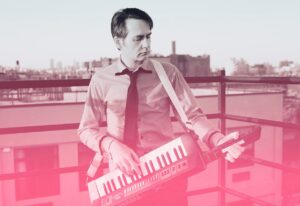 This may not be the album that those who have liked DIAMOND FIELD's previous singles will be expecting at all. It is much more of a pop offering but that isn't a bad thing as this is the sort of optimistic album many need right now.
Although written before the worldwide pandemic, many of the lyrics deal with hope and positivity. The quality of songwriting is high, something that a lot of synthwave and modern synthpop is lacking.
Applied with engaging productions and arrangements, the music captures the spirit of the pioneering MTV era and classic Brat Pack movie soundtracks. Like a high tech K-Tel compilation album but from the baton of one conductor, this is perhaps the most cohesive multi-vocalist album since the only long player to date by KLEERUP which combined electro-soul, synthpop, Italo, kosmische and ambient. DIAMOND FIELD has successfully thrown in new wave, synthpop, funk, R 'n' B and AOR into one escapist pot.
People are very nostalgic right now, whether for the 70s, 80s, 90s or 00s because anything is better than what has happened in the last 18 months, but DIAMOND FIELD has shown that the present and future are going to be alright.
---
'Diamond Field' is available in vinyl and cassette editions through Sofa King Vinyl at https://sofakingvinyl.com/ as well as digitally via the usual online platforms
https://diamondfieldmusic.com/
https://www.facebook.com/diamondfieldmusic
https://twitter.com/diamond_field
https://www.instagram.com/diamond_field/
https://open.spotify.com/album/108IiQzFu9eRr9vPulJoJn
---
Text by Chi Ming Lai
Photos by Claire Price
30th July 2021