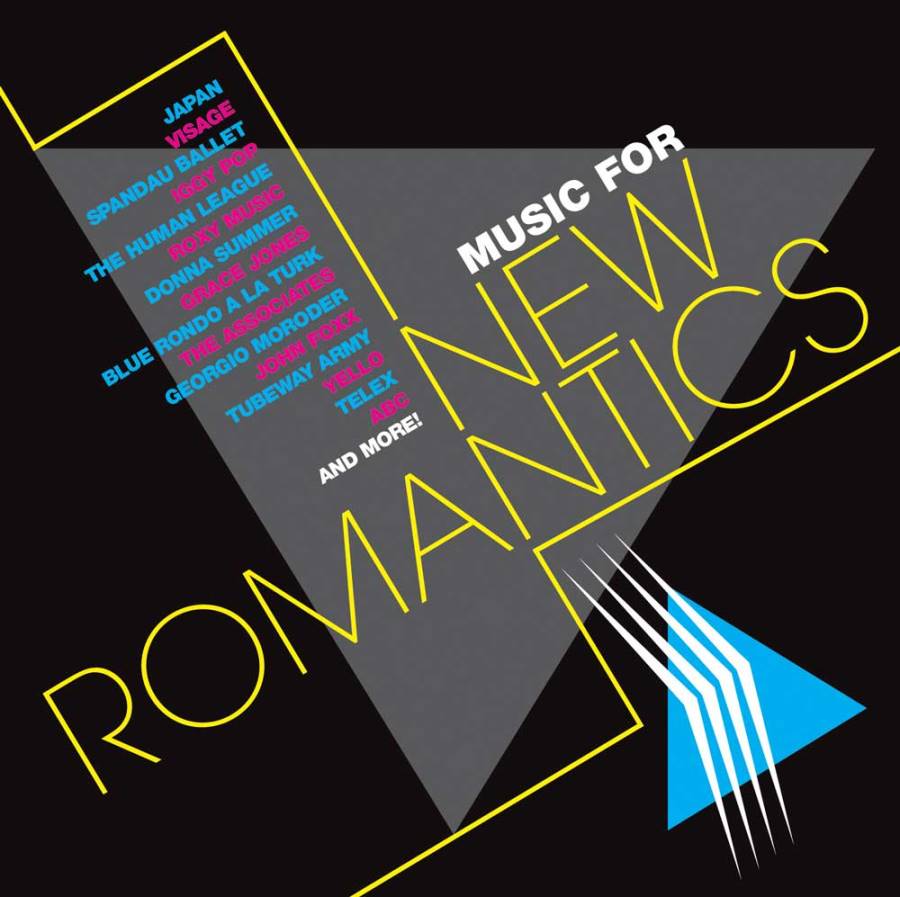 The phenomenon of the New Romantics can be said to have begun in Autumn 1978 with the foundation of a "Bowie Night" by Steve Strange and Rusty Egan at Billy's nightclub in London's Soho.
The youth movement that emerged aimed to find something new and colourful to escape the oncoming drabness in The Winter Of Discontent. Like Edwardian dandies meeting the Weimar Cabaret with extras from 'Barbarella' in between, they did a strange swaying arms dance, so as to not mess up their theatrical bouffanted hair. But after a disagreement with the owners of Billy's, the pair moved their venture to The Blitz Club in Holborn.
Despite names such as Futurists, The Blitz Kids and The Movement With No Name, it was the term "New Romantics" coined by producer Richard James Burgess that became the widely used press description for this flamboyant group of outsiders. It was to eventually stick on anything from synthpop, art rock and peacock punk to Latin grooves, jazz funk and cod reggae provided the artist wore make-up, zoot suits, frilly blouses, smocks, headbands or kilts. Parallel club scenes developed at The Rum Runner in Birmingham, Crocs in Rayleigh near Southend and The Warehouse in Leeds from which DURAN DURAN, DEPECHE MODE and SOFT CELL respectively emerged.
To celebrate this era in popular culture, Cherry Red Records release an eclectic boxed set entitled 'Music For New Romantics'. But while it contains some fantastic music, the tracklisting is a confused affair, having been originally conceived around comings and goings of The Blitz Club. It was here that Steve Strange acted as doorman and fashion policeman, while Rusty Egan was its resident DJ providing the soundtrack for a scene which became the catalyst for several bands including SPANDAU BALLET, CULTURE CLUB and VISAGE as well as assorted fashion designers, visual artists and writers.
Everything was centred around fashion-obsessed and some would say self-obsessed individuals; while the story about turning away Mick Jagger is well documented, one of the ironies of Steve Strange's gatekeeping antics was that he refused entry to Chris Payne, then a member of Gary Numan's band in 1979; Strange was to have his biggest hit with a song that Payne co-wrote entitled 'Fade To Grey' while another refused entry that evening was Ced Sharpley who played the drums on it!
Contrary to legend, the playlists of the various New Romantic establishments did not comprise exclusively of electronic music as those types of tracks were comparatively scarce at the time. So international synthworks from the likes of KRAFTWERK, YELLOW MAGIC ORCHESTRA, SPARKS, SPACE and TELEX sat alongside soundtracks, punk, disco and relatable glam rock tunes by David Bowie, Brian Eno and Bryan Ferry.
Rusty Egan declined to be involved in the collection after initial discussions led to conceptual differences. In the absence of The Blitz Club's resident DJ who is now planning his own curated collection, one of the regulars Chris Sullivan, who himself ran a similar but less electronically focussed night at Le Kilt in Soho, steps in to provide commentary while the set was put together by the team behind Cherry Red's 'Musik Music Musique' synthpop series and 'Electrical Language' boxed set.
'Music For New Romantics' comes with three loosely themed discs with CD1 focussing on glam, art rock and early electronic disco while CD2 covers Synth Britannia and new wave. CD3 though is a hotch-potch of soul, funk and electro with SISTER SLEDGE and LIPPS INC being rather incongruous inclusions; with their hit songs being readily available on any 'Night Fever' type compilation, there were many more suitable alternatives that could have been considered.
But it is CD2 that most will revel in and the tracklist has no fault as a listening experience. Standards such as the eponymous song by VISAGE, SIMPLE MINDS 'Changeling', OMD's 'Electricity', 'Moskow Diskow' from TELEX, THE NORMAL's 'Warm Leatherette', JAPAN's Giorgio Moroder produced 'Life In Tokyo', 'Bostich' by YELLO, 'Being Boiled' from THE HUMAN LEAGUE and THROBBING GRISTLE's 'Hot On The Heels Of Love' are present and correct. But it was SPANDAU BALLET's 'To Cut A Long Story Short' and LANDSCAPE's 'Einstein A-Go-Go' that were to confirm that the New Romantics were able to hit the charts in their own right after Steve Strange's cameo in Bowie's 'Ashes To Ashes' video.
CD1 features scene heroes such as Iggy Pop, Lou Reed and Mick Ronson, but heroines come in the avant cabaret glamour of Nina Hagen with 'TV-Glotzer' and Grace Jones' reinterpretation of Édith Piaf's 'La Vie En Rose'. The most welcome track on this disc though is RAH BAND's 'The Crunch' which all but invented the sexy electro-Schaffel of GOLDFRAPP, while one obscure jewel is 'The Ultimate Warlord' by THE WARLORD. And when today's synthwave fanboys go on and on ad nauseam about how influential the 'Drive' soundtrack is, then just throw 'Chase' by Giorgio Moroder from 'Midnight Express' at them!
Despite being a mess of styles, the highlights of CD3 are Marianne Faithfull's terrorism commentary 'Broken English' and Gina X with the Quentin Crisp tribute 'No GDM' which both fit into the avant cabaret category. Although 'M Factor', the B-side of M's 'Pop Muzik' was regularly played at The Blitz Club, 'Everything's Gone Green' by NEW ORDER sticks out like a sore thumb… Peter Hook would likely scoff at being considered a New Romantic!
The move towards funk in the New Pop of late 1981 is reflected in ABC with 'Tears Are Not Enough' (full marks for using the CORRECT Steve Brown produced single version), HEAVEN 17's 'We Don't Need This Fascist Groove Thang' (in a rare radio version with the lyric "fascist god" changed to "cowboy god") and TOM TOM CLUB's 'Genius Of Love'. But those who consider New Romantics to be discerning studious types into synth and new wave will find the likes of Coati Mundi and Don Armando extremely alienating; after all, it was THE HUMAN LEAGUE's Phil Oakey who said to Smash Hits around this time "I hate all trends like all this Ze Stuff"! 
When the New Romantic magazine 'New Sounds, New Styles' launched as a monthly publication in Summer 1981 after a promising launch edition, its content was confused with one angry punter later exclaiming via letter: "You're meant to be a Futurist mag so leave all this Latin and jazz funk sh*t out of it!" – with the embarrassing novelty party act MODERN ROMANCE also being lumped in with the New Romantics, it was obvious the rot had now set in. Tellingly within a year, 'New Sounds, New Styles' folded…
From 1982, 'Club Country' by ASSOCIATES which notably highlighted the observations of  Billy MacKenzie on what he saw as the posey vapid nature of The Blitz Club is a fitting inclusion. Meanwhile as the 'Music For New Romantics' essay writer, Chris Sullivan gets to include his own style over substance combo BLUE RONDO À LA TURK with 'Klactoveesedstein', a single that came in with a blank at No50 that same year!
Of course, Sullivan went on to establish Le Beat Route and The Wag Club because he loved salsa and was less than enthused about synthpop, highlighting that despite the New Romantics seeming to be a united voice of expression, like any movement, it had its factions. Not featuring in the set, it was another scene regular Marilyn who said on the recent 'Blitzed' Sky Arts documentary that "I hated the music, all that electronic crap" while Steve Strange imposed a ban on Gary Numan being played at The Blitz Club, thus prompting Mr Webb's lines "These New Romantics are oh so boring" in the 1981's 'Moral' and "I like romantics but I don't like Steven" in 1982's 'War Songs'.
A range of key New Romantic godfathers are missing from Bowie to Eno although MOTT THE HOOPLE's hit take on 'All The Young Dudes' makes up for the former while ROXY MUSIC's 'Do The Stand' effectively covers off the latter. KRAFTWERK, YELLOW MAGIC ORCHESTRA and SPARKS are also absent and of the lesser known cult figures, Wolfgang Riechmann undoubtedly deserved inclusion, while New Romantic staples such as 'Hiroshima Mon Amour', 'RERB' and 'Magic Fly' are more preferable to the likes of 'Funky Town' or 'Ai No Corrida'.
Although only a single disc, 2006's 'Only After Dark' compiled by Nick Rhodes and John Taylor of DURAN DURAN based around the music played at The Rum Runner, managed to feature Bowie and Eno as well as YELLOW MAGIC ORCHESTRA and KRAFTWERK so did more with less. While 'Music For New Romantics' is flawed and will cause some head scratching, this set is a reminder of those more innocent aspirational times and a scene that DID actually play its part in changing the world.
The Blitz Club's tenure was short and after vacating it, Steve Strange and Rusty Egan started Club For Heroes and then in 1982 came The Camden Palace; it was the UK's first modern superclub; music and clubbing were never the same again, and it was not for the better. However, the New Romantics had made their mark.
An elitist movement that was exclusive at its core despite the protestations of some, one amusing modern day legacy of the New Romantics and the Blitz generation in particular is how some try to ride on the scene's trenchcoat tails, despite the fact that even if they had been old enough to visit licenced premises back in 1980, they almost certainly would have not been allowed in, thanks to the door policy of the man born Stephen John Harrington.
Taylor Swift did a song in 2014 called 'New Romantics' and when you google "New Romantics" these days, it's what often springs up at the top of the searches… but that's another story 😉
---
'Music For New Romantics' is released by Cherry Red as a 3CD Clamshell Box Set on 25th November 2022
https://www.cherryred.co.uk/product/music-for-new-romantics-3cd-clamshell-box-set/
---
Text by Chi Ming Lai
5th November 2022