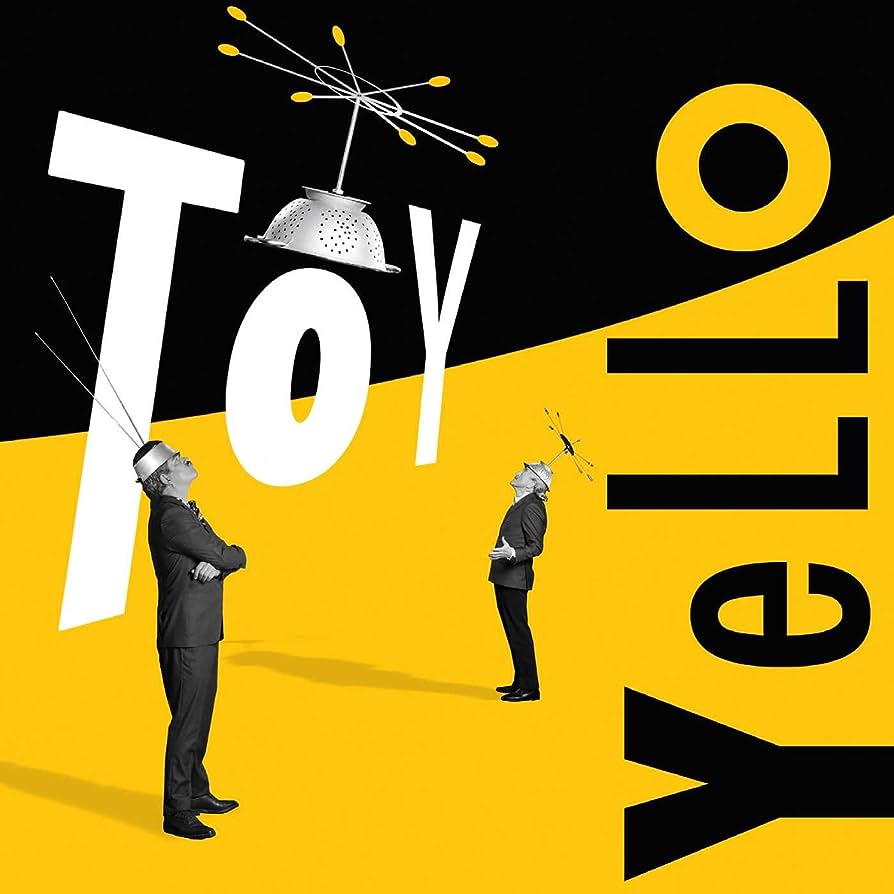 Recorded in Zurich, Swiss electro pioneers YELLO deliver 'Toy', their first album since 2009.
Dieter Meier and Boris Blank had made a recorded return earlier in the year with the moody 'Why This, Why That & Why?', a track in collaboration with JEAN-MICHEL JARRE as part of his 'Electronica 2: The Heart Of Noise' album.
Despite 37 years of making music together, the sound of YELLO remains intriguing and distinctly European.
The deluxe 17 track variant of 'Toy'
starts with the delightful intro piece 'Frau Tonium', a short collage of bending synths and machine drones.
But the album begins proper with 'Limbo', a classic YELLO single laced with electronic effects and percussive mantras. Meier gives his distinctive drawl over a big metronomic beat syncopated by rhythm guitar for some suitably racey music.
The Moroder gone Latin Jazz lilt of '30,000 Days' is appropriately moody, with brushes complimenting the vibrant but unimposing rhythmics before the superb 'Electrified II'; with Meier's mind blown by the velvet voice of Malia, this could be Shirley Bassey indulging in some seductive energetic electro-cabaret as she exclaims "Life's a bitch and I'm no witch".
Malia continues her soulful seduction on 'Cold Flame' which exploits the importance of grooves working in unison with fat driving beats. It shows exactly what club music at sunset should be.
Beijing-born chanteuse Fifi Rong makes her first vocal appearance on 'Kiss The Cloud', a slice of dreamy elegance over a drum loop that wouldn't sound of place on one of her own recordings.
Malia returns for a gorgeous duet with Meier entitled 'Starlight Scene'; as the man himself says, she is "out of this world" and with Blank's bursts of vibratoed synth, this is a continental torch song that does its thing in just over three minutes. What is apparent about many of these new YELLO songs is how short they are, so they never outstay their welcome.
The pace picks up for 'Tool Of Love' with Blank's crunchy electronics offsetting the inherent jive, while on the Malia-voiced 'Give You The World', a 6/8 pulse takes 'Toy' into another direction. The steadily pulsating 'Dialectical Kid' sees Meier's robotised voice pair up with yet another female vocalist Heidi Happy, whose eerie overtones suit the track's more obviously mechanical backbone.
The haunting 'Dark Side' sees the return of Fifi Rong where both Meier and Rong's voices help create a wonderful filmic atmosphere alongside Blank's layered voice samples. A instrumental interlude 'Pacific AM' does exactly what it says on the tin, conjuring images of sunsets over a hypnotic rhythmical motif before the sunny Balearic flavoured 'Blue Biscuit'.
Featuring some great acoustic guitar from Jeremy Baer who contributes all the fret work on 'Toy', Boris Blank takes his turn on vocals and using all manner of layered voice treatments, weirdly tells the object of his desire "you never know how much I love you". Taking its lead from the classic percussive snap of KRAFTWERK but with an added Latin flavour, 'Lost In Motion' with Fifi Rong sees her on an uptempo number for a change, with her angelic breathy tones offsetting the slightly fiercer electronic action.
With the song part of the deluxe variant of 'Toy' now over, the album concludes with three experimental pieces. The oddball voice sample ambience of 'Magma', while well-intended, sadly spoils the flow of the album. Whether in standard or deluxe versions, this strangely sits on both formats while 'Electrified II' and 'Lost In Motion' feature on the deluxe only. Much better though is 'Toy Square', a more frantic instrumental that explores LEFTFIELD territory. A full-length reprise of 'Fran Tonium' ends both editions of 'Toy' with a collage of drones and bleeps, but unfortunately outstays its welcome.
This last trio of instrumentals ultimately confuse the album, but will probably come fully into context at YELLO's upcoming live shows with lashings of visuals and volume.
A danceable electronic record that is not built around the predictable beats and drops of EDM, 'Toy'
is a mature and atmospheric statement, yet great fun. It loses it with the closing instrumental indulgences, but this album will not disappoint the eager YELLO faithful.
---
'Toy'
is released via Polydor / Universal Music on 30th September 2016, available as a CD, deluxe CD, double LP and digital download
YELLO appear at Kraftwerk Berlin on 26th, 28th, 29th and 30th October 2016
https://www.facebook.com/yello.ch/
---
Text by Chi Ming Lai
26th September 2016