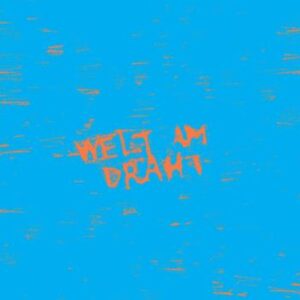 DAS BLAUE PALAIS is the project of Düsseldorf based music veteran and Bellerophon Records co-founder Jochen Oberlack.
His aim was "to mash up Elektronische Musik and Krautrock – but straight from the view out of 2015, just to create a hybrid somewhere between HARMONIA, NEU! and LA DÜSSELDORF!"
Competent in guitar and drums, synthesizers, VSTs and antique drum computers were also brought into the mix by Oberlack to help accomplish his dream.
Co-produced by Mathias Black, the right hand man of Karl Bartos for ten years and engineer Rudy Kronenberger, 'Welt Am Draht' is an impressive attempt at relighting the past musical spirit of Die Bundesrepublik.
Now finally available in 2016, the album's intent is signalled with the opening track 'Oberbilk 80', an optimistic and musically anthemic slice of space rock with guitars, drums and synths in equal measure. 'Gegen Licht' is classic Kosmische Musik in the vein of NEU! guitarist Michael Rother with the minimal six string chimes paying a respectful homage to the former KRAFTWERK member.
But things go off-piste slightly with 'Himmels Geister' which surprisingly takes on blues scales and comes across like Chris Rea, especially in Oberlack's vocal delivery; it could be playfully subtitled "Die Straße zur Hölle"! Regardless though, it's a likeable guilty pleasure.
Things get back on track with the instrumental 'Silberwald' and its echoes of Klaus Dinger's LA DÜSSELDORF. But it is not, as might be expected, a tribute to 'Silver Cloud' but to the eponymous theme song from LA DÜSSELDORF's debut long player, only with more synths and at a less frantic speed.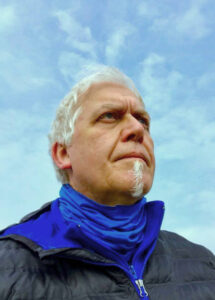 The robotised title track returns to the melodic solo excursions of Michael Rother but adds a more energetic pace to the symphonic backing, before the Motorik driven 'Zeitfeld'. This one recalls the cosmic vibes of 'Für Immer' from 'Neu! 2' and via its half speed guitar motif, provides the most retrospective moment on the collection. Finishing with the more sedate 'Blauer Regen', the tune is less homage and more blau, recalling British acts like OMD and ULTRAVOX whose influences were seeded from neu musik forms,
"It feels like 'coming back to Düsseldorf' for me" concludes Oberlack about 'Welt Am Draht' and certainly, his sonic adventures provide an entertaining and accessible modern twist to a highly regarded cult music form. It is certainly could be subtitled "Schöne Grüsse aus Düsseldorf".
---
'Welt Am Draht' is released by Bellerphon Records as a vinyl LP+CD set and download, available from https://bellerophonrecords.bandcamp.com/album/welt-am-draht
https://www.facebook.com/dasblauepalais/
---
Text by Chi Ming Lai
28th September 2016