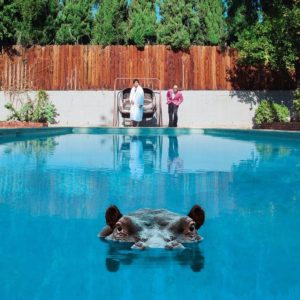 'Hippopotamus' is the 24th album from SPARKS and their first in 8 years, not including their long player in partnership with FRANZ FERDINAND in 2015.
That superb FFS album saw the apprentice meeting the sorcerer and proved that collaborations DO work, reinvigorating the creativity and stature of both acts.
And now, Russell and Ron Mael are back waxing lyrical about amphibious mammals, flat pack furniture and presidential widows, assisted by sidemen Dean Menta on guitars and Steven Nistor on drums.
Recorded in Los Angeles, 'Hippopotamus' features a whopping 15 tracks ranging from the orchestrated rock eccentricity of 'What The Hell Is It This Time?', inspired by what Ron says is "an often uttered phrase when people listen to a new SPARKS song", to the neo-voice collage of 'Bummer'. Meanwhile, the album doesn't disappoint in the song titles department with 'So Tell Me Mrs. Lincoln Aside From That How Was The Play?' and 'Missionary Position' among the album's tracklisting.
The staccato madness of the 'Hippopotamus' title track where "a hippy is driving" alongside "a woman with an abacus" who "looks Chinese" gives an idea of the quirky eccentricity on the record, while the perky 'I Wish You Were Fun' could be yet another tune directed at their long-time Mancunian pal who recently was honoured with a biopic entitled 'England Is Mine'.
The Mael brothers don't sit still and certainly make their audience work with the full-on bonkers variant of SPARKS on display during 'Giddy Giddy' with mechanised electro beats and stabbing synths providing an album highlight, while 'Unaware' sees Russell adopting an unfamiliar cocooned vocal style.
The ELO aping 'Scandinavian Design' takes IKEA references and sweetens them with a beautiful piano passage, while 'Edith Piaf (Said It Better Than Me)' sees SPARKS ploughing forward with no regrets as others "live fast and die young". Continuing the Gallic theme, 'When You're A French Director' featuring Leos Carax of 'Les Amants Du Pont-Neuf' fame is a wonderful slice of oddball Chanson drama that is a far better realised idea than 'Tsui Hark' from 'Gratuitous Sax & Senseless Violins'.
But the best is saved until last, with the frantic electronically assisted storm of 'The Amazing Mr Repeat' possibly being the best tune on 'Hippopotamus' before the cinematic, harpsichord laden closer 'Life With The Macbeths'.
Wonderfully poperatic, noted soprano Rebecca Sjöwall with her gold vocal ecstacy is a perfect companion to Russell Mael's falsetto as Shakespeare's Scottish play is cleverly used as a metaphor for America's First Family.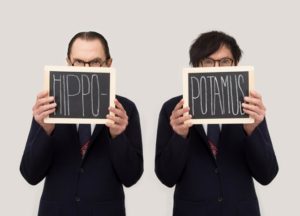 Now into the fifth decade of their career and with their sense of humour intact, SPARKS show no signs of waning in their zest for idiosyncratic adventure in a period which has seen some of the bands that they helped inspire literally going backwards 😉
As the 'Hippopotamus' title suggests, it is zoo time again for SPARKS.
---
'Hippopotamus'
is released by BMG in CD, double vinyl LP and digital formats
SPARKS 2017 live dates include:
Prague Lucerna Music Bar (11th September), Berlin Columbia Theatre (12th September), Den Haag Paard van Troje (14th September), Luxembourg Den Atelier(15th September), Brussels Ancienne Belgique (16th September), Norwich Waterfront (18th September), Newcastle The Boilershop (19th September), Edinburgh Queens Hall (20th September), Manchester O2 Ritz (22nd September), Nottingham Rock City (23rd September), Birmingham O2 Institute 1 (24th September), Bristol 02 Academy (26th September), London O2 Shepherds Bush Empire (27th September – 28th September)
https://www.facebook.com/sparksofficial/
https://twitter.com/sparksofficial
---
Text by Chi Ming Lai
9th September 2017