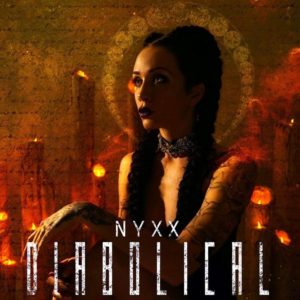 Having been recently heard on the AESTHETIC PERFECTION single 'Rhythm + Control', gothic pop princess NYXX presents her self-directed video to 'Diabolical'.
Coming in a particularly magnificent Electro Mix, 'Rhythm + Control' showcased a hard but danceable tune that somehow crossed Darren Hayes and Britney Spears with Marilyn Manson!
'Diabolical' is co-written with AESTHETIC PERFECTION's Daniel Graves and sees NYXX maximising her deviant Britney meets NINE INCH NAILS template.
From her self-released her debut EP 'Nightmare'
, this haunting slice of electro-goth drama discharges a penetrating set of dynamics and an enticing feline demeanour. Meanwhile the video, which NYXX describes as "the fruit of my literal blood, sweat, and tears", also features a cameo from Graves.
With a name inspired by the Greek goddess of night, NYXX issued 'Nightmare' in April 2016. The title track was feisty electronic rock with her inherent pop glitz shaken through a Trent Reznor filter. Meanwhile the collection also flirted with Zombie-like heavy metal on 'Wicked' and industrial dubstep on 'Blindsided'.
Having toured North America with AESTHETIC PERFECTION in early 2017, this artistic association with the Aggro-Tech pioneer from Los Angeles has sparked a lot of interest. With two acclaimed songs in 'Rhythm + Control' and 'Diabolical' already under their belt, any more work possibly involving the pair will be eagerly awaited.
---
'Diabolical' is from the 'Nightmare'
EP, available as a CD or download from http://www.nyxxnyxxnyxx.com/merch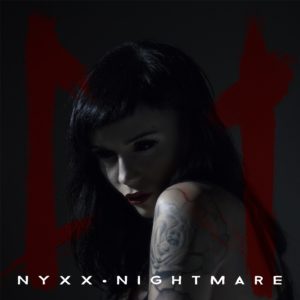 NYXX plays the following live dates:
Los Angeles Sayers Club (12th August), San Diego Casbah (1st September), Mesa Club Red (2nd September)
https://www.facebook.com/justnyxx/
https://twitter.com/nyxxnyxxnyxx
https://www.instagram.com/nyxxnyxxnyxx/
---
Text by Chi Ming Lai
10th August 2017