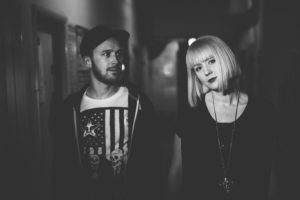 With their dreamy electronic pop, London based pairing AVEC SANS have been making in-roads in North America lately.
Their debut album 'Heartbreak Hi'
has been embraced by DJs such as Rusty Egan and Sacha, while fashion houses like Dolce & Gabbana and Sandro have taken them to their hearts.
Featuring enigmatic vocals of Alice Fox and the intricate production Jack St. James', their bittersweet synth laden songs have gained the support of Popjustice and The Guardian.
Most recently, Stephen J Lipson, famed producer of PROPAGANDA, FRANKIE GOES TO HOLLYWOOD, SIMPLE MINDS, ANNIE LENNOX, ULTRAVOX and HANS ZIMMER, collaborated with them on a new song entitled 'Impossible'.
But it's within a live setting that AVEC SANS have made the biggest impression with their show being a feast of colours and energy, thanks to Fox's striking SIA-like presence and St. James' customised Novation Launchpads tilted towards the audience.
Well-received support slots for LITTLE BOOTS and LADYHAWKE now form part of their expanding portfolio as they embark on their own UK tour this Autumn.
Alice Fox kindly chatted to ELECTRICITYCLUB.CO.UK about AVEC SANS' working dynamic and career to date…
It's been nearly a year now since the 'Heartbreak Hi' album was released, how do you look back on its genesis and completion?
It was about three years in the making and we're very proud of it. It was made independently; we wrote, recorded, mixed and mastered the whole thing ourselves (bar 'We Are' where we had a little help from good friend Benbrick). It was a real slog at times, but we wanted to make an album full of tracks which stood up by themselves and we feel we've done that.
How did you arrive at the primarily synthpop sound of AVEC SANS, as opposed to perhaps being more R'n'B focussed, like say ALUNA GEORGE? Who are your main influences?
We like catchy songs and leftfield pop music. We make the music we'd like to hear in the medium that makes sense to us. We've come from a place of being most influenced by artists like LCD SOUNDSYSTEM, HOT CHIP, THE POSTAL SERVICE and SUFJAN STEVENS.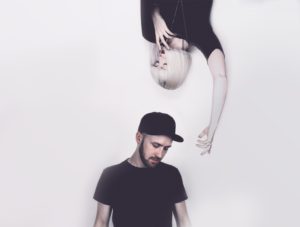 Observers have drawn comparisons between AVEC SANS and CHVRCHES, but the timeline appears to show that you both started at around the same time. Have these comparisons helped or hindered your progress?
CHVRCHES came out as a fully formed signed act, with members who were already established as songwriters and artists in the industry. We posted our first track online at the time when they launched their fully formed project.
We were two friends, with no industry connections and only the one track, getting inundated with emails from A&Rs, but with no songs behind us. We'd probably do things differently now if we had known the response would be so positive.
CHVRCHES were leagues ahead career-wise when we both emerged and it's always helpful for artists to have a better-known artist for people to reference. Those comparisons have been positive and reviews often say we're writing more immediate pop songs, which is probably the case. We saw them play at SXSW when we played the stage next to them last year, we love what they do and Lauren is a brilliant front woman.
'Perth' appears to be a real fan favourite…
This is the track that kicked it off for us, a cover of BON IVER which we posted online. I think it was the surprise factor; it was a track that started life as a gentle indie track with BON IVER and turned into a heavier electronic track in our hands.
Your most recent single 'We Are' was a reworking of the album version. Why did you feel it needed this and how did you approach the restructure?
We were gifted the opportunity to work with Max Dingel (GOLDFRAPP, THE KILLERS, MUSE etc) and jumped at the chance, that single was about to come out so we decided to do a single mix with him.
It was very much a collaborative thing and it was a really enjoyable experience, we're delighted with what he brought to the track.
'The Answer' utilised some interesting glitchy voice manipulations within its aesthetic, what sort of techniques were applied to achieve this?
These sounds usually start by taking a sample of the vocals and chopping them up. We then rearrange them to make a new melody and throw them through all sorts of pitch shifting effects and reverbs delays. We just keep messing with it until it works, there are no rules.
Are you drawn to using vintage hardware to produce your music or are you wholly software based? What synths are you using for the AVEC SANS sound?
We love the sound of vintage synthesisers, but unfortunately we'd probably need to sell our souls in order to afford them all. Almost all of the sounds come from soft synths. We use a lot of the Arturia plugins and the Korg Legacy Collection. They are absolutely amazing and it also means we can recreate of those sounds live without having to carry around antique analogue equipment.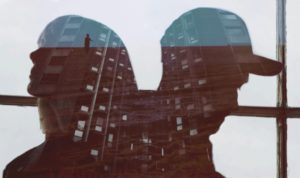 You played the 'Electric Dreams' weekender in Bognor Regis with HEAVEN 17, OMD, BLANCMANGE and MARC ALMOND. How was it to play alongside those pioneering heritage acts?
It was an honour to play with those artists and the response was extremely warm, we ended up chatting to people for hours afterwards and loads of the crowd came to our second show the next day.
We never experienced those acts the first time around, but some of their music has definitely seeped into our consciousness through wider culture. Outside of that event we're organically connecting with a lot of people who first fell in love with electronic music in the 80s. There's some other huge 80s acts we'll be playing with later in the year, some we can't announce yet and we're sharing a stage with BELINDA CARLISLE and KATRINA (of THE WAVES) in Bristol soon.
Is pop music history of interest to you?
Absolutely, we love watching documentaries about the artists who changed music: DAVID BOWIE, THE BEATLES, KATE BUSH, THE BEACH BOYS, FLEETWOOD MAC, it's important to know where you've come from as you're impacted by the music you experience.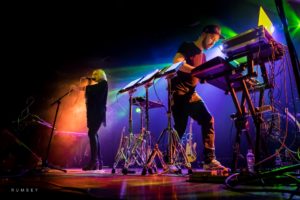 You have been working with veteran producers too, with the recent unveiling of your collaboration with Stephen J Lipson entitled 'Impossible'. How did this come about and what was he like to work with?
We were introduced through our manager and due to Stephen's incredible history, it was pretty nerve wracking to be in a studio with him to begin with.
He was incredibly relaxed and reassuring, it's essentially a guest vocal from us, so it was just a day working together and we ended the session, got a Deliveroo and chatted with him for about three hours afterward.
We grilled him about the artists he'd worked with, heard the new film work he's done and he showed us his playlists of all the new artists he listens to (he listens to SO MUCH new music). We generally chatted about crazy new developments in technology and random stuff like Bitcoin, he's very future-focused.
Anyone else you would like to collaborate with?
David Sitek of TV ON THE RADIO is the man we'd most like to work with, we're mentioning this in every interview we ever do, then if it ever happens we can print out all the interviews and put them in a binder and have a really awkward moment when we meet. We'd also jump at the chance of working with Max Dingel again, hopefully that might be possible around the next tracks.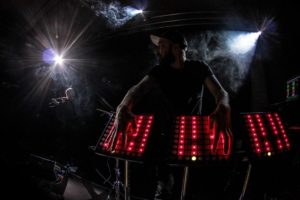 Your live presentation is very striking with the use of those Novation Launchpads. How important is the visual aspect to playing gigs, what with the usual conundrum of how best to present an electronic pop duo in a concert setting?
We didn't want to be static and behind laptops, the worst thing when you see an electronic act is when there's a huge physical barrier in front of them and they stand there static, doing nothing, removed.
Jack grew up in punk bands, so the angled Launchpads to let people see what he's doing, that live music is happening. He's really gone all out to try and include the crowd in what we do, he's used Launchpads as synths and was the first person to hack the lights to do what they now do.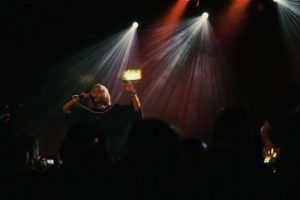 Instagram means we follow-back a lot of the acts coming up behind us and supporting us at live shows and we're seeing them adopting various parts of our live show, our style and our technology.
So expect to see a wave of visually similar acts coming up over the next few years, lots of white mic cables, front tilting Launchpads and gear etc.
Jack had to custom-build those stands himself as no one was doing it. We'll keep moving on, changing and adapting as we go, we've just added a lighting rig behind us that interacts with the lights programmed on the Launchpads.
You recently went on your first tour of North America, how do the audiences differ out there and how are they similar to here and Europe?
American crowds are a little less reserved and more prone to a whoop in between songs, there was one guy who offered me a "wardrobe of clothes" in a gap between songs… which was intriguing. The similarities are that we seem to attract really decent, lovely human beings who we enjoy hanging out with.
I'm Northern so I'll bust out a Northernism, the "nobhead" ratio at our shows is currently zero to zero, long may that continue and we're enjoying getting to know people better, trying to convince them to bring their dogs and small children to our shows and hearing about their personal triumphs and challenges.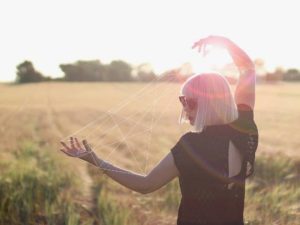 There are quite a few female voiced electronic pop acts emerging like VILE ELECTRODES, TINY MAGNETIC PETS, ANI GLASS and ANNEKA, do you have a chance to check out much new music these days?
We do like to listen to as much new stuff as possible, THE JAPANESE HOUSE is a current favourite. PURITY RING has probably had the biggest influence on us of all of the female fronted electro acts.
We always hold firm that "female fronted" isn't a genre of music, as it's to everyone's detriment when people group artists together wrongly. We've been influenced by so much music, electronic and otherwise.
How is writing for the next AVEC SANS album coming along, are there any directions you would be interested in exploring?
It's going slowly, but we're really keen to release another single before our September tour, an EP by the start of next year and an album late next year. Live bookings have been taking off in a way that's making writing tricky. As independent artists, there's a lot to juggle in order to make everything happen, but we love the journey, we've already covered our fridge with magnets from all the places music has taken us. We need a bigger fridge.
---
ELECTRICITYCLUB.CO.UK gives its warmest thanks to AVEC SANS
Additional thanks to Sandy Roberton at Beverly Martel Music LLC, Rob McGee and Adam Cresswell
'Impossible' is available as a download single in North American territories
The album 'Heartbreak Hi'
is released by Beverly Martel, available via the usual digital outlets as well as CD and vinyl LP from the AVEC SANS website at http://avecsans.com/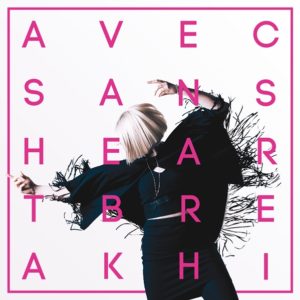 2017 UK Autumn live dates include:
Sheffield Record Junkee (15th September), Manchester Castle Hotel (21st September), Newcastle Think Tank (22nd September), Glasgow Broadcast (23rd September), Edinburgh Sneaky Pete's (24th September), Leicester The Shed (26th September), Southampton The Joiners (27th September), Brighton Hope & Ruin (28th September), London Hoxton Square Bar & Kitchen (29th September)
https://www.facebook.com/avecsansband/
---
Text and Interview by Chi Ming Lai
3rd June 2017