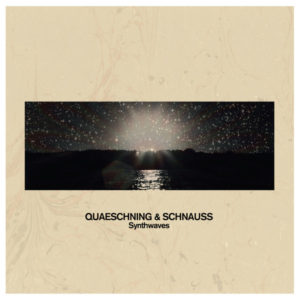 Quality instrumental electronic music is often overlooked these days at the expense of vocal driven synth material.
The halcyon days, of when artists such as JEAN-MICHEL JARRE, KLAUS SCHULZE and TANGERINE DREAM were all at their peak, are all but a distant memory. However, there are still artists that are producing quality work in this vein.
'Synthwaves'
is a collaboration between TANGERINE DREAM members Thorsten Quaeschning and Ulrich Schnauss which utilises their enviable collection of synthesizers.
Whereas solo Schnauss has a fairly identifiable "wall of sound with Shoegaze elements" aesthetic, the link-up with Quaeschning has produced a more direct and melodic sound which, in places (unsurprisingly) references the classic sound of TD.
The start-off track 'Main Theme' appears to be a homage to the 'Stranger Things' opening music, which in itself paid tribute to TD and electronic artists of the era. From the off, the track relies on a deep resonant synth bass and sequencer lines before introducing some William Orbit-style stabs and big reverberant drum sounds. In classic TD style, more layered echoed sequencer parts raise the energy level and what makes the piece sustain interest over its 8 minute length is its continually changing chord progressions and refusal to rely on a linear approach.
'Slow Life' starts off with a quite beautiful ambient Eno-esque acoustic piano part drenched in a long reverb before swiftly introducing another wonderfully deep bass and hooky synth sequence. Alongside a later track on the album, the ghost of the classic 'Risky Business' soundtrack piece 'Love On A Real Train' is initially recalled here, but the introduction of phased Solina strings and guitar-like textures add a further dimension.
'Cats and Dogs' which relies on a vintage Oberheim DMX for its drum pattern and the PROPAGANDA lyric-pinching 'A Calm But Steady Flow' are pleasant enough, but come across as mid-album fillers.
Where the album really hits its stride though is in the final trilogy of tracks; 'Thirst' is the second track to owe a debt to 'Love on a Real Train'. Based around a Manikin Schrittmacher sequencer part, the track's skittering percussion and additional synth layers hit a wonderful climax at 3 minutes 17 seconds when a bass synth modulates around the hypnotic synth parts.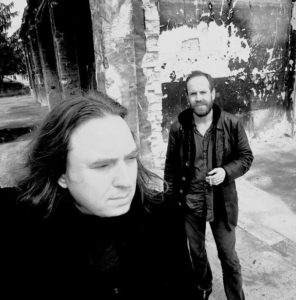 Although over 8 minutes in length, 'Thirst' never outstays its welcome and for fans of the Berlin School of sequencing, is bound to be an undeniable highlight here.
'Flare' comes across in part as a drum-less electronic re-imagining of a 'Disintegration'-era track by THE CURE; its huge string synth melody sounding absolutely epic and adding in a welcome musical change to the piece.
Album closer 'Prism' has the kind of chord progression that makes the hairs stand up on the back of the neck and ends 'Synthwaves' on a real high.
What's interesting about this collaboration (and potentially exciting for the fans of the upcoming TANGERINE DREAM album) is that it must have been hugely tempting for Quaeschning and Schnauss to use the tracks here for TD. The very fact that they haven't means that the upcoming TD release 'Quantum Gate' could be something very special indeed and a major justification of the continuation of the band following the passing of leader Edgar Froese.
If you are a long term fan of melodic instrumental synthesizer music and maybe haven't been inclined to investigate what is current within this sub-genre, this album would be a fantastic place to start. It avoids a lot of the clichés of some Berlin School material and at no point does it become overly self-indulgent.
Immerse yourself in the 'Synthwaves' and you may never wish to surface again…
'Synthwaves' uses the following instrumentation and equipment:
Thorsten Quaeschning – Steinberg Cubase, Manikin Schrittmacher sequencer, Manikin Memotron, Roland Jupiter 8, Roland JD800, Dave Smith Prophet 8, ARP Solina MK2, Korg Wavestation EX, Waldorf Microwave, Moog Voyager, Eurorack Modular, Roland V Synth, Korg Z1, Korg Prophecy, Korg M1 synthesiser, Clavia Nordwave, Yamaha TG77, Roland System 1, Roland JU06, Korg MS20, Roland JP08, Roland TR-8 Rhythm Performer, Oberheim DMX, Roland Promars, Fender Starcaster, Fender Telecaster, Fender Stratocaster, Spectrasonics Omnisphere, Spectrasonics Keyscape, Screwdriver on wood and contact microphones, several boxes with contact microphones, bees in garden
Ulrich Schnauss – Steinberg Cubase and Logic Pro, Manikin Schrittmacher sequencer, Roland JD XA, Roland Jupiter 8, Roland JD-800, Oberheim OB-8, Roland System 1, Roland MKS-70, Rhodes Chroma, Waldorf Q, Microwave XT, Sonic Core SCOPE system, Ensoniq DP4
---
'Synthwaves'
is released in CD, vinyl LP and download formats by Azure Vista Records, available from
https://quaeschningschnauss.bandcamp.com/
https://www.facebook.com/thorsten.quaeschning
https://twitter.com/PicturePalaceQ
https://www.facebook.com/ulrichschnauss/
https://twitter.com/ulrichschnauss
---
Text by Paul Boddy
9th July 2017