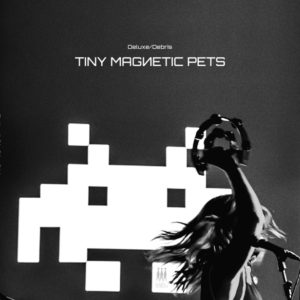 TINY MAGNETIC PETS were founded in 2009 in Dublin by Paula Gilmer on vocals and Sean Quinn in charge of electronic sound wizardry.
They were joined by Eugene Somers to take care of the percussion side of things and blossomed into a serious act, recognised by the likes of OMD, Michael Rother and Rusty Egan.
A debut album and a couple of excellent EPs later, TINY MAGNETIC PETS, named after the collectible Japanese toy, gathered a significant interest with fans of krautrock, classic synthpop and Berlin-era Bowie.
Manufacturing their unusual sound to sit somewhere in between and to cater to the eclectic tastes of the more discerning lovers of pop, they have returned with their second full length album 'Deluxe/Debris', with Gilmer and co promising to deliver their best work to date, a "perfect soundtrack for complicated times".
Kicking off with 'Lost My Guiding Light', which starts off with gentle pop sounds like MADONNA's 'Drowned World', it slowly blossoms onto a warming blanket of the perfect musicality, encapsulating dreamy Badalamenti styled guitar, married with the clever use of trumpets and effortless vocals.
Following on comes the epic 'Semaphore', which takes the listener onto an eclectic musical journey in its eleven minutes length. From the krautrock beats, through to the sublime guitar interventions, the grandness of the percussion, the breathiness of MARSHEAUX like vocals where Gilmer pleads "please don't wake me from this dream" to an experimental ending à la APOPTYGMA BERZERK, it's a symphony of what's best in the world of TINY MAGNETIC PETS.
None other than Wolfgang Flür guests on 'Radio On', a Kraftwerkian excursion on which the Gilmer's vocal is perhaps reminiscent of Natalie Imbruglia's. Flür also features on the closing 'Never Alone', which transcends a breezy dreamlike state.
'Cold War Neon' Frenches it up a little with a female narration over a ballad of suspense, while 'All Yesterday's Tomorrows' introduces a voice reminiscent of Kylie work over some superb synth.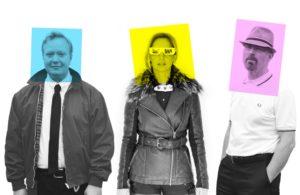 'Here Comes The Noise' is presented in two disguises; the first, 'Pink' is a magnificent piece, massaging the tiredness away with its floaty quality, while 'White' gets the percussion involved, presenting the track as a dance outing over the delicious electronics.
'Shadow Street' works perfectly well as a modern day electronic bossa nova with its undemanding rhythm and the consistently marvellous vocal from Gilmer.
Experimenting further, 'Cloud Sequence' glides and glows eloquently with a further dose of undiluted musical intentions. It has to be said that TINY MAGNETIC PETS have hit the jackpot with 'Deluxe/Debris'. Certainly the most interesting production to date from the Irish trio, encapsulating the best in retro and contemporary synthpopia.
Gilmer's voice has shaped up to be one of the best female vocals of the genre, and the execution by Quinn showcases the knowhow of the good old fashioned songwriting, but in a modern style.
A perfect pop record for the most discerning of tastes. Go Ireland!
---
'Deluxe/Debris' is released by Happy Robots Records in vinyl, CD and download formats on 25th August 2017, available direct from https://www.happyrobots.co.uk/botshop
TINY MAGNETIC PETS open for OMD on the Ireland + UK dates of 'The Punishment Of Luxury' 2017 tour:
Dublin Vicar Street (23rd October), Belfast Mandela Hall (24th October), Liverpool Empire (29th October), Bristol Colston Hall (30th October) , Southend Cliffs Pavilion (1st November), Ipswich Regent (2nd November), Cambridge Corn Exchange (3rd November), Leicester De Montfort Hall (5th November), Nottingham Royal Concert Hall (6th November), Sheffield City Hall (7th November), Reading Hexagon (9th November), Southampton Guild Hall (10th November), Guildford G Live (11th November), London Roundhouse (13th November), Bexhill Del La Warr Pavillion (15th November), Manchester Academy (17th November), York Barbican (18th November), Glasgow Royal Concert Hall (19th November), Birmingham Symphony Hall (21st November), Gateshead Sage (22nd November)
https://www.tinymagneticpets.com
https://www.facebook.com/tinymagneticpets/
https://twitter.com/TinyMagneticPet
https://www.happyrobots.co.uk/tiny-magnetic-pets
---
Text by Monika Izabela Trigwell
7th July 2017, updated 1st August 2017