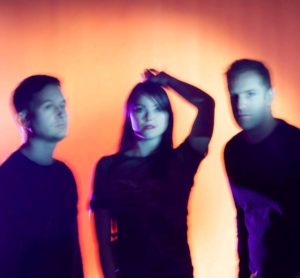 SOL FLARE are the up-and-coming London based trio comprising of Jenny Jones (vocals), Dominic Wood (synths + programming) and Matt Marlow (guitars) who recently unleashed their first ever single 'Easy Line'.
While Wood's lush electronics and drum machine beats provide the vital musical backbone to SOL FLARE, it is Jones' magnificent voice, ranging from a piercing high soprano down to a powerful contralto growl reminiscent of Rindy Ross from Portland soft rockers QUATERFLASH, which gives them their USP.
Indeed, if QUARTERFLASH had been a synth wave act, they would probably sound a bit like SOL FLARE. Evoking images of widescreen sunsets and neon lights, SOL FLARE began their account with the impressive 'Not Holding On', offered as a free download via their Soundcloud. Inevitably, the 'Drive' soundtrack sprang to mind although 'Not Holding On' was far more direct and uptempo.
'Easy Line' develops on this introductory template with a pulsing four-to-the-floor bassline and Jones' haunting vocals punching to the heart, embellished by Marlow's subtle scratchy rhythmic six string and Wood's cascading synths.
The visual  accompaniment created by Jesse Dvorak captures carefree youth in Reagan-era LA with echoes of the late Eric Watson's video for PET SHOP BOYS 'Domino Dancing', as a love triangle and homo-erotic ruck in the sea provide the key moments of the storyline.
An engaging live act, particularly with Jones' charismatic stage presence, there is more to come from SOL FLARE with the stomping 'Find You' and stuttering dance oriented essence of 'The Hunter' both highlights in their current set.
Sitting comfortably alongside acts such as NINA, AVEC SANS, PRIEST and FEATHERS, if they maintain the upward artistic trajectory that has seen them cross synth wave and classic synth pop with AOR and melodic new wave, then SOL FLARE might overtake them all and join CHVRCHES.
Having already impressed at gigs in London, SOL FLARE possess an attractive style blend that could see them appeal to many more.
---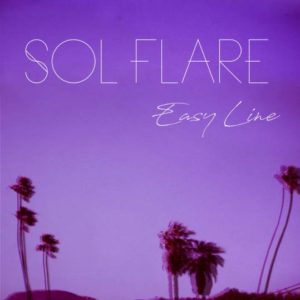 'Easy Line' b/w 'Hide' is available as a download single from https://solflare.bandcamp.com/
https://www.facebook.com/Solflaremusic/
https://twitter.com/SolFlareMusic
https://soundcloud.com/solflare/
---
Text by Chi Ming Lai
19th August 2017