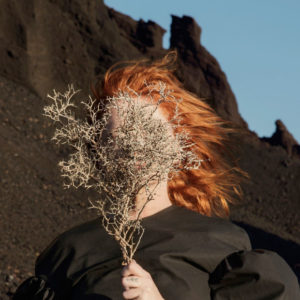 GOLDFRAPP certainly do little else but invite the listener to dive in "head first" into each and every one their releases, which to date, are unique and storytelling, delving into variations of synth like no other.
Starting with the debut 'Felt Mountain' which was elegantly cinematic, through to the full glam of 'Black Cherry' and 'Supernature', the folksy 'Seventh Tree', the deliciously wired synthpop 'Head First' (who said Italo disco was dead?), onto 'Tales Of Us', which dazzled with a plethora of private emotion, the duo consisting of Alison Goldfrapp and Will Gregory promise to continue to surprise on 'Silver Eye'.
With GOLDFRAPP, it's like playing chess against a rather skilled opponent, "We're going to keep you guessing on what our next move is" say the twosome, borrowing the sentiment from David Bowie. Alison admits that "We've never liked repeating ourselves. Often we react to things we've just done. We like the spontaneity of not knowing. It's only through the process that we start to figure out what it is. The fans who have stuck with us are the ones who embrace that idea and are excited by the thought that they don't know quite what to expect next".
Indeed 'Silver Eye'
has been well appointed with eclectic collaborations. The band spent 10 days in Dallas with John Congleton, Grammy-winning producer of ST VINCENT, JOHN GRANT and WILD BEASTS. Bobby Krlic, aka THE HAXAN CLOAK caught up with them in London and Leo Abrahams, who's known for being a Brian Eno collaborator, added abstract guitar textures.
The first single and album opener 'Anymore' marks a return to their electronic sound with that harsh, pulsating synth line and a sensuous vocal, wanting a reaction to the pleas of yearning ("I can't wait, I can't wait anymore…"). It's different, yet still very GOLDFRAPP.
A similar emotion continues to be captured on 'Systemagic'; an uptempo gem reminiscent of the material from 'Black Cherry'
, it begs the question as to whether Alison is always found in the kitchen at parties?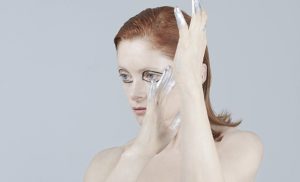 'Moon In Your Mouth' must be the definitive slice of electronic poetry. Magical, ethereal and loaded with such engaging synth, one wants to drift away on the waves of Alison's vocal which recalls Dido.
If only more modern synthpop was written with such a captivating sentiment, it's definitely one of the best tracks on 'Silver Eye'.
'Tigerman' also finds itself in a dreamlike state of animal-like consciousness, similarly to 'Beast That Never Was', while 'Everything Is Never Enough' goes back to the faster tempo and poignant lyrics, describing the wasteful society of today.
To slow things down, the delicate 'Faux Suede Drifter' and exquisitely opulent 'Zodiac Black' punctuate the centre of the long player. Both downtempo masterpieces are dreamy and unparalleled in their simplicity.
'Become The One', nods to the inspiration Alison Goldfrapp took from a documentary about transgender children, and the opus is concluded with the striking 'Ocean'. The vocal evolves here over some gritty, emancipated electronica loaded with heavy emotion à la the productions of John Fryer, injecting feelings that can do nothing else but move and force to yearn for more. But there's no more, 'Silver Eye' ends abruptly here, begging for further listening pleasures. Let's rewind…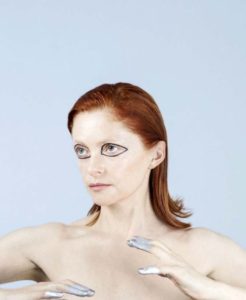 As Will Gregory observed: "I think writing an album is like being lost in a wood. You're trying to figure out an interesting path. You don't know whether it's going to be a dead end or somewhere interesting and you never know when to stop because around the corner some beautiful vista might open up."
GOLDFRAPP don't repeat, they don't pretend, they just consistently deliver. It proves there's plenty of new life to be brought into releases of an established act.
A definitive challenge for their contemporaries, it's a strong contender for the 'Album of 2017' title, even this early in the annum.
---
'Silver Eye'
is released in clear vinyl LP, CD and digital formats by Mute Artists
https://www.facebook.com/Goldfrapp
---
Text by Monika Izabela Trigwell
31st March 2017