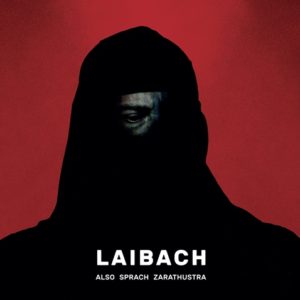 Midway through 2017 sees a veritable hive of activity for Slovenia's LAIBACH, this includes the release of 'Liberation Day' which documents the group's controversial 2015 tour of North Korea; and almost simultaneously 'Also Sprach Zarathustra', the band's version of music for the theatrical production of Friedrich Nietzsche's 'Thus Spoke Zarathustra'.
In many respects, LAIBACH are the ideal act to soundtrack this piece of work, both the band and Nietzsche are / were confrontational in their own ways.
'Thus Spoke Zarathustra' provoked outrage upon its release by pondering the concept that "God is dead" and introduced the terms 'Übermensch' (Superman) and 'Untermensch' (Inferior being)…
As well causing a media storm with their well publicised visit to North Korea, LAIBACH themselves (like their contemporaries RAMMSTEIN) have flirted with imagery, symbolism and themes which are designed to provoke and are often deliberately left open to misinterpretation.
Whereas 2014's album 'Spectre' could be a considered a fairly commercial release when compared with much of LAIBACH's back catalogue, this piece of work comes across as a far more experimental and challenging proposition. Five out of the twelve tracks are instrumental and although being fairly stripped back in nature, they still remain faithful to the band's sound and aesthetic.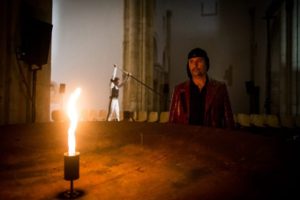 Opening piece 'Vor Sonnen-Untergang' ('Before The Downfall') starts with a subtle burst of filtered white noise before a soaring string-driven orchestral overture sets the tone for the piece, a small fanfare of synthesized melody finishes the track, hinting at some of the more electronic elements to come. 'Ein Untergang' is bleak and uncompromising, underpinned by a retro analogue bass drum, clanging metallic percussion and Milan Fras' stentorian vocal.
The German spoken word elements touch upon the themes from the book relating to the concept that man is in transition between 'Untermensch' and 'Übermensch' and that "the human being is a goal, a bridge". 'Die Unschuld I' sees the first real synergy of synthetic and orchestral elements on the album, again full of percussive layers, the piece would have sat quite happily on the soundtrack to the LAIBACH-scored movie 'Iron Sky'.
As the album progresses, certain sounds reappear, sounds of knives being sharpened and struck act as percussive layers; 'Von Gipfel Zu Gipfel' starts minimalistically before eventually building towards an emotional piano and cello-driven climax and then dissolving into a wall of orchestral strings. 'Das Gluck' ('Happiness') is a stop/start track full of found sounds (panting, eating and breathing) and ominous synth bass pulsations, not exactly easy listening but again well-suited as a soundtrack piece.
'Vor Sonnen Aufgang' is by far the most melodic piece here, featuring the vocals of Mina Špiler, it is a truly beautiful and haunting track with its "here comes the sun" lyric providing a welcome glimmer of hope in an unrelentingly dark album. Throughout 'Also Sprach Zarathustra' there is a signature piece of audio which is not unlike the leitmotif that HANS ZIMMER created for The Joker in 'The Dark Knight', the sound is that of a continually rising (and sometimes falling) bowed string. Because the note is never resolved, it creates a sense of dread and foreboding and in the context of this soundtrack works extremely well. This is especially effective on the climatic final piece 'Von Den Drei Verwandlungen' which is arguably the musical equivalent of someone dragging their nails down a blackboard!
The main issue with LAIBACH's 'Also Sprach Zarathustra' is whether it can hope to function as a stand-alone work. To fully appreciate it, ideally one would need to a) have an awareness of Nietzsche's story to appreciate the underlying content and b) understand the German language to gain an insight into the lyrical message of the vocal pieces here.
These factors aside, this is an undeniably impressive sounding body of work and there could not be a more perfect match in the combination of story and artist involved. LAIBACH, like NINE INCH NAILS, are now in an enviable position in that they can comfortably straddle both the industrial rock arena and the flipside of more artistic endeavours such as film soundtracks. The ability to do this must be a fantastic boon for the band and 'Also Sprach Zarathustra' is a challenging but worthy addition to the bands' 30 year plus back catalogue.
---
'Also Sprach Zarathustra'
is available via Mute Artists in CD, vinyl and digital formats
https://www.facebook.com/Laibach/
http://mute.com/artists/laibach
---
Text by Paul Boddy
Photo by Miro Majcen
21st July 2017