Last year's 'Close To The Noise Floor' was a Cherry Red Records compilation which collected together many of the formative roots of UK electronic music, with recognised artists like THE HUMAN LEAGUE, BLANCMANGE, BEF, OMD and THROBBING GRISTLE side-by-side with those that didn't get the same level of recognition and/or commercial success.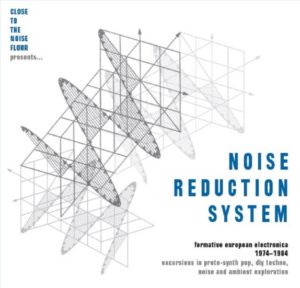 Now from the same label comes 'Noise Reduction System'…
Subtitled 'Formative European Electronica 1974-1984', this 4CD set spreads a wider net and encompasses artists from countries which have an established heritage in electronic music (eg Germany and Belgium) through to those that don't (eg Spain and Latvia).
DAF are represented here with their track 'Ich Will' which follows their usual template of bass sequencer driven music with live drums and guttural vocals.
The early YELLO song here 'Glue Head' is barely recognisable as the act that latterly went onto success with fully synthetic / sampled tracks such as 'The Race' and 'Oh Yeah'. Full of dense live instrumentation including drums and guitars (and very little synth), it almost sounds like a completely different band.
One of the gems here is 'Caramel' by CLUSTER, a nifty monosynth and drum machine driven synthpop track from the 1974 album 'Zuckerzeit' which has an ending which sounds like a town hall meeting of The Clangers.
'Krematorien' by UNIVERSALANSCHLUSS has a rather wonderful minimalist early Mute Records aesthetic; pretty well mixed for its age and combining lo-fi drum machine, sequencer patterns and punky female vocals. The intro to the track also features a couple of Romanian flutes being bashed together to add to the rhythm of the piece, but mostly this is primitive electronics all the way.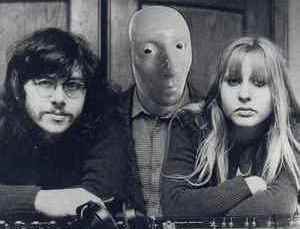 The Swiss duo SCHALTKREIS WASSERMANN provide one of the better produced tracks here, utilising a Prophet 5, ARP 2600, Roland System 100M and an MC4 Sequencer, the track has a tightly programmed Giorgio Moroder feel to it.
Originally released in 1982, the track featured on the album 'Psychotron' which went Top 10 in the Melody Maker's electronic chart.
Another worthy inclusion is 'Multitrack Suggestion' by VANGELIS, taken from the 1980 album 'See You Later', it sees a very different VANGELIS sound to the lush polysynth driven one we are familiar with. Almost KRAFTWERK-ish in conception with a Roland CR5000 drum machine, the overdubbing of live percussion sounds hints at the sound that was to come and features a vocal by Peter Marsh.
Unsurprisingly, much of the material here is pretty uncompromising, from the 21 minute plus 'Geld' by Berlin's MALARIA, the 24 minute 'Love You Generator' by VAN KAYE & IGNIT and the 26 minute long 'Zitternde Luft' by GIANCARLO TONIUTTI; all of which vary very little over their running times.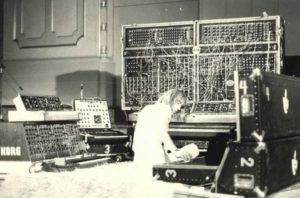 On CD3, KLAUS SCHULZE's '1984' only just provides some light relief from a selection of tracks which mostly bear comparison with the darker experimental side of THROBBING GRISTLE.
'1984' is a beat-less pad-driven instrumental with Mellotron textures that recall some of the work of mid Virgin-era TANGERINE DREAM, Schulze's former band.
On the final CD, 'Principles' by Belgium's FRONT 242 recalls an early monosynth-driven DEPECHE MODE but with added speech samples and improvised electronics and 'Shai Hulud' by BERNARD SZAJNER adds some welcome melody with a trippy/sequenced instrumental piece.
'Noise Reduction System' is at times a daunting but ultimately fascinating curio which pulls together a quiet revolution which simultaneously took place across Europe at a time when electronic music equipment started to become affordable.
The artists featured here adopted the DIY ethos of punk but channelled it into a far more experimental direction. So for that reason, those seeking melodic synthpop should really look elsewhere.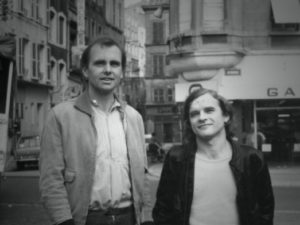 However, for fans of uncompromising lo-fi electronic music, this compilation proves to be a treasure trove of hard to find and genuinely obscure tracks, which when researching certain pieces even Google failed to bring forth much in the way of information on some of the artists featured!
If you have an interest in the early roots of European electronic music, then 'Noise Reduction System' is worth seeking out. But for most synthpop fans, most of the material here will be a little too impenetrable…
---
Special thanks to Matt Ingham at Cherry Red
'Noise Reduction System'
is released by Cherry Red on 21st July 2017
Details of the full tracklisting can be viewed at: https://www.cherryred.co.uk/product/noise-reduction-system-formative-european-electronica-1974-1984/
https://www.facebook.com/closetothenoisefloor/
---
Text by Paul Boddy
20th July 2016