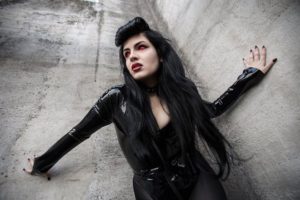 LIZETTE LIZETTE is Lizette Nordahl, a gender neutral Swedish / Peruvian producer and performance artist whose first mini-album 'Queerbody' was released in January 2017.
Having started out in a more rave inclined environment and even issuing an EP entitled 'Raveland' in 2012, LIZETTE LIZETTE has now ventured into more synthy climes.
The concept of 'Queerbody'
is a rallying cry against the "conservative and male-dominated" synth scene in Sweden which has showed signs of stagnation in the last 18 months. Strong messages are always best delivered with a tune and the mini-album has the air of KITE is all over it, which is not entirely surprising as its co-producers are Nicklas Stenemo and Christian Berg from the acclaimed duo. One of the highlights from 'Queerbody' is the epic 'Rest'.
Duetting with Stenemo, 'Rest' is a wonderfully refined pop statement from LIZETTE LIZETTE, with swirling synth sounds and the widescreen Nordic atmosphere which makes electronic music from the region so appealing. It actually has an optimistic mood of acceptance despite the melancholic tone, with Senemo's majestic growl complimenting Nordahl's assertive snarl marvellously.
Meanwhile, the powerhouse of 'Future' originated from a track that Christian Berg hadn't used for KITE and recalls the pulsating tension of 'I Can't Stand' from their 'V'
EP. The equally dynamic 'Slow' also emerges cut from a similar satisfying cloth. But the thrills don't end there!
Full of feisty energy, 'Freak' is a tremendous declaration of frustration as LIZETTE LIZETTE announces "I know that I am strange…" – to illustrate the song, Nordahl has conceived a video directed by Emerson Berglund based around a Jerry Springer talk-show format with local comedian Johan Wahlström playing the host.
Throughout 'Queerbody', the lyrics exude bitterness and betrayal with the opening song 'Easy Street' specifically attacking those perceived to have had a privileged ride in life… ELECTRICITYCLUB.CO.UK can connect with this one in relation to the clueless posh boys who proliferate the world of music journalism. Then there's the electronic drama of 'Scapegoat' which comes from a similar kind of mindset while the more haunting, reflective tone of 'All You Stole' rounds off an impressive mini-album.
A fan of NIRVANA and HOLE before discovering the charms of VISAGE, SOFT CELL and DEPECHE MODE, the varied influences of LIZETTE LIZETTE on 'Queerbody' blueprint an exciting forthright direction to take electronic pop in the future. REIN indeed now has a rival…
---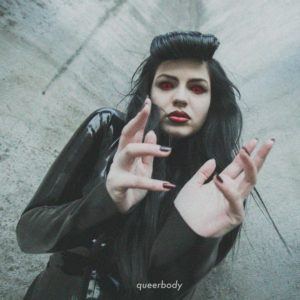 'Queerbody'
is available as a download direct from https://lizettelizette.bandcamp.com/releases
https://www.facebook.com/lizettelizettequeer/
https://www.instagram.com/lizettelizette/
https://soundcloud.com/lizette-lizette/sets/queerbody
---
Text by Chi Ming Lai with thanks to Deb Danahay
Photos by Izabella Englund
17th April 2017