SPECTRA PARIS is a side project of the multitalented Elena Alice Fossi, also known as the enigmatic singer of the celebrated Italian act KIRLIAN CAMERA and Alice Neve Fox.
Fossi, born in Miami but bred in Tuscany, was vocally trained by the Oscar-winner Ennio Morricone's most famous singer, soprano Susanna Rigacci.
Well known for her collaborations, among them is the legendary producer John Fryer on whose eclectic collection of tunes for BLACK NEEDLE NOISE she featured no less than three times.
As a result, the accomplished artist invited Fryer to be in charge of the executive production of her third album 'Retromachine Betty'
. The long player promises to "breathe and live the spirit of 80ies electronic Pop and Wave and the almost forgotten vibe of bands like VISAGE or DESIRELESS".
Opening the outing, 'Star Bubbles' is sweet and light happy German disco pulled away from the retro synth era. Featuring a sample from Mike Oldfield and Maggie Reilly's 'Moonlight Shadow', it must be the definite return to the good old classic era!
'Alice (Geistersterne)' changes the tempo, into a subdued, mystical number to start off with, blossoming into a fast paced extravaganza of house synth with vocal a la FIFI RONG. A heavy change is brought about with 'Ludovico Technique', which is bass and guitar loaded and more reminiscent of Fossi's projects with KIRLIAN CAMERA.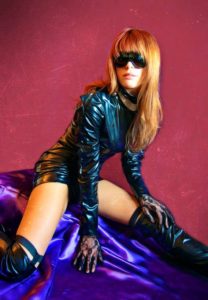 While 'Machinedream' is indeed dream inducing, 'Universal' is a captivating disco visit, with vintage electronica references, embedded into the curious use of vocals and mantra-like sequences. 'Lux Industries' slows the flow once again, leading into a sci-fi cover of THE KINKS' 'You Really Got Me'. Interestingly enough, the techniques used on this one resemble ERASURE's 'Rock Me Gently' synth and the added ominous use of guitars make it a worthy, if not quirky cover of the classic.
'Metrolynx' brings about the heavy electro pop darkness once again, with vocals resembling a fusion between vintage MADONNA and GOLDFRAPP. Is that because 'Felt Mountain' is one of Fossi's top ten albums? Either way, this is a true example of Spectra's abilities; a real artistic chameleon.
The metallic qualities and sparse noises of 'E-Girl Song' could have been easily practised before by GAZELLE TWIN, before we enter the boot stomping territory of industrial beats and the closing 'E-Kitsch Souvenir Of Italy', with its paralysing weirdness, sums up the long player.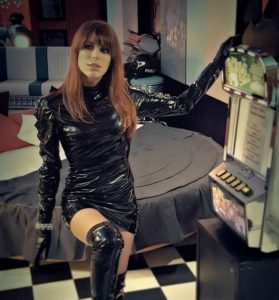 To say that Fossi has many faces would be an understatement; she's fearless and endlessly talented, tackling many a genre change and surfing through the rough waters of today's music industry.
'Retromachine Betty' is "a retrospective of excitement and familiarity, old memories and young melodies with its retro-kitsch catchyness".
Joining the likes of GRIMES, the Italian songstress shows off quite how electronic music can be bent to suit all palates.
It's effortlessly perfect.
---
'Retromachine Betty'
is released by Dependent Records in CD and digital formats on 12th May 2017, pre-order from http://en.dependent.de/artists-dependent/spectra-paris/spectra-paris-retromachine-betty-cd-digipak.html
https://www.facebook.com/spectraparis.official/
http://en.dependent.de/artists-dependent/spectra-paris/
---
Text by Monika Izabela Trigwell
4th May 2017