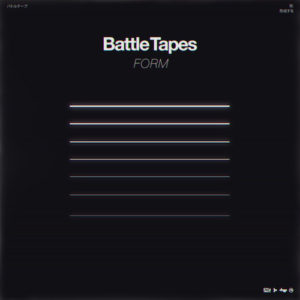 'Form' is the brand new five track EP from Los Angeles-based BATTLE TAPES.
'Form'
continues the hybrid rock / electronic sound that the band so successfully cultivated on 2015's 'Polygon'
and which went onto become a firm favourite..
Cryptically titled opening track 'Last Resort & Spa' is a loping / swaggering beast, built around a huge octaved synth riff and multi-layered vocal by frontman Josh Boardman.
The combination of compressed live drums and electronics works incredibly well, giving the track just the right amount of human feel and complimenting the emotionally driven "If I can hold you tonight" chorus hook.
The previously released 'No Good' has a double whammy of a catchy DM-ish synth hook and the kind of chorus vocal which lodges itself into the listener's brain after a single listen. The DM connection is maintained with a sly reference in the "I couldn't help what I overheard, blasphemous rumors I know how absurd" lyric which appears a couple of times during the song.
Worthy of a mention is the fact that the band took a DIY approach to making the promo video; self-directed and produced using Final Cut software, an iPhone video rendering app Glitche and a gimble camera stabilizer, and all for the princely sum of $500.
'Control' hinges around a syncopated filtered synth bass and another catchy chorus vocal from Boardman, whilst 'Rhyme Or Reason' lowers the tempo and takes things in a more reflective direction. 'Alive' is another synth bass driven anthem but with the addition of a fabulous SUPERTRAMP-style electric piano gatecrashing the party at 2:43. Additional layers of sequencers drive the track towards the end and round off what is a really strong collective of songs.
There is that old adage, "If something ain't broke, don't try and fix it" and all of the tracks here could fit seamlessly on to 'Polygon'. In terms of progression in sound there is little (if any) guitar here (which had a greater presence on the debut album) and there is definitely more of an overall electronic aesthetic, plus the vocal production levels have been raised a notch.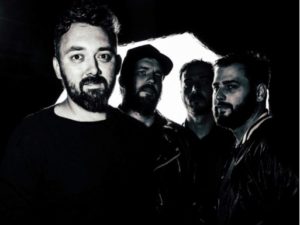 BATTLE TAPES are criminally overlooked and if they can maintain this level of quality it is surely only a matter of time before they manage to break through the glass ceiling to a much wider audience.
An upcoming EP 'Function' will be released later in the year to complement 'Form' and if it's anything like its current predecessor will be an essential release to seek out.
---
'Form'
is released by Battle Arts in CD and digital formats, available from http://battletapes.bigcartel.com/
https://www.facebook.com/Battletapes/
---
Text by Paul Boddy
18th July 2017