Between 1980 to 1984, RHEINGOLD were at the forefront of Die Neue Deutsche Welle, releasing three albums and achieving their first domestic hit '3klangsdimensionen' in 1981.
Led by Bodo Staiger, the band also featured his now-wife Brigitte Staiger and Lothar Manteuffel who later formed ELEKTRIC MUSIC with Karl Bartos in 1992 and more recently, played keyboards with Peter Heppner of WOLFSHEIM Fame.
Although hailing from Düsseldorf like KRAFTWERK, LA DÜSSELDORF and DAF, RHEINGOLD differed by having a distinctive rhythm guitar template and more melodic vocals compared to their contemporaries, despite being electronically driven.
Preferring to sing in their own language, the trio attained other notable hit singles including 'Fluß' and 'Fan Fan Fanatic', before calling it a day after their third album 'Distanz' having never performed live.
Then in 2007, RHEINGOLD made a surprise return with a techno-flavoured tribute album to Die Düsseldorfer Schule entitled 'Electric City'; it featured cover versions of songs made famous by KRAFTWERK, PROPAGANDA and LA DUSSELDORF among others, as well as some updated versions of their own tunes. This led to the 2010 'Best Of' collection containing more conventionally re-recorded songs from the RHEINGOLD catalogue.
And now comes 'Im Lauf Der Zeit'
, translated as "over time", a brand new RHEINHOLD album that features a significant number of instrumentals but also lyrics by Karl Bartos, Uli Luciano and Brigitte Staiger alongside music played and produced by Bodo Staiger.
The opening number is the self-explanatory 'Kraut', a fine tribute to the 20th Century kosmische music forms that Germany has become famous for. The bouncy 'Im Lauf der Zeit' title song, featuring strummed and E-bowed six string, showcases an optimistic demeanour that more than expresses Bobo Staiger's joy at his musical return.
'Sehnsucht' is not a cover of RAMMSTEIN but rich Compurhythm driven pop with ringing rhythm guitar reminiscent of THE CURE and atmospheric synths, while 'Stromaufwärts' does as its title suggests and paddles upstream in positivity with lovely backing vocals from Frau Staiger.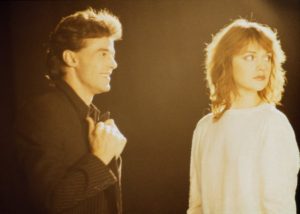 In an instrumental homage to the grand synth rock overtures of LA DÜSSELDORF, 'Theme '84' slows down and shortens 'Cha Cha 2000'. With some surprising fretless bass thrown in for good measure, it just cries Düsseldorf.
Back to vocals with 'Energie', RHEINGOLD homage themselves and in particular, '3klangsdimensionen'; it was a great and under-appreciated song so why not?
'Ins Leben Zurück' is a drum box laden rock ballad and perhaps doesn't have the appeal of the other songs on the album, but 'Weißes Licht' gets things back on track in classic RHEINGOLD style.
Meanwhile, the melodic synth of 'Paradieshafen' drives along a beautiful instrumental that imagines a dream collaboration between OMD and Michael Rother before a fourth, more pulsating instrumental in 'Sternstaub'; using a wholly electronic method of realisation, it closes the rather fine comeback album that is 'Im Lauf Der Zeit'.
An album that sits well alongside DAS BLAUE PALAIS and their Düsseldorf inspired 'Welt Am Draht', this is a welcome return from RHEINGOLD and perhaps evidence that extended musical sabbaticals aren't necessarily a bad thing.
Das ist gut…
---
'Im Lauf Der Zeit'
is released in CD and digital formats by Lucky Bob Records / Soulfood
https://www.facebook.com/Rheingold-156171354461006/
---
Text by Chi Ming Lai
4th July 2017