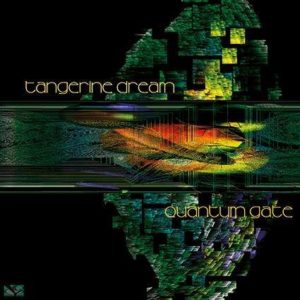 2017 has been a stellar year for electronic music releases, from the latest high charting works by OMD and GARY NUMAN through to the collaboration between TANGERINE DREAM members Ulrich Schnauss and Thorsten Quaeschning on 'Synthwaves'.
With founder member Edgar Froese's passing in 2015, his intention was for the band to continue with his vision, in this case compositions based upon quantum physics. So Froese himself has writing credits on all but one of the tracks on this latest release 'Quantum Gate'
.
With Hoshiko Yamane completing the trio, it was left to the remaining TANGERINE DREAM members to complete the musical sketches left behind by the founding father of the band. This in itself would be a daunting enough task to do justice to the pieces, plus there additionally lingers the factor that there are some that would argue that without Froese, the band should be laid to rest.
Where other acts who lost their leader like QUEEN have doggedly soldiered on by using different vocalists, at least there is a certain anonymity associated with instrumental electronic music which means that there isn't quite that awkward comparison when a new front person tries to emulate the sound of a departed former member.

'Synthwaves' was a superbly produced piece of instrumental electronica, but with its release date being relatively close to that of the latest TD album, it was never going to escape direct comparison with 'Quantum Gate'. On initial listening, 'Quantum Gate' floats over the listener and in many places lacks the directness and strong musical themes present on 'Synthwaves', but with multiple listens, the complexity of the pieces start to reveal elements that the listener may have missed first time around.
The epic 13 minute plus 'Sensing Elements' is a challenging opener, the first 5 minutes bombards the listener with multiple melodies and rapidly changing chord progressions and it's only around the six minute mark when a classic hypnotic TD bass sequencer part starts to emerge that the track begins to lift-off and take shape. Around the 9 minute mark, additional Berlin School-style higher sequencer parts raise the dynamics until the piece reaches a melodic and satisfying conclusion.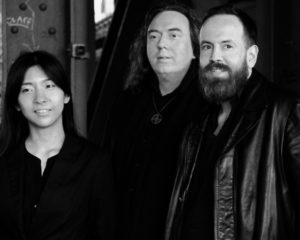 In comparison, 'Roll The Seven Twice' is far more direct proposition, with a bass sequence which recalls the trance-tastic JAM & SPOON remix of the trance classic 'Age Of Love', the track also features an anthemic synth chord lead part which provides the first hook on 'Quantum Gate'. Latterly throwing in some 4/4 drums and a descending musical variation, 'Roll The Seven Twice' provides ample evidence that Froese's legacy really is in safe hands here.
With its pulsing bassline and electronic white noise percussion, 'Granular Blankets' starts off eerily reminiscent of DEPECHE MODE's 'Barrel Of A Gun' before showcasing the Ulrich Schnauss influence on the band with his Shoegazing wall of sound aesthetic. The oddly titled 'It Is Time To Leave When Everyone Is Dancing' starts developing into (shock horror!) a bit of dance-oriented stormer before changing tack halfway through with a new beat pattern and a hyper-catchy bassline.
'Identity Proven Matrix' features the sitar-like texture which graced 'No-Man's Land' from the 1983 album 'Hyperborea' and at approximately 5 minutes in length, doesn't waste any time in showcasing its strong orchestral string melodies and chord progressions.
Out of all the tracks on 'Quantum Gate', 'Identify Proven Matrix' is the most Johannes Schmoelling-era sounding TANGERINE DREAM track here. The attention to detail with the interlocking resonant synth is superb – a rolling Christophe Franke-style sequencer part is utilised later in a piece which will delight fans of the band's mid-period purple patch.
With an analogue string synth intro, 'Tear Down The Grey Skies' unintentionally starts off like BON JOVI's hair metal anthem 'Living on a Prayer', but a superb interlocking sequencer part soon helps to completely banish that distasteful comparison! A climbing Jarre-like melody adds the icing on the musical cake and provides 'Quantum Gate' with another strong highlight.
Closing track 'Genesis of Precious Thoughts' (could there be a more TANGERINE DREAM-sounding title?) progressively builds with an energy rush of interlocking sequencers before breaking down to just piano and Hoshiko Yamane's plaintive violin. The intricate drum programming on the remaining 5 minutes is truly stunning and completely wipes away the memory of some of the muzak-style forays into live percussion which for some blighted the band during the noughties.
With a running time of 70 minutes in length and an unpredictable musical complexity throughout, there is little in the way of instant gratification here. We live in musical times where song intros are being shortened due to people's attention spans reducing and Spotify payout rules so in that context 'Quantum Gate' provides a refreshing, but challenging listen.
Ultimately this release proves that it was the right decision for TANGERINE DREAM to continue and somewhere at a different cosmic address, Edgar Froese will be looking down, safe in the knowledge that his musical legacy is being carefully protected.
---
'Quantum Gate'
is released in CD, double vinyl LP and download formats by KScope
http://www.tangerinedream.org/
https://www.facebook.com/TANGERINEDREAM.OFFICIAL
---
Text by Paul Boddy
15th October 2017