Coming over like the love child of Richard Butler and Neil Tennant, KNIGHT$ is making waves with his self-confessed brand of sparkly Britalo!
Formally of London duo SCARLET SOHO who were capable of a good tune or two as proven by 'Gigolo' and 'Two Steps From Heartache', James Knights has a new electropop anthem in 'Alligator'
co-produced by Martin Dubka. With its unashamedly glitterball disco drive, KNIGHT$ plays on his crowd pleasing nature like KID KASIO collaborating with LES RYTHMES DIGITALES.
The B-side 'Playin' It Cool' doesn't stray too far from the formula, but is evidence why he was chosen for a parallel role as the lead singer in the current live incarnation of veteran German electropopsters BOYTRONIC.
Shiny danceable pop might be what KNIGHT$ is all about, but he knows and understands his synthpop history, as exemplified by the covers that have featured in his live set. 'Uncivilized' was originally recorded by Canadian darkwave trailblazers PSYCHE, while at the other end of the spectrum is PET SHOP BOYS' fourth UK No1 single 'Heart'.
These influences were all successfully mutated together for the impressive debut EP 'What's Your Poison?'
which came out in 2016. From it, 'What We Leave Behind' took up the mantle of Giorgio Moroder, while the playful neo-instrumental 'Miami Knight$' fitted right in with the current vogue for sun kissed synthwave. Then there was the loose electro-funk of the title song while borrowing from NEW ORDER's 'Subculture', 'So Cold' more than affirmed KNIGHT$' Britalo aspirations.
It is often very easy for a promising artist to make a good first impression only to lose it by the release of the first album, but KNIGHT$ still has the poptastic IAMX of 'Cards On The Table' up his sleeve.
With a recent slot opening for HEAVEN 17 and an upcoming tour supporting Peter Heppner of cult German act WOLFSHEIM in November, things are certainly heading on the right trajectory for KNIGHT$.
---
'Alligator'
featuring remixes from ITALOCONNECTION and SUPER HEXAGON is released on 13th October 2017 by Mirrorman / SpecchioUomo via the usual digital outlets
A limited edition 4 track 10 inch green vinyl EP and CD are also available direct from https://knights101.bandcamp.com/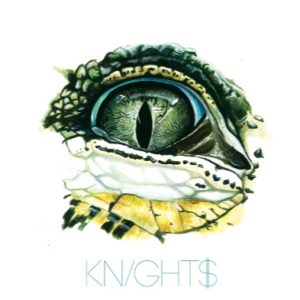 KNIGHT$ opens for Peter Heppner of WOLFSHEIM on the following dates:
Munich Backstage Werk (17th November), Krefeld Kulturfabrik (18th November), Bremen Aladin (19th November), Dresden Alter Schlachthof (23rd November), Erfurt Gewerkschafthaus (24th November), Potsdam Waschaus (25th November),
https://www.facebook.com/Knights101/
https://twitter.com/JPSKNIGHTS
---
Text by Chi Ming Lai
5th October 2017