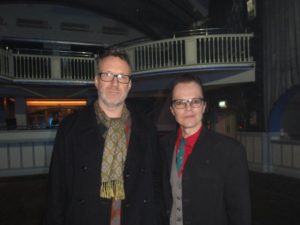 The Amazing Adventures Of Mr Normall have gained a loyal cult following within the post-punk and electronic music world.
With a handshake, big smile, good guy profile, the Finnish music fan's charming photographs with members of SPARKS, JAPAN, ULTRAVOX, BLANCMANGE, HEAVEN 17, DEPECHE MODE, VISAGE and MARSHEAUX among many, have endeared visitors to his website chronicling his travels.
After appearances in a number of promo videos including Kim Wilde and BEF's cover of 'Every Time I See You I Go Wild' , Mr Normall was more recently cast as the star of the silent art movie 'Nuntius'.
The film with its live soundtrack by Jimi Tenor and Jori Hulkkonen has played to audiences around the world, with Mr Normall occasionally joining the musicians with on stage cameos at selected performances.
ELECTRICITYCLUB.CO.UK had the pleasure of catching up with Mr Normall for another chat about his continuing amazing adventures…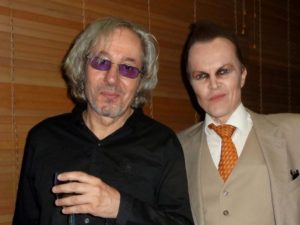 Since ELECTRICITYCLUB.CO.UK last spoke to you in Spring 2011, your fame spread far and wide in some unexpected places. Richard Barbieri wanted his photo taken with you, what was the story here?
Oh yes… that was a surprise and very positive one. We had been friends on Facebook for some time but I had no idea that he knew who I was or that he had paid any attention to me. Then last December – all of a sudden – he tags me and comments "it's my ambition to have a photo with you".
Of course it was humour, but I was very pleased nevertheless. JAPAN is my No 1 favourite band and to be sort of acknowledged by one of them was very cool. Mr Barbieri had his wish come true three months later in Birmingham where I went to see him play live. Richard Barbieri is a first-class artist and a very nice person.
You were also recognised by someone in 2014?
I did speak with Jonathan Ross at the SPARKS aftershow at the Union Chapel in December 2013 but he didn't recognise me, I would have been really surprised if he did. The subject of our chat was ULTRAVOX. He prefers the John Foxx version of the band.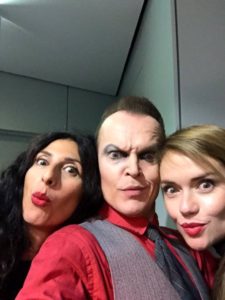 Do you think this recognition all escalated after Jori Hulkkonen asked you to appear in the 'Take Me To Your Leader' video for PROCESSORY?
In Finland, a few people did comment about the music video when meeting me but I don't remember it happening anywhere else. However, I'm certain that 'Take Me To Your Leader' video made Mr Normall better known, even if I haven't got much feedback about it.
The music video was done and released in spring 2011. I was really hoping to see it on TV back then, but it was just about that time when music videos disappeared from TV altogether.
The idea on me appearing on Jori Hulkkonen's music video started actually almost a year before at the night when ULTRAVOX was playing live in Jori's home town of Turku. After the gig was over, I and several other people – including Warren Cann – went to the unofficial ULTRAVOX after party at the club called Dynamo. There I told Jori, that if he's interested to feature me on a music video in the future, I'm game. Few months later Jori contacted me about the subject and the result was 'Take Me To Your Leader' music video.
I must tell you this… after the ULTRAVOX gig in Turku when we arrived at the Dynamo club, I had a really good "Steve Strange moment": The gig venue was quite far from city centre, so we took a big taxi to get the posse to the club. When we got to the Dynamo, I was walking in first and Warren Cann right behind me.
The DJ was playing 'Fade To Grey' by VISAGE and at that moment I felt just like that bit on the VISAGE music video tape where Steve Strange arrives a club in Paris and 'Fade To Grey' is playing in the background. That was THE way to enter to the club.
Of course after this, Jori and his musical partner Jimi Tenor asked you to appear in their film 'Nuntius', this had an interesting concept?
Jori Hulkkonen and Jimi Tenor had talked about making a film, but I suppose they didn't have clear idea what it should be about. In July 2013 I met both of them at the Turku Modern festival and said that I would like to be in their film if they were interested.
The big idea was to make a silent film that would be shown only with live soundtrack by Tenor and Hulkkonen themselves. The film and its music would never be released in any format or be ever available online. Live performances only.
First days of filming 'Nuntius' were in May 2014. We started the car journey from Central Finland where I live and drove next to the Russian border in South-East Finland. The destination was an amazing place called Parikkalan Patsaspuisto (Parikkala sculpture park). We stopped to film where ever the scenery looked right. As far as I know, there wasn't any actual plot ready when we started.
The only rough plot in the beginning was that "I'm being sent from one place to another to get something from there" and the genre is going to be Sci-Fi, perhaps something à la Tarkovsky.
What was filming like for you?
Those first two days of filming in May 2014 were the most fun and memorable for me. Maybe because it was a new situation and the realisation that this is really happening. Also the car journey itself with Jimi, Jori and Marjaana was fun.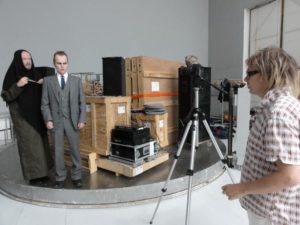 There was three more filming days in 2014 and they were mainly done in an art studio in Helsinki. The studio is very high inside and it has a round platform which moves up and down, and also rotates. The studio was made in 1950s and it was made for the sculptor Kalervo Kallio, who was a son of Finland's President Kyösti Kallio. The studio is the setting for the "other place" where Mr Normall is being sent somewhere else to get something. I would have never spent time at this special place if it wasn't for 'Nuntius'.
In May 2015, there were two days of filming in Helsinki for the second version of 'Nuntius'. Those shoots were done at several locations. The latest shoots were just recently in July 2017 when we filmed around Estonia over three days.
It was much like the first shoots three years earlier because also this time we drove around the country and stopped where scenery was suitable to be filmed. There are strange ex-military places in Estonia that have been deserted after the Russian Army left them when Estonia got independent. Those were exciting days and I definitely wouldn't had ever visited those places without ongoing 'Nuntius' production.
I don't know yet what will become of all the new shots; will it be the third version of 'Nuntius' with a lot of new stuff or will they became a whole new entity à la 'Nuntius – Part 2' or something like that?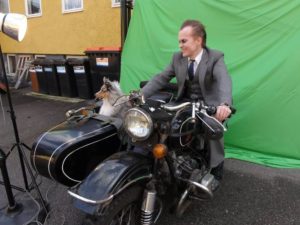 You made a new friend named Louis while riding a motorcycle?
Louis the dog was only one year old, but he was already a real pro. There was one shot with Louis which could have ended badly… I was driving a sidecar motorcycle in a tunnel in Helsinki and Louis was sitting in the sidecar. It was a public road and there was other traffic too. The shot had to be done several times and if Louis had jumped out of the sidecar, he might have been hit by a car.
He had a collar and a leash was around my arm, but I'm not sure what would have happened if Louis wanted to jump out of very loud old motorcycle. Luckily he was very cool all the time and it seemed like he knew what we were doing.
I saw Louis again last year and he wouldn't stop barking at me. I'm not sure what he meant by that.
'Nuntius' has taken you around the world with you making cameos while Jori and Jimi are performing. Which locations or events have you found most interesting? Any funny stories?
I have attended several 'Nuntius' shows in Finland and also few abroad. Berlin was special because that day was also Jimi Tenor's 50th birthday, so that evening at the Lido was also his birthday party.
The Sonar Festival 2015 in Barcelona: 'Nuntius' was on Saturday afternoon and DURAN DURAN played at the festival the same night. There was my big chance to meet them but it didn't happen. Barcelona in June is hot even late in the evening and I was wearing a heavy 3-piece suit. Not the best possible choice when everyone else had T-shirt and shorts.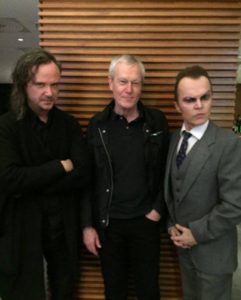 The most important 'Nuntius' performance for me has been the one in Düsseldorf in October 2016 where it was a part of the ELECTRI_CITY_CONFERENCE. 'Nuntius' was the last item of the two day conference – or rather a festival of electronic music – and right before it, the stage was occupied by John Foxx and co for their 'Evidence Of Time Travel' performance.
What made this particular 'Nuntius' showing so special was that there was several of my favourite artists in the audience, as well as friends whom I have seen at gigs before. Jori summed it up very well: "The audience wasn't big but it was a good quality audience".
I have been watching John Foxx on my TV screen hundreds of times and now he was watching me on the big screen. Surreal.
One more special memory… my first – and so far only – visit to Berlin was in March 2015. After arriving to the city and finding my hotel, I went out to have my first ever walk in Berlin. Kreuzberg was only few minutes away so I went that way. Soon I saw some gig posters on a wall – not THE wall – and among them was the special 'Nuntius' poster made for the evening's show. My first time in this big city and when I step out of my hotel there's a poster featuring a photo of me. It was a unique and strange moment for a visitor from the Finnish countryside.
You've made a number of other appearances in videos and photoshoots, are there anymore in the offing?
We are likely to do more shots for 'Nuntius' later this year but that's all. It would be nice to feature in a music video again, especially by an artist that I like. It would be great to experience that again.
Peter Hook had an amusingly and typically Mancunian response when you introduced yourself to him in Düsseldorf?
What was it that he said? I think his kind reply was "there's nothing normal about you" when I introduced myself. I disagree, of course 😉
Tony Visconti has just about seen it all, so what was your encounter with him like?
I did meet him briefly a few times when HOLY HOLY played live in London and Sheffield during September 2014. I was also at the ICA to listen to Tony Visconti and Woody Woodmansey talk about making the album 'The Man Who Sold The World'. Both of them were very friendly and didn't mind signing a few Bowie CD sleeves for me. Getting records signed is a good excuse to approach an artist and it gives you a moment to have a brief chat.
MIRRORS were your favourite new synth act but sadly they are no more. Is there anyone you've listened to who you would you rate today?
I suppose you mean new or relatively new acts? Hannah Peel makes good music with often unusual and interesting arrangements. One new band that I like is TINY MAGNETIC PETS. I've been listening to their new album on Spotify quite a lot.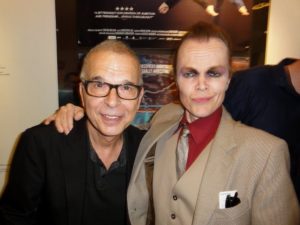 Your portfolio has grown over the last few years, but is there anyone left you would still like to meet and be photographed with?
I have met quite a few artists but there are still many of my "official favourites" that I haven't met yet. With some it's already too late, but for those still in this dimension I would say David Sylvian and DURAN DURAN are the most important not-yet-met-artists.
Then there's several others like one ex-member of KRAFTWERK whom everyone else seems to have met but not me. I'm not done yet with these 'Close Encounters Of The Third Kind'.
---
ELECTRICITYCLUB.CO.UK gives its warmest thanks to Mr Normall
---
Text and Interview by Chi Ming Lai
Photos courtesy of Mr Normall
3rd October 2017