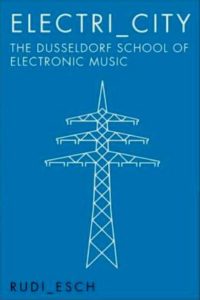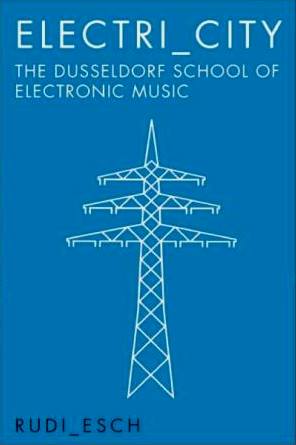 OMD's Andy McCluskey said: "Musically we are much more the sons of Düsseldorf than we are the sons of Liverpool. KRAFTWERK, NEU! and LA DÜSSELDORF were so much more influential on us than THE BEATLES".
Meanwhile ULTRAVOX's Chris Cross adds: "Personally I would have loved to have been in a band like LA DÜSSELDORF" – First published in German during the Spring of 2015, Rudi Esch's 'ELECTRI_CITY – Elektronische Musik Aus Düsseldorf' gave a fascinating insider's account of the Germany's influential post-war music scene which was centred around Düsseldorf.
The original book spawned an English language edition 'ELECTRI_CITY – The Düsseldorf School of Electronic Music', two compilation albums released on Grönland Records and an annual music conference.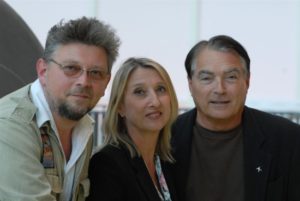 Rudi Esch came to prominence as the bassist of industrial trailblazers DIE KRUPPS whom he joined in 1988, but prior to that, he was in DIE ENGEL DES HERRN with the mercurial Klaus Dinger of NEU! and LA DÜSSELDORF fame. The book takes an unusual format in that it features a series of parabites.
Pieced together from over fifty exclusive interviews, to tell the story of The Düsseldorf School and its cultural significance. This makes the text easily digestible and is certainly a preferred layout compared to the more tedious documents that have been published about musik von die Bundesrepublik over the last few years.
Interviewees include Michael Rother, Klaus Dinger, Wolfgang Flür, Daniel Miller, Paul Humphreys, Andy McCluskey, Martyn Ware, Glenn Gregory, Chris Cross, Ryuichi Sakamoto, Giorgio Moroder and Rusty Egan who gives one of the funniest quotes: "To me, the Germans made cars and rockets. Mercedes and Messerschmitt were the names I knew before KRAFTWERK".
"Düsseldorf is the capital of electronic music" says Esch, as he gives an account of how the Düsseldorf electronic scene developed from 1970 to 1986 with acts like KRAFTWERK, LA DÜSSELDORF, DER PLAN, LIAISONS DANGEREUSES, RIECHMANN, RHEINGOLD, PROPAGANDA, DAF and NEU!
In those early days, the choice of instrumentation was dictated by money. Ralf Hütter and Florian Schneider-Esleben both came from affluent millionaire families, with the latter's father a prominent architect who oversaw the redesign of the Cologne-Bonn Airport.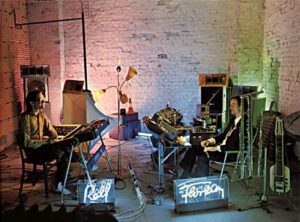 As expensive as synthesizers were back then, the more avant-garde types tended to prefer EMS equipment as it did not come with a keyboard, while those who liked melody opted for the Minimoog. KRAFTWERK of course bought both! But as former member Ebehard Kranemann remembers "KRAFTWERK was not about the money, it was about the music".
And with his Farfisa organ and its preset rhythm accompaniment, Hütter became fascinated with mechanical percussive templates and goaded their then-drummer Klaus Dinger with his proclamation that it was "the fastest drummer in the world".
Klaus Dinger and Michael Rother were working class boys, which influenced their pursuit of a more organic approach and ultimately led to them flying the KRAFTWERK nest to form NEU! While Rother had the talent and an easy going manner, Dinger had ambition and his forthright tendencies did not win him many friends. "With Klaus, you never knew if he would give you a headbutt or an invitation to dinner…" says Wolfgang Flür, "…all in all, I didn't like him".
Dinger was explosive, confrontational and unpredictable. In KRAFTWERK, while Hütter and Schneider had their neon lit signs with their first names in blue, he wanted one with 'Klaus' in red! When Colgate offered to pay a substantial amount of money to use LA DÜSSELDORF's hit 'Rheinita' in a TV advert, he declined. There was also the incident of him breaking journalist Konrad Schalensick's nose following a negative review of their second album 'Viva'.
The signs were there from the start, with Dinger playing rhythmic guitar alongside Rother's melodic interplay, not satisfied with just being the drummer. So without Conny Plank to act as buffer and referee, NEU! would never have lasted for three albums. The silent partner in NEU! who recognised talent and created an atmosphere for musicians to experiment, Plank was without doubt a factor in the second side of 'Neu! 2' being filled with speeded up and slowed down variations of a previously issued single.
The thorny issue of KRAFTWERK's treatment of Conny Plank is discussed in the book; "I don't know where KRAFTWERK would be today if it wasn't for Conny" says Hans Lampe, assistant to Plank and later to become a member of LA DÜSSELDORF.
However, Plank did accept 5000 Deutschmarks (a lot of money in 1974!) which bought him out of the co-producer credit on 'Autobahn' after it was licensed and edited for release by Capitol Records in America.
Another discussion point is Karl Bartos' contribution to KRAFTWERK as he wrote many of the melodies as 'the kraftsman'. According to Michael Mertens of PROPAGANDA who was a conservatoire classmate: "Karl understood that to make popular music, you had to retain some degree of naivety".
Classical music education played an important role and it appeared in the most unlikely of places. DAF's Robert Görl had much in common with Karl Bartos and Michael Mertens, although Görl says: "Wir wollten lieber mit Maschinen arbeiten. We always preferred working with machines".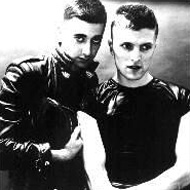 During the post-punk period, just as Liverpool had Eric's, Manchester had The Factory and London had The Blitz, Düsseldorf had a creative centre emerge around Die Ratinger Hof.
Affordable synths from Japan such as the Korg MS20 were a game changer for younger bands like DAF and DIE KRUPPS as they found their sound.
However, there was an important distinction between synths and keyboards as Kurt Dahlke of DER PLAN and PYROLATOR explains: "I insist that I am never credited as a keyboardist on records. A keyboard player is some kind of all-round entertainer, sat at his keyboard using various presets. I insist on synthesizer".
While KRAFTWERK were a reaction to the Americanisation of popular culture in Germany, the next generation of more forthright and aggressive acts like DIE KRUPPS and DAF were a reaction to KRAFTWERK. Jürgen Engler mentions "I hadn't bought a single KRAFTWERK album" while Gabi Delgado comments that "To me, KRAFTWERK were sounding too boring, too beautiful, too sedate and too sterile" and even adds "Sequencers and Moroder. That was more important for electronic music than the entire legacy of KRAFTWERK, NEU! and LA DÜSSELDORF".
DAF's preference for a militaristic aesthetic caused controversy and confused observers, but from the off, they were out to shock. They attracted a following which Gabi Delgado hated; his parents had escaped from the Fascist Franco regime in Spain. However, their early sequencer guru Chrislo Haas was less bothered and flirted with the ideology as a fashion statement.
Their manager Bob Giddens reckons "DAF kind of overdid it later on with their hyper-Germaness" and as they hit the peak of their success, Ralf Dörper reckons they disappeared in a haze of "Sex, drugs and sequencer". Haas eventually left DAF and went on to form alternative club favourites LIAISONS DANGEREUSES in a charged partnership with Beate Bartel of MANIA D.
Of course, all this is only a small part of the story. The visionaries, technicians and eccentrics who played their part like the late Gunter Körber (A&R for Metronome and Brain Records who later founded the Sky label that issued key albums by Michael Rother and Wolfgang Riechmann), inventor Werner Lambertz and Florian Schneider's sister Claudia also give their takes on the scene.
The book appropriately ends its coverage in 1986, when KRAFTWERK's 'Electric Café' disappointed many and led to the departure of Messrs Flür, Bartos and eventually Schneider.
But fast forward to 2017 and Düsseldorf has come to terms with one of its biggest cultural exports and is now happy to celebrate the city's influence on musicians and artists all over the world.
However, the final word has to go to the departed Klaus Dinger: "A lot of people may have helped themselves to the stuff we developed, and then made big bucks abroad. But nevertheless I'd go as far as saying: this was only ever possible in D-U-S, my home town Düsseldorf".
---
'ELECTRI_CITY – The Düsseldorf School of Electronic Music'
is published by Omnibus Press, available via all good book and online retailers
https://www.facebook.com/Electri.city.Esch/
---
Text by Chi Ming Lai
26th August 2017, updated 17th June 2023