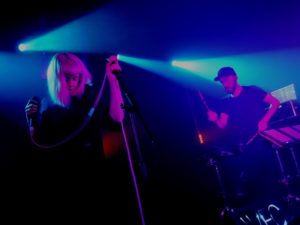 Electropop duo AVEC SANS gave a wonderfully assured performance on the final night of their UK tour in London's Hoxton Square Bar & Kitchen with a dazzling combination of sound, colour and passion.
Since the release of their well-received debut album 'Heartbreak Hi' in June 2016, Alice Fox and Jack St James have been very much in demand for live shows where AVEC SANS have made the biggest impression.
While the pair have been compared to CHVRCHES and PURITY RING, Fox's bittersweet vocal expression has a deeper resonance compared to the occasionally shrill voices of Lauren Mayberry or Megan James. Meanwhile in a concert setting, St James' use of three back flipped Novation Launchpads alongside a Nord keyboard and electronic drums has solved that age old authenticity conundrum in electronic music to clarify what is live and what is Memorex…
Beginning with the moody synthwave of 'When You Go', cheers greeted the familiar blips of 'Perth', AVEC SANS' electro cover of BON IVER's folkie lament inspired by the late Australian actor Heath Ledger.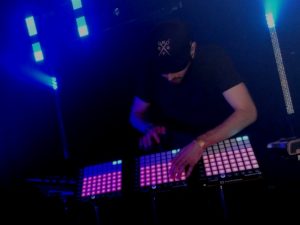 With its gliding arpeggios and spacey vocal manipulations, 'The Answer' proved equal to 'My Mistake' Mercedes-Benz favourite NINA, while the driving pop of album highlight 'Hold On' ensured the enthused dancing in the first few rows was maintained.
'Resonate' and 'History' both explored the offbeat sub-bass whips of PURITY RING before a catchy synthpop tune with an essence of CHVRCHES was offered in the marvellous 'We Are'.
AVEC SANS pay close attention to detail in their live presentation from Fox's glowing mic lead to the effective use of St James' flashing controllers as both visual and connective tools; the platinum blonde singer punched the air with aplomb while the baseball capped instrumentalist multi-tasked with a joyful demeanour.
The swirly 'Shiver' and the R'n'B tinged fervour of 'Heartbreak Hi' title track concluded an energetic set but now established as a fan favourite, there was the bonus of an enjoyable cover of the Kate Bush classic 'Running Up That Hill' as an encore.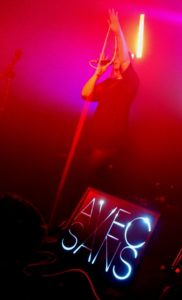 Having impressed with their crisp debut album, AVEC SANS now move onto their follow-up long player. With all the experience acquired since their formation in 2012, Fox and St James have the potential to deliver an opus to take them to the level of their lauded Scottish and Canadian contemporaries.
Professional, organised and hardworking, many acts could learn from AVEC SANS' approach to live presentation, visual image, media engagement and audience networking. It may seem obvious to have a range of photos for press into organised folders but quite a few bands don't even manage that!
With these basics sorted, AVEC SANS have climbed the first steps of the ladder.
---
The album 'Heartbreak Hi' is released by Beverly Martel, available via the usual digital outlets as well as CD and vinyl LP
https://www.facebook.com/avecsansband/
---
Text and Photos by Chi Ming Lai
1st October 2017