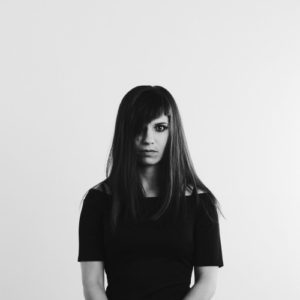 познакомиться с новой музыкой из Санкт-Петербурга
Used to the fact that the vast majority of prolific European electronic acts emerge from either Scandinavia or Germany, one wouldn't necessarily look towards Russia to discover a shiny synth gem within that cold and inhospitable environment.
But the Russians love their electro and synth, just like the next person, often welcoming many established acts to play live gigs, regardless of the off-putting visa requirements from their government.
And so, there comes VEiiLA…. assembled in Saint Petersburg three years ago and consisting of Vif Nüte (vocals/synths) and Bes Eiredt (synths), the duo's high energy performances, enticing with über quality visual concepts, have gathered them a following and led the twosome to open for such acts as THE NEIGHBORHOOD, Sian Evans of KOSHEEN, ALEX CLARE, ABOVE & BEYOND and ATB. Fellow Russian lovers of electro have awarded the band with accolades in local music contests and fully embraced the unusual sound of VEiiLA.
Self-described as "music for introverts", the band members like to keep a veil of mystery when it comes to their private affairs and rarely give interviews, styling their output to reflect the feeling of "eavesdropping to somebody's intimate conversation".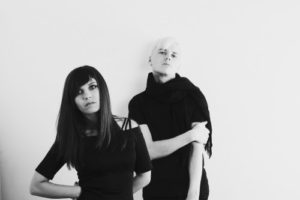 Having released their first single in 2016, the Nüte / Eiredt partnership have worked hard on their live shows and the production of their debut EP.
'Dive' consists of a rework of previously released 'RDMV STR', and five brand new tracks, with the title number opening the sequence with Sarah Blackwood era CLIENT-sounding vocal from Nüte.
Soon enough, the voice raises to operatic levels, and the tempo changes, incorporating a nautical feel with Gothic overtures reminiscent of EVANESCENCE.
'No Cry' introduces superb electronic elements and is vocally performed in the style of FLORENCE & THE MACHINE. The break comes when the time signature changes to that of a club feel; there are even snippets of dubstep. And all that sounds good, extremely good…
The slow starting 'Mantra' erupts with the vitality of a Middle Eastern choir over upbeat techno direction, hypnotising with the promise of "fearless, adventurous" savagery. PET SHOP BOYS could have written this and they'd be proud of it too.
'Never Come Back' masks the sadness with a cheery rhythm à la SPECTRA PARIS, with its glittery, shiny exterior. Further dance beats are palpable on the Detroit techno meet Eurotrance of 'Set Me On Fire'.
Yet the closing 'RDMV STR' closely resembles the work of ZOLA JESUS who, while claiming the Russian heritage, is capable of some stunning vocal and musical deliveries. Nüte lets the rebel in her rule here, combining the capable voices with exquisite musicality, leaving one wanting more, when there's no more to be had.
VEiiLA certainly did their homework with 'Dive'. The EP is edgy, grown-up and deep, displaying some magnificent elements of elegant electronica, as well as the witty vocal delivery by Nüte. Although the duo's influences are clearly apparent, their own material doesn't imitate; it's innovative and fresh.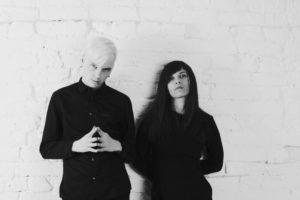 The claimed dark states of solitude and unhappiness are very well disguised within the high energy tracks, and the whole package is designed to please. After all, even behind the darkest of darks, there must be plenty of sunshine and clear blue skies…
Пусть всегда будет солнце, Пусть всегда будет небо, Пусть всегда будет мама, Пусть всегда буду я!
---
'Dive' is released as a digital EP on 7th December 2017, available from https://veiila.bandcamp.com/album/dive
https://www.facebook.com/veiilamusic
https://www.instagram.com/veiilamusic/
---
Text by Monika Izabela Trigwell
4th December 2017