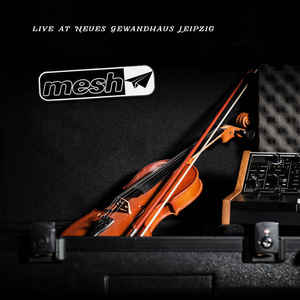 If the Bristol duo can "mend hearts" with their super electronic studio work and live performances, MESH sure stepped up the musical surgery back in 2015, playing live at Neues Gewandhaus in Leipzig, not just alone, but accompanied by a sixty five piece orchestra.
The event called 'Gothic Meets Classic' also featured COVENANT and VNV NATION, seeing all of the bands abandoning their bread and butter synths, letting the woodwinds, brass, percussion, and strings take over, to showcase their (usually very electronic) songs.
It is something that has been successfully done before by DEEP PURPLE, and more recently A-HA and MIDGE URE. The latter is no stranger to orchestral performances, having joined forces with the Royal Scottish National Orchestra, or numerous Night Of The Proms events to finally release 'Orchestrated' this year, which features reworked gems of ULTRAVOX and his solo tracks.
MESH are fortunate to be held by a fair share of electronica fans in very high regard and deservedly so. With Richard Silverthorn's understanding of great songwriting alongside Mark Hockings' lyrical wizardry and captivating vocals, MESH's back catalogue is now vast, spanning over some twenty five years.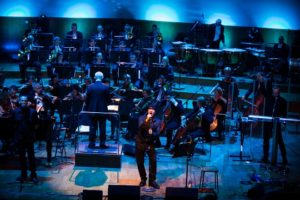 Fitted with new arrangements by classical producer and pianist Conrad Oleak, Silverthorn's songs took on a wonderfully cinematic and a one of a kind shape, proving the complexity of the band's songwriting and fully showcasing what Hockings is capable of vocally.
Witnessed by an audience of nearly 2000, culminating in a standing ovation, the event etched itself in the memory of those lucky to be present, and now we can all enjoy the feel of the electric atmosphere sans the electronics.
This winter sees the release of five original tracks recorded during the event, plus a further three songs recorded in a more modest studio setting in keeping with the classical feel.
'Live At Neues Gewandhaus Leipzig' features the marvellously dreamy 'Leave Us Alone' and the soundtrack worthy 'Only Better', where the lead vocal shines over the opulent philharmonics. There's also 'Save Everyone' with its menacing quality, as well as 'You Couldn't See This Coming' and the beloved 'Taken For Granted'.
The remaining three numbers were prepared in a less opulent ensemble, yet they're equally filmic and in keeping with the orchestral context. 'Can You Mend Hearts', 'There Must Be A Way' and 'Before This World Ends' are all stripped down to a simple combination of piano and vocal, with occasional strings, stressing further to where Hockings can push his abilities.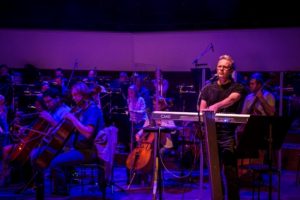 Whether you were fortunate enough to be in Leipzig to witness the classical extravaganza, or whether you enviously watched the snippets afterwards, now's the chance to re-live the magical feel of the night.
Does the combination of electro and orchestra work? Judge for yourself, being soothed with the gentle piano, torn by the beautiful strings and captivated by magic of the wood and brass sections.
Not everyone's songs would do this arrangement justice, one has to have the correct material to work with and Oleak had just that; a bunch of tracks provided by the band, who know how to write a song, no matter what genre.
MESH deserve all the glory they receive.
---
'Live at Neues Gewandhaus Leipzig' is released in a variety of formats by Dependent Records, available from http://en.dependent.de/artists-dependent/mesh/
https://www.facebook.com/meshtheband/
---
Text by Monika Izabela Trigwell
6th December 2017