'From Deewee' is the first studio album from Belgium's SOULWAX in twelve years, the core of the act are brothers Stephen and David Dewaele and their return has seen a shift towards using more real drums, employing JAMIE T's Victoria Smith, TURBO WOLF's Blake Davies and SEPULTURA's Igor Cavelera (all percussionists) to help achieve this vision.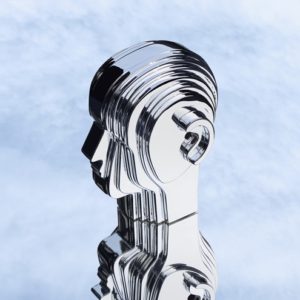 The usage of live / acoustic drums with electronic music has often been a contentious issue amongst the synthpop fraternity.
By its very nature, synthesizer-based tracks should sound rigid, robotic and missing the dynamic that an acoustic instrument can bring. There have however been bands that have carried it off: DAF, NEW ORDER, VISAGE to name a few… but with that Basildon band now back in the limelight, it's hard to wipe the mental image of a certain insensitive drummer beating the life out of a band's back catalogue on stage…
The band obviously had a clear concept in mind before sitting down and making 'From Deewee'
; that being the successful melding of up to three live drummers with a primarily electronic musical backbone. But before you go running to your nearest copy of 'Dare', this has really worked incredibly well and if you've seen the band's 'Part of the Weekend Never Dies' live set, you'll know that this will translate incredibly well into their live experience too.
The instrumental overture 'Preset Tense' has an arpeggiated TOMITA feel to it with warm Moog textures before hitting an electronic crescendo and seamlessly mixing into the 303 driven 'Masterplanned'. What sets SOULWAX apart from some of their contemporaries is that in amongst their collection of cool analogue electronic sounds, they still retain an ear for melody and adherence to writing actual songs rather than coasting along on a few semi-decent synth patches. At the musical heart of 'Masterplanned' you can also hear the ghost of the kind of chords that Martin Gore is a huge fan of…
'Missing Wires' starts off with a ludicrously over the top drum roll before a rising/flanged segue into a mid-range reverbed synth bass.
It's hard not to smile and appreciate the attention to detail when the phrase "missing wires" is first featured in the lyric and a synthetic hand clap is deliberately dropped out of the mix. A loping sequenced part which recalls ULTRAMARINE joins the mix and the final two minutes features a cheeky re-work of the 'White Lines' bassline.
With melodies that could have been fleeced from the debut YMO album and the GARY NUMAN trademark of following the vocal line with a synth melody, 'Missing Wires' is a definite highlight here. 'Conditions Of A Shared Belief' is a modular synth lover's wet dream, featuring the style of detuned blippy sounds favoured by Daniel Miller on the early Mute releases.
It's not just live drums that get their chance to shine here, 'Conditions' features a brilliant homage to the white noise percussion synth break from 'Being Boiled' and drum pattern from 'The Black Hit Of Space' too.
'Is It Always Binary' features a Burundi styled ADAM & THE ANTS live drum mantra before breaking into a DAF-style sequencer pattern which perfectly matches the snares beat for beat. A drop into a vocal section (which sounds like the band have sampled their own track 'Krack') leads back into the driving rhythmic section again. Probably the nearest to a filler track on the album, 'Is It Always Binary' works, but it's not the strongest track here.
'Do You Want To Get Into Trouble' starts with a GLITTER BAND double drummer stomp and live guitar and bass. After vocalist Stephen Dewaele's menacing intoning of the song's hook, a wonderful Mellotron string break shows that it's not all monosynth action here and the outro of the song again owes a big debt to Germany's DAF.
'Here Come the Men in Suits' pinches a lyric from THOMAS DOLBY's 'Commercial Breakup' and starts like an out-take from the 'Stranger Things' TV show before heading into a funky modular synth break down.
Solina strings flesh out the song towards the end before closing with the down-tempo 'Goodnight Transmission'.
One thing that cannot be denied is that SOULWAX have immaculate taste, they are the synthpop equivalent of a fine dining experience, each track has a superb provenance of sounds and influences featuring an enviable range of vintage analogue equipment.
Elsewhere, this album has been compared to a "batshit crazy sci-fi disco concept album" which sort of hits the nail on the head, although it does stick within certain conventions and could be accused of being a little two-dimensional in places.
'From Deewee' does what it does extremely well and will translate superbly into the band's live shows, especially as the band's new trio of drummers will be taking to the road too. The album was apparently recorded 'live' in one take, but this is hard believe considering some of the vocal overdubbing present, especially on closing track 'Goodnight Transmission'.
If you are a synthpop fan that is put off by the words "features live drums", don't let it deter you; this is a superbly produced piece of work that although does take risks, ultimately succeeds and adds another fine set of songs to the SOULWAX back catalogue.
---
'From Deewee'
is released by PIAS
SOULWAX play London's Electric Ballroom on 8th April and Manchester O2 Ritz on 9th April before a two night stint at Brussels Ancienne Belgique on 11th-12th April 2017
https://www.facebook.com/soulwax/
---
Text by Paul Boddy
2nd April 2017