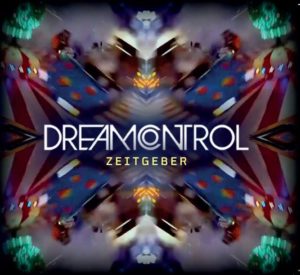 'Zeitgeber' is the debut album by DREAM CONTROL, a cosmic journey through audio and time over ten compositions and improvisations of varying length and tempo.
Comprising of Zeus B Held, legendary producer and keyboardist with BIRTH CONTROL and one-time TANGERINE DREAM member Steve Schroyder, the pair have united to construct their own musical adventure based on chosen planetary or molecular tunings which differ from the usual concert pitch.
The concept is known as Die Kosmische Oktave, or "Cosmic Octave"; discovered by Swiss mathematician and musicologist Hans Cousto, it states a link between different kinds of periodically occurring natural phenomena, such as the orbit of the planets, the weather, colours, rhythms and tones, thus affirming a harmony between life and the cycles of the cosmos, rhythms, sounds, colours and atoms.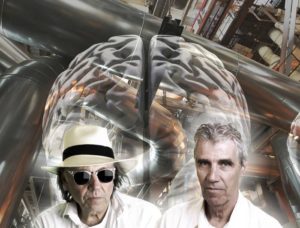 Held said: "After I experienced the difference to the standard concert pitch, I was happy to do the entire 'Zeitgeber' album with this method. And yes, you can hear the difference".
So each track on 'Zeitgeber' has been constructed and tuned to a particular planet's unique parameters and characteristics. The end result is a largely uptempo electronic record that could potentially satisfy the ears of proggers and the feet of clubbers.
Opening track 'Eyes & Ears' begins with an organ-led run that will keep any lover of early German kosmische music happy before it kicks in at a pumping 127.6 BPM with abstract vocoder and enigmatic vocals from Anne Zeides. Things get even faster on 'Time Out' at 132.4 BPM, a bubbling thrust of robotic escapism before things take a breather on 'Go Forward…'
Then things speed up again with 'To Tomoro', a frantic burst of progressive trance that clocks in at a mighty 138 BPM and could be mistaken for a collaboration between Jean-Michel Jarre and Ferry Corsten. Continuing with the transient dance vibe but at 127.6 BPM, 'Frozen Boumme' adds piano while a fabulous barrage of spacey sequences provide a hypnotic effect.
The superb 'Kant Can Dance' comes from Held's 'Logic Of Coincidence' project and is almost pop music compared to what has already been appeared. Bolstered by the throat singing of Kolja Simon, vocal overtones of Felix Mönnich and the return of Anne Zeides, it comes over like an artier Giorgio Moroder in outer space. Utilising a similar palette of sounds, 'Tomaga' also throws in some ivory tinkling in a classical style for an unusual blend of aural cultures.
Throughout 'Zeitgeber', there is some superb keyboard playing by Held and Schroyder to provide a human counterpoint to all the tightly programmed sequences and beats, something that is particularly well showcased on a brilliant housey cover of 'Gamma Ray' featuring some soulful vocals from Tami Williams. It's a touching tribute by Held to his former band BIRTH CONTROL and in particular, his late colleagues Bruno Frenzel and Bernd Noske.
Reaching the sub-15 minute barrier, both 'Doors Of Perception' and 'Blick Aus Meinem Fenster' will satisfy enthusiasts of TANGERINE DREAM with their almost spiritual drifts into sound sculpture. They could in fact make up an album on their own and this highlights what could be the one of criticism of 'Zeitgeber', that it is perhaps overlong and attempts to fit too much into one body of work? With an abridged six track vinyl edition planned, it will be interesting as to how that is realised.
Certainly 'Zeitbeger' could probably do with being shorter but as far as quality and concept go, the debut from DREAM CONTROL is up there in a year which has seen impressive albums by German artists such as QUAESCHNING & SCHNAUSS, RHEINGOLD, DJ HELL and 2RAUMWOHNUNG.
---
'Zeitgeber' is released by Planetware Records in CD and digital formats on 8th August 2017, available from http://www.planetware-records.de/en/music/3013_zeitgeber.html
Abridged vinyl version on sale soon via Medical Records at https://medicalrecords.bandcamp.com/
https://www.facebook.com/dreamcontrolmusic/
---
Text by Chi Ming Lai
17th August 2017