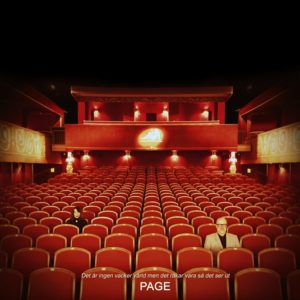 Formed in 1980 in Sweden by Eddie Bengtsson and Marina Schiptjenko, PAGE marked the entry point of synthpop into the Nordic country, leading to decades of producing the best pop acts in Europe.
Quickly influencing the masses and creating a cult following, the group released numerous singles before finally the first album in 1991; they have been active on and off since then.
Returning with their new album 'Det Är Ingen Vacker Värld Men Det Råkar Vara Så Det Ser Ut', which translates as "There's No Beautiful World But It Happens To Look Like That", the veteran boy / girl combo ensure that they are still very valid, even 37 years on.
'Det Är Ingen Vacker Värld Men Det Råkar Vara Så Det Ser Ut' promises its building blocks are based on a "classic pop concept", and the opening 'Krasch' certainly fits the analogue blueprint of the Swedish essence. 'Spottar Långt' carries on the idea of simple, yet wholesome electronic noise, while 'Lågger Av' speeds everything up.
'Sånt Som Inte Går' introduces the feel of underground synth with an alternative sound, at times reminiscent of the works of GARY NUMAN. Talking of Numan, his 'Tracks', translated into Swedish 'Spår', finds its way onto the opus, as well as now soiled glam classic 'Hello Hello I'm Back Again' in the form of 'Så Skönt Att Va Här'.
'Låt Det Gå' melodiously invites to the classic disco meets with extravagant synth while 'För Någon' rocks grit-tingly onto 'Tid För En Kyss', originally released in 2015. 'Det Var Ingenting' tells us that "it was nothing" with busy sequences and droning repetitive rhythms. The only track performed in English is 'I Know You Know', which closes the outing with the additional dose of ear friendly synthpop and a positive dose of dancebility.
PAGE are back with an album which will take you back to the classic years of synth with a twist. If Swedish is one of the languages you speak, you will understand the reflection on the things going on in today's world. If not, you will revel in the classic signature sound of PAGE.
Not for everyone, this is a good, alternative take on synthpop, clearly very sought after since 1980.
---
'Det Är Ingen Vacker Värld Men Det Råkar Vara Så Det Ser Ut' is released by Energy Rekords as a CD with bonus tracks and vinyl LP, available from http://hotstuff.se/page/x-7640
PAGE perform at Electronic Summer 2017 in Gothenburg on Saturday 2nd September, details at http://electronicsummer.se/
https://www.facebook.com/PageElektroniskPop
---
Text by Monika Izabela Trigwell
1st July 2017