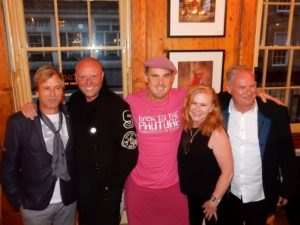 The Union Club in Soho was the location of 'Question Mark', a panel discussion hosted by Wall Of Sound and Back To the Phuture's Mark Jones.
The four guests gathered for the fascinating and extremely good humoured chat about their experiences in the music business were OMD's Paul Humphreys, HEAVEN 17's Glenn Gregory, Steve Norman from SPANDAU BALLET and T'PAU vocalist Carol Decker.
A series that has been going for several years, Mark Jones announced this was to be the last free session to which Carol Decker amusingly quipped "Will I have to pay to talk about myself?"
To begin proceedings, Jones asked the quartet about their first record purchases; Carol Decker remembered it was Michael Jackson's first solo album while for Paul Humphreys, it was 'Make Me Smile (Come Up & See Me)' by Steve Harley and Glenn Gregory had 'Can The Can' by Suzi Quatro. However, both Humphreys and Gregory agreed that the turning point for them was hearing 'Autobahn' by KRAFTWERK in 1975.
When asked about their first instruments, Humphreys confessed that as an "electronics geek", he built his own sound making device because he initially could not afford to buy a synth. Gregory had an acoustic guitar which he promptly broke while Decker admitted that although she knew her chords and notes, she couldn't really play the piano very well.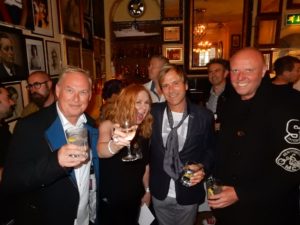 But it was Norman that had the most impressive CV; starting as a drummer before moving to guitar having been influenced listening to Hank Marvin, he then recorded the sax solo on 'True' just six months after first taking lessons. All four guests and the host also discussed their adventures in the murky world of synthesizers. When Jones told of how his mother bought him a Yamaha CS01 from the Grattans catalogue, Norman recalled how SPANDAU BALLET used a Yamaha CS10 on 'To Cut A Long Story Short' during the Islington quintet's initial dalliances in synthpop.
Perhaps surprisingly, the more AOR inclined T'PAU did their demos using a synth and its built-in sequencer with Decker telling how she and writing partner Ron Rogers had written their breakthrough hit 'Heart & Soul' entirely around a bass synth sequence which ended up in the final mix.
Of course, Humphreys' and Gregory's histories with OMD and HEAVEN 17 respectively are well documented. But both found they had to constantly defend their art against those who didn't consider the use of synthesizers as "real music".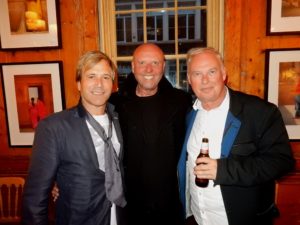 When questions were opened out to the audience, ELECTRICITYCLUB.CO.UK took the opportunity to remind the pair that the Musicians Union tabled a motion in May 1982 to ban synthesizers from recording and live performance. Having already shared how in the pursuit of a more electronic dominated sound, his first serious band THE ID shrunk from eight members to two in order become OMD, Humphreys gleefully told the story of how the MU kept giving him and Andy McCluskey a hard time over using a tape recorder so mischievously, the Wirral duo "put 'Keep Music Live' stickers on the tape reels!".
Meanwhile when HEAVEN 17 performed on 'Top Of the Pops' for the first time in 1981 with 'Play To Win', Gregory told of how the heavily unionised show, where MU membership was compulsory, refused to let Martyn Ware and Ian Craig Marsh perform behind synths, insisting that they used a guitar and glockenspiel instead!!
But remembering how T'PAU had used a Fairlight for their orchestral arrangements, Decker expressed that "it did prick my conscience" that she might be putting musicians out of work, with the technology having advanced to such a degree that for the untrained ear, it was difficult to tell the difference. Steve Norman also had a vivid technology nightmare when while using Yamaha WX7 MIDI wind controller connected to a DX7 live, it suddenly changed settings in the middle of a moody solo under the heat of stage lights!
When asked about new music, Gregory admitted he listened to very little. However, recollecting his own experience of how GARY NUMAN looked after OMD when the young duo opened for the electronic pioneer in 1979, Humphreys said OMD tried to help young bands where possible with no buy-on fee for support slots, citing the much-missed pop noir combo MIRRORS as one of the best acts in recent years.
This drew the discussion onto how safe and unadventurous the major record labels had become in recent years with their lack of vision towards artist development, in their quest to protect their dwindling revenue streams.

On the subject of music formats, Humphreys said he still very much believed in the artistic statement of the album and how you could not skip tracks on vinyl, so the less immediate tracks had to be absorbed and accepted in order for the work to grow. Meanwhile, Norman felt the EP was the platform of the future, as a new artist could offer less but more frequently, in order to engage an audience.
While Humphreys still embraced vinyl and CD, he confirmed he was very much against using Spotify, not just due of the poor royalty rates paid to artists but as he also revealed, the major record companies hold shares in the Swedish based concern… so no conflicts of interest there!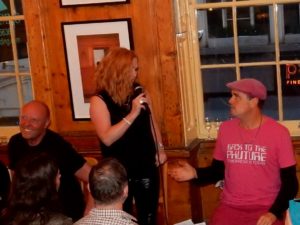 Meanwhile Decker loved the convenience of listening to music digitally while expressing a slight, and not unshared, bemusement at the vinyl revival.
To end the evening, Mark Jones amusingly challenged his guests to sing a song without accompaniment. Carol Decker was first up, belting out 'Little China Girl In Your Hand', an improvised mash-up of her own hit tune and the Iggy / Bowie classic.
Not known as a vocalist, Steve Norman gamely launched into a rendition of 'Gold' to enthusiastic cheers while initially reluctant, Paul Humphreys sang 'Enola Gay' after being goaded by Jones, with some audience assistance. Finishing the impromptu sing-song, Glenn Gregory gave a timely and relevant acapella version of '(We Don't Need) This Fascist Groove Thang'.
It was a fabulously entertaining two hours with Carol Decker perhaps stealing the show from the boys with a salt of the earth persona that was akin to your favourite auntie who enjoys a tipple or two at Christmas, like a cross between Julie Waters and Tracey Ullman.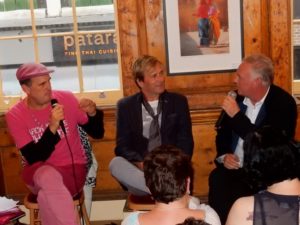 Providing amusing and engaging group conversation that was also educational, the fact that all four guests continue to have successful careers today is testament to their longevity and cultural impact during a more open and therefore competitive musical era.
People are still interested in this music not because of "nostalgia" as one member of the audience suggested, but because of its quality, inventiveness and authenticity.
Now, that really doesn't happen that much these days… and that's why people go Back To The Phuture 😉
---
ELECTRICITYCLUB.CO.UK gives its sincerest thanks to Mark Jones
http://www.backtothephuture.net/
https://www.facebook.com/Question-Mark-514817845328373/
---
Text and Photos by Chi Ming Lai
29th June 2017