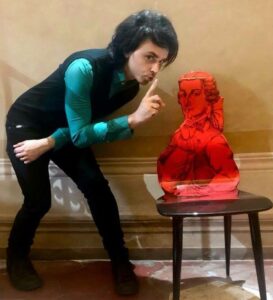 Inevitably influenced by KRAFTWERK and DAVID BOWIE, one of Eugenio Valente's mission statements is "pop is a not crime".
EUGENE has been making synthwaves in the past 18 months, particularly with the dreamily propulsive collaboration with LISBON KID's Danny De Matos called 'Waiting For You'. The most recent EUGENE offering 'Radiowave' played with the propulsive neon-lit sax-tinged aesthetics of the synthwave sub-genre, but added authentic Italo elements and distorted feral vocal toplines.
ELECTRICITYCLUB.CO.UK chatted to the Italian singer, songwriter, arranger, producer and remixer about his ethos and upcoming appearance in London…
What first got you into electronic music and who became your main influences?
I used to watch lots of mecha anime and sci-fi series on TV in my childhood. I was totally blown away by the robots and spaceships sound effects, so powerful and mysterious. I was (and still am) extremely curious. Although I didn't want to go to any music school, I loved playing the piano, and to explore the Casio VL-1 my father bought me.
I got my first electronic music record when I was nine or ten, a late 80s album of JS Bach re-arrangements made with digital synthesizers and samplers. A few years later, thanks to my uncle and some schoolmates, I discovered PINK FLOYD and then came (in random order) KRAFTWERK, DAVID BOWIE, THE BEATLES, QUEEN, DURAN DURAN, ULTRAVOX, DEPECHE MODE, VANGELIS, THE POLICE, STEELY DAN. I can't actually tell who my main influences are, but Floyd and Bowie had a very strong impact on me in the very beginning, of this I'm sure.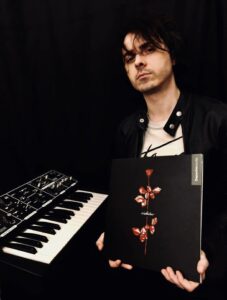 You once said "pop is a not crime", please explain? ?
I often live on the border between experimentalism and pop music. I guess it's a consequence when you explore sounds and try to write songs with them.
I once recorded a track using some old camera noises as rhythmic elements, and it came so natural to me adding a classical piano and a good vocal line, turning it into a pop song.
It's good to express creativity and personality and I haven't got a programmatic approach to composition. On the other hand, it's no secret that pop music brings your sounds within the reach of a wider audience.
Did the domestic Italian artists appeal to you?
Yes, there are many Italian artists that I like, but FRANCO BATTIATO is my all-time favourite. I love every period of his forty year-long career, spanning from experimentalism to clever pop songwriting to even soundtracks, and he virtually taught me how these three musical paths are so incredibly related with each other.
What did you think when British artists like NEW ORDER and PET SHOP BOYS made Italo Disco influenced records?
It's interesting, especially because many times in history, Italy has been influenced by British culture, fashion and music. I imagine that Italo Disco sounded really catchy and futuristic at the time and I'm convinced that some of its elements still rock today.
What inspired you to dig out a Casio for 'Promenade' in 2014?
I was jamming with my Juno 2 while running the Casio VL-1 'rock 1' rhythm preset and the song was born almost all at once. As I've told you before, the VL-1 was my first electronic keyboard and parts of the 'Promenade' lyrics were about my childhood memories, so I decided to keep the Casio beat in the final mix. I also suggested we highlighted these electronic and sentimental connections when director Alessandro Bavari and his team came to work on the music video.
So which were your other early synth purchases and what tools do you prefer use now?
Yamaha SY85 was my first pro synthesizer / workstation: I did a thousand concerts and recorded tons of stuff with that incredible machine! Then I bought a Novation K-Station and a second-hand Roland Alpha Juno 2. Now I use both analog and digital gear, following my expression needs.
How did your most recent single 'Radiowave' come together?
'Radiowave' is the first result of my collaboration with 'Italian new-wave' master Garbo and avant-garde multi-instrumentalist Andy (formerly in the MTV award winning band BLUVERTIGO). Once the work on music and lyrics was finished, I thought it would be a good idea to involve my friends in it. Garbo's unique vocal timbre and Andy's dreamy saxophone added a touch of class to the track. Anyway I changed arrangement a couple of times before the release… it was an indietronic rock thing, in the beginning.
The accompanying video directed by Gary Hill, the American videoart pioneer was interesting…
Yes, we were at Gary's studio in Seattle in October 2017, and he showed to me his early 70s Rutt-Etra analog video-synthesizer. I was so stunned I soon asked him if he was up for working together on the 'Radiowave' music video.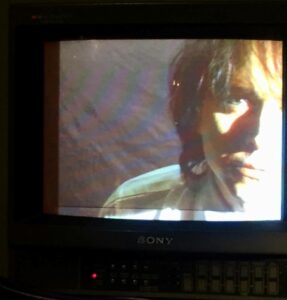 It turned out to be a very quick process, as you can see it's all about me singing in front of the videocam: my image was analog processed by the video-synthesizer and impulses from music and my voice triggered modulation parameters and values.
All processing (automatic and manual) was made in real time, no computer graphics, no post-production effects! We were all aware that we were doing something futuristic though we were using a 40 year old machine. Gary is such an amazing person and a very sensitive artist. He knows how to work with concepts and to make them tangible through his works.
You did 'Waiting For You' with LISBON KID's Danny De Matos who you have since remixed?
'Waiting For You' was born from some remix ideas I put around Danny's haunting vocal tracks, but later it revealed itself as something brand new, so we talked with Wall Of Sound's head Mark Jones and decided to release it as a single.
In the last two years, I happened to remix a lot of tracks from Wall Of Sound artists as LISBON KID and DENIS THE NIGHT & THE PANIC PARTY alongside with cool underground projects like MAJOR DERANGES (featuring Louis Gordon), SHIRLEY SAID, AZZURRO 80 and OTTODIX.
So to Synthwave or not to Synthwave, that is the question…
Synthwave is just a nuance of my style, I wouldn't consider myself a 100% synthwave artist, it would be untrue. Though I love 80s pop sounds and imagery, I'd be not happy to be trapped in a nostalgic time warp, it doesn't belong to my nature.
So, Viva Synthwave when it's spontaneous and sincere (not a mere fad of the moment) and meant as a starting point to create new musical and aesthetic paths.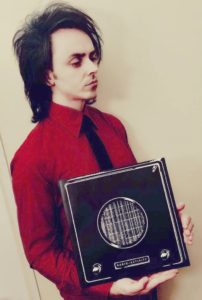 Synthwave acts are known for being static behind laptops, how you do ensure you have a more engaging live presentation?
I've grown up playing with bands and I still do it in many projects. I want to be honest to the people who come to see me live. I'm alone with my machines and I often use programmed drum machine-and-bass sequences, but I leave to myself many parts to play live, besides singing of course! I like to get busy on stage and I just can't stand still when I perform.
Synthwave often makes you close your eyes and dream… well I'd be happy if people kept their eyes wide open, watching an artist that every night offers something true and unique: I consider it a form of respect towards my audience.
How was it like opening for THE KVB in Rome?
Sometimes being an opening act is not easy for many reasons, but that night it felt like being in the right place at the right time, with a perfect audience… I did a 30 minute set, alternating very energetic moments with darker and ethereal ones. Even Kat and Nick from THE KVB showed their appreciation, they were very kind to me. Then I got off the stage, joined my wife Claire (who actually arranged my opening with THE KVB management) and enjoyed their concert.
What happened to your ELECTRO EXPERIENCE tribute side project with which you did a cover of DURAN DURAN's 'Secret Oktober'?
ELECTRO EXPERIENCE is a way for me and gifted artist Daniele Nonne to explore the music of our personal masters and it started as a game from 'Secret Oktober', which had the shape of a demo in its original release. So we treated it very respectfully, as a rough diamond to be refined according to our tastes. We actually have some tracks ready, but we're always in the whirlwind of our own projects. Despite of this we hope to release something new before we can imagine!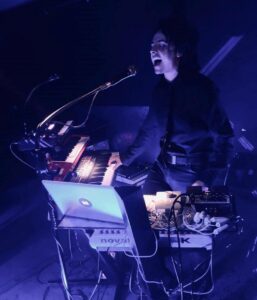 What's next for you?
On 4th May, I'll be at the Synth Day & Night event in Rome, to participate in a panel on innovation in electronic music and then to do a short live set. This means a lot for me because last year's special guest was Wolfang Flür, I can hardly believe it!
On 18th June, I'll release via Kronos Records the soundtrack to Magdalena Hill's 'Lavender Braid' film, preceded by the new single 'Queen Bee'.
And finally on 22nd June, I'll perform at prestigious Synth Wave Live 3 festival at Electrowerkz in London.
Danny De Matos will be my guest on stage too. This will be one of the most important events of the year for me, I'm truly excited and I just can't wait to come back to the UK!
---
ELECTRICITYCLUB.CO.UK gives its grateful thanks to EUGENE
Additional thanks to Claire Lyndon at Stargazers Inc
'Radiowave'
and 'Waiting For You'
are released by Wall Of Sound Records and Discipline via the usual digital platforms
http://www.eugeneofficial.com/
https://www.facebook.com/eugenemusic
https://twitter.com/eugene_music
https://www.instagram.com/eugenemusic.official/
---
Text and Interview by Chi Ming Lai
Photos by Claire Lyndon at Stargazers Inc
8th May 2019