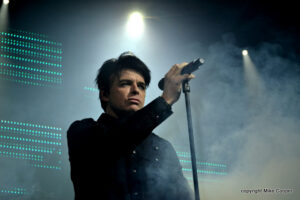 Tomorrow Is Today… Back To The Phuture figurehead Mark Jones has a clear mission statement: "to join the dots on electronic music".
He has been the driving force behind a number of exciting innovations in recent years, including the collaborations of LITTLE BOOTS with GARY NUMAN, and LA ROUX with HEAVEN 17 for BBC 6Music. And more recently, there was a Back To The Phuture themed night at Bestival featuring HEAVEN 17, HOWARD JONES and VILLA NAH.
Last year he announced his most ambitious show to date, 'Tomorrow Is Today', which would bring together a stellar line-up of synth acts past and present. "It's amazing to see Back To The Phuture evolve into a live 'happening' and to be able to present inspiring artists that've paved the way for all of us alongside ace current talent", said Jones. "Their music has never been more relevant to what's happening – tomorrow is today."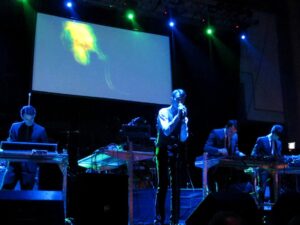 The venue for this very special show was The Troxy, a lavish art-deco venue in London's East End which began its life as an upmarket art deco cinema in the 1930s. By mid-afternoon a very large queue had started to snake around the building, such was the anticipation of the evening's events.
Electronic music fans from Germany, Finland and Italy had made the journey especially, while musicians of various standings from the genre were also in attendance.
VILE ELECTRODES and DEPECHE MODE's Andy Fletcher were all interested onlookers, keen to be part of one of the biggest celebrations of electronic music to be ever held on British soil.
First on the bill were Brighton-based quartet MIRRORS. The smartly attired band were clearly thrilled to be sharing the stage with their electro forefathers, and they rose to the occasion, delivering a blistering set showcasing their superb debut album 'Lights and Offerings'. As a live act, they are quite mesmerising to watch and their performance won over a legion on new admirers, as evidenced by all their CDs selling out at the merchandise stall by the end of the night.
Following a short DJ set by the irrepressible Mark Jones, it was time for the first of two synth legends to take to the stage.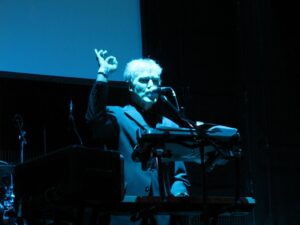 JOHN FOXX, accompanied by his band including Benge, Steve D'Agostino, Serafina Steer and Robin Simon, opened with 'Shatterproof' from the acclaimed new album 'Interplay'.
Foxx exuded his enigmatic charm throughout the set, in which new material sat comfortably next to early ULTRAVOX anthems 'Dislocation', Quiet Men' and 'Hiroshima Mon Amour', plus his trio of classic solo singles 'Underpass', 'Burning Car' and 'No-One Driving'.
Sadly, the album's highlight 'Watching A Building On Fire' was absent but it was a brilliant hour of fine electro. JOHN FOXX is a pioneer of the genre who, more than thirty years into his career, is still making music that is exciting and innovative. The ecstatic welcome he received tonight was richly deserved.
By way of contrast, the next band were Franco-American techno outfit MOTOR. With their light-sabre styled microphone stands and frantic club beats, what was not obviously apparent tonight is that the duo have moved into song based territory with their new album which is due out later this year. DEPECHE MODE's Martin Gore, NITZER EBB's Douglas McCarthy, ELECTRIBE 101's Billie Ray Martin and GARY NUMAN will all be featuring as guest vocalists.
Following their support slot on DEPECHE MODE's Tour Of The Universe, the future could get very interesting for Mr No and Bryan Black. MOTOR were followed by their label boss, Mute supremo Daniel Miller, another goliath of the electro world whose DJ set included his own 'Warm Leatherette' which started the Mute brand off, some TUXEDOMOON and the Slavery Whip mix of DEPECHE MODE's 'Master And Servant'.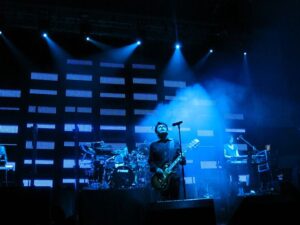 Finally it was time for GARY NUMAN to appear. Often referred to as the godfather of electro, as he strode onto the stage against a towering backdrop of LED screens he looked every inch the guvnor. As if to prove the point, he launched straight into three classics in a row; namely 'Down In The Park', 'Films' and 'That's Too Bad', each to a rapturous reception.
To mark the special occasion, 'Crash' then received a rare live airing, and anyone who bought the 'Dance' album some thirty years earlier was singing their heart out.
'Listen To The Sirens' was another one getting a rare outing while for the rest of Numan's set, vintage tracks like 'Cars' were interspersed with heavier brand new material such as 'Dead Son Rising' and 'Splinter' which resulted in some lost momentum.
Nevertheless, 'I Die: You Die' with its savage narrative on the destructive nature of the press sounded as futuristic as ever, while anthems such as 'Pure' and the spine-tingling Andy Gray mix of 'A Prayer For The Unborn' affirmed that when Numan is good, he's very good. The set was ultimately well received by the highly enthused faithful (when was the last time the former Gary Webb actually sung the line "but are friends electric?" himself?) and provided a fitting climax to the night.
To close the proceedings, an emotional Mark Jones came out on stage to thank everyone involved, and then a veritable 'who's who' of Synth Britannia took to the stage for a final curtain call: DANIEL MILLER, JOHN FOXX, GARY NUMAN, MIRRORS.
It was quite a sight to see; our friends electric! Ally Young of MIRRORS thoroughly enjoyed his evening and said: "It was a real privilege for us to be playing alongside such legends".
MIRRORS' singer James New went to meet fans in the merch area afterwards while nearby, JOHN FOXX was all smiles and happily shook hands with well wishers as they expressed their grateful thanks. Via his website, GARY NUMAN said: "The feedback we've had so far has all been extremely positive which makes all the hard work that has been put in so worthwhile."
This was a special night that brought together the electro community from far and wide. All credit to Mark Jones and Back To The Phuture for making the dream a reality.
---
www.facebook.com/theworldofmirrors/
---
Text by Steve Gray
Additional material by Chi Ming Lai
Photos by Mike Cooper and Richard Price
2nd May 2010