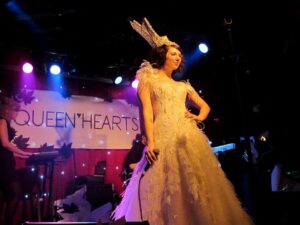 Since launching herself to the world in February, the gorgeous QUEEN OF HEARTS has been attracting a fair amount of attention from the mainstream press.
The Independent described her first track Freestyle as "mixing the cool vocal detachment of ANNIE with the electro throb of Black Cherry-era GOLDFRAPP, all sighing melodies and synth explosions".
Meanwhile, The Times said in a playlist feature that also included RADIOHEAD and LADYTRON that her second track Where Are You Now? was "a luscious escapist electropop floorfiller of the future from the mysterious London based newcomer". And not ones known for liking either electro or pop, Q magazine said "The upper reaches of the pop stratosphere beckon". Words like violence, break the silence…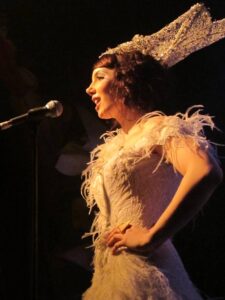 And so it was on a lovely, warm April evening that QUEEN OF HEARTS gave her debut live performance. In the presence of press, family, friends and fans, she regally strolled onto stage in the most beautiful dress courtesy of Polish couture designers Kruszynska.
With the austere look of GOLDFRAPP but with a more approachable allure, she launched into a powerful version of 'Freestyle', the song that originally got everyone buzzing. This live rendition was particularly mesmerising and punchy. Aided and abetted by dancers Holly Allen and Katie Smith plus a three piece band (Steve Durham: drums; Charlotte Ridly: synth; Vicky Warwick: synth and bass), it all slotted seamlessly into the fantasmical presentation. And as Elly Jackson once said: "Girls look wicked playing synths!"
The following' Overcome By The Rhythm' was a trancey hands-in-the-air moment with Queenie encouraging the sizeable turnout to wave their imaginary glowsticks. Interestingly, the crowd divided down the middle with glamourous pretty ladies to the right and well groomed disco boys to the left. Loving the terrific 'Where Are You Now?' they all united to savour this most wonderfully catchy ditty as already premiered online in various studio and remix incarnations. Meanwhile, 'Premonition' was suitably KYLIE-esque and electrically poptastic while closing number 'No More' was pure gold.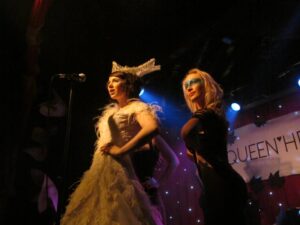 Yes, QUEEN OF HEARTS is a composite of GOLDFRAPP, KYLIE, ANNIE, LITTLE BOOTS and GIRLS ALOUD but she's also her own woman as her charming on-stage banter proved.
A natural comedienne, only she could have got away with making a joke about her dear Queen Mother putting illicit substances into the lovely heart dressed cupcakes that were kindly being offered to guests pre-show!
With a wonderfully choreographed showcase, this is just the start for QUEEN OF HEARTS. All co-written by her Majesty herself, the gathered throng were treated to five exquisite songs that were immediately impressive.
With willing collaborators such as JOHAN AGEBJORN, ERCOLA, DREAMTRAK, DIAMOND CUT and FEAR OF TIGERS among her subjects, everyone will soon want to enter QUEEN OF HEARTS' new wonderland.
---
QUEEN OF HEARTS will be headlining Gold Dust at London's Hoxton Bar & Kitchen on 18th May 2011
JOHAN AGEBJORN & ERCOLA's single 'The Last Day Of Summer' featuring QUEEN OF HEARTS will be released by Paper Bag in May 2011
http://www.iamqueenofhearts.com
https://www.facebook.com/QOHofficial
https://twitter.com/iamqueenofheart
---
Text by Chi Ming Lai
Photos by Richard Price
14th May 2011