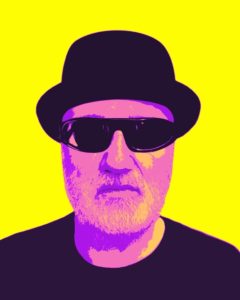 Eberhard Kranemann is a one-time member of KRAFTWERK who later recorded an album 'Fritz Müller Rock' with the legendary Conny Plank.
A graduate of the Dortmund Conservatory, the multi-instrumentalist also worked with NEU! but it was in 1967 while as a member of the band PISSOFF that he met Florian Schneider.
More recently, Kranemann has formed KRAUTWERK with Harald Grosskopf who played drums on Klaus Schulze's 'Moondawn' and recorded a number of albums with Manuel Göttsching as a member of ASHRA.
In a merger of the Schools of Düsseldorf and Berlin, Kranemann and Grosskopf transmit their cosmic sonic visions of today, tomorrow and beyond in an updated take on art school kosmische with a lively and rhythmic self-titled debut album.
Following an enthusiastic talk at the 2017 ELECTRI_CITY_CONFERENCE in Düsseldorf, Eberhard Kranemann kindly chatted about the genesis of KRAUTWERK and his observations on the vibrant post-war German music scene that ultimately impacted the world's musical landscape.
So what is the concept of KRAUTWERK?
There is no concept, we are just two guys who are making music for fun. We did know not each other until one year ago. I heard Harald for the first time at a festival in Sulingen where he was doing a solo performance and I had a performance in another room.
I liked his kind of drumming, he doesn't play natural drums and doesn't use those crazy boom-boom-boom drums from a computer, he plays a special electronic kit with sticks on plates. He doesn't use the pure electronic sounds, he changes them via Ableton with his special effects… they had so much power, I had never heard this before. I thought "I must work with him"
Then, he came into my room… I'm a more experimental musician using wired sounds and he didn't like it! For him, it was too dissonant! So when I telephoned him to suggest working together, he did not want to… but 4 weeks later, he said "OK, we try something"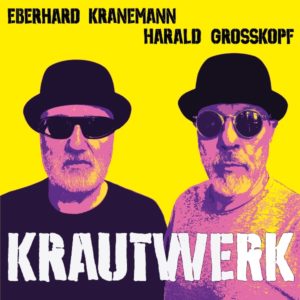 He came into my studio, but I did not tell him before that I'd prepared it to record our whole session professionally. I recorded 40 minutes of what we had played. We had never played together before but this 40 minutes was so great, it was wonderful music.
We made another date 4 weeks later and did 20 more minutes.
So we had 60 minutes in total and this is our first LP, CD and digital download. It was two old guys making music for fun, but then a label heard it and other people liked it very much.
So we did a British tour which was a big success, we will be going to Stockholm and next year, we play in China. People in America want us to go there too.
Both you and Harald Grosskopf have a lot of history in German electronic music, Harald was in ASHRA and released a great solo debut in 'Synthesist', had you been aware of his previous work?
No, I wasn't interested in the Berlin School of Music, for me it was boring, it was just synthesizers going on and on and it was not enough. For myself, I need more power or action.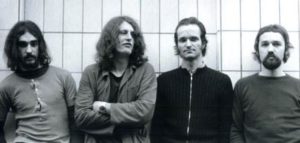 You were in KRAFTWERK?
Me and Florian Schneider were the originators of KRAFTWERK, one year later Herr Hütter came into the band and now he is the only man who makes it exist, he gets a lot of money out of it because he is a businessman.
A band who spends 30 years not making any new music and only the old sh*t comes out every year in new clothing, this is not for me. I must make new music going into the future and when I began this project with Harald, I had the idea of starting at a point 30 years ago when KRAFTWERK stopped making music because when they now play concerts, they don't make music… they stand there like roboters and the music comes programmed from the computer, I do not like this.
When I played in KRAFTWERK in 1971 and the years before, we used techniques between man and machine but there was a lot of freestyle, everyone could play. But they stopped it and did this very cool, reduced music… you can do this if you want, they are very famous for it and they do it very well, but I think my friend Florian left the band he didn't like it anymore. He is a real musician and he wanted to make music, he doesn't want to stand on a stage with the sounds coming from the computer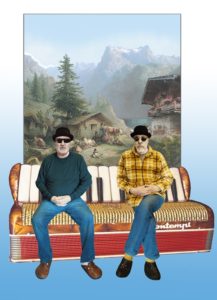 So how do you make technology work for you in KRAUTWERK?
There is a difference between Harald and me; Harald works very much with technology and computers. But I don't do it as much as he does, because I'm more of a traditional musician. When we play live, I play cello, Hawaiian guitar and sing. But I don't tell stories, I use the voice like another instrument and make rhythm with it like "boom-tschak-boom-bah-tschak"… so I sing like a drummer and then Harald comes in with drums.
As Fritz Müller, you worked with the legendary Conny Plank, what was he like?
He was a very important man, for me in the last century, Conny Plank was the most important producer, engineer and mixer in the whole world, THE BEST! He was so great that he even turned down David Bowie and U2. He was very honest, he didn't want to work with them.
He was very clear and only wanted to make music with people he liked… not only liked but loved! There was a lot of love between him and the musicians, it was so wonderful to work with him, he had a good gut feeling about people. I was the person in the background that put him in contact with KRAFTWERK and NEU!
---
ELECTRICITYCLUB.CO.UK gives its sincerest thanks to Eberhard Kranemann
'Krautwerk'
is released by Bureau B in CD, vinyl and digital formats
Eberhard Kranemann and Harald Grosskopf play Kraken Sthlm in Stockholm with FAUST on Friday 17th November 2017
https://www.facebook.com/realsynthesist/
http://www.bureau-b.com/grosskopf_kranemann.php
---
Text and Interview by Chi Ming Lai
14th November 2017