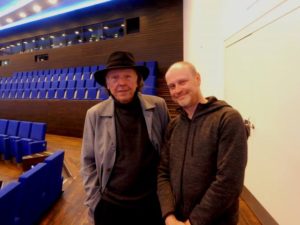 With the ELECTRI_CITY_CONFERENCE now running for its third successive year, 2017's event gathered together another stellar line-up of speakers and performers to celebrate Düsseldorf's standing as the spiritual home of electronic music.
Noted previous participants have included Jean-Michel Jarre, Andy McCluskey, Daniel Miller, Rusty Egan, John Foxx, Mark Reeder, Peter Hook, Stephen Mallinder, Gabi Delgado-Lopez and Michael Rother.
In keeping with the best-selling 'ELECTRI_CITY – The Düsseldorf School of Electronic Music' book by Rudi Esch which got the ball rolling, its ethos is to reflect on the cultural impact of the city, while providing a platform for both new and veteran artists.
While the conference still had its usual international feel, there was a distinct focus closer to home with local heroes such as Robert Görl, Zeus B Held, Eberhard Kranemann, Bodo Staiger and Tommi Stumpff all speaking at the event, while others such as Wolfgang Flür and Ralf Dörper graced the event with their presence.
Proceedings began with a showing of 'Blue Velvet Revisited', an art documentary on the making of the David Lynch film.
German filmmaker Peter Braatz aka Harry Rag spoke about how he captured the psyche of the maverick director and the behind the scenes tensions on set as a young intern on the iconic movie.
Following on, ELECTRICITYCLUB.CO.UK chaired a panel discussion with renowned music producer Zeus B Held and one-time GARY NUMAN band member Chris Payne, whose musical lives changed when they were introduced to synthesizers. While Held became a member of the German prog rockers BIRTH CONTROL, Payne first became acquainted with German music at music college via FAUST, while he was also a fan of English band VAN DER GRAAF GENERATOR who were also a favourite of Paul Humphreys from OMD.
Although Held wanted to make a cold electronic album with GINA X PERFORMANCE, he found that the art student's eroticism countered the coldness which in turn, created something completely new. For Payne, he admitted it took him some time to get over his original perception that synthesizers were cold, but Numan possessed a strong creative vision that used techniques that could not be learnt at music college, like using diminished 5th chords that suited the dystopian aura of work.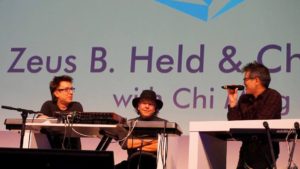 After GINA X PERFORMANCE, Held attended a 1980 Numan gig in Düsseldorf which Payne was a part of. The pair would cross paths again via DEAD OR ALIVE.
In a lively and light hearted chat, the pair recalled their experience of working with their larger-than-life frontman Pete Burns who passed away 12 months ago.
In the studio, Held said "I got on fine with Pete because his mother was German, so we had a few common words we could use. He had a clear vision of what he wanted and the emotional thing he was aiming at. It was crazy, we used four microphones because he sings very loud!"
Meanwhile as live musical director, Payne remembered: "We were rehearsing in Liverpool in 1985 for the 'Youthquake' tour, none of the backing singers had arrived, it was just myself and the band making sure everything was in place. Pete was actually quite shy to talk to and he didn't say anything for the first few days apart from hello… then all of a sudden while we were playing, I heard this VOICE! I looked round and it was Pete who was coming over clearly, but he had no microphone! We could hear him over our racket! It was absolutely extraordinary, I've never ever heard anything like it! Although he was insecure, he was a great performer!"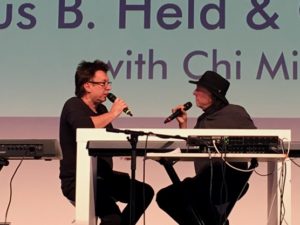 What was particularly striking about the DEAD OR ALIVE material produced by Zeus B Held was that it successfully integrated sequencers and programmed drums with live bass guitar, percussion and brass as on the cover of 'That's The Way (I Like It)' – "It was quite risky and we had to squeeze the brass in" recalled Held, "but Pete wanted this stabbing brass in and we were lucky as we had some good guys, THE KICK HORNS, and explored the spaces we could use them and made sure the sequences weren't too much on the one to get a feeling of rhythm"
The other artist both Payne and Held have a shared history is of course Gary Numan. Payne was one of the musicians on 'The Pleasure Principle' in 1979 and recalled "We all played together, we had drums, we had a bassist and myself and Gary on keyboards… there were overdubs but the fundamentals were recorded together".
From it, 'Cars' became a UK No1 and was remixed in 1987 by Held who remembered "I had my new secret weapon called the Fairlight, so I synched up my points and put in car noises. It was also the week the Roland D50 came out so with this and the multi-tracks of 'Cars', it was a dream job… I beefed up the drums a bit and I had fun". With both Held and Payne now in their 60s, their reinvigorated enthusiasm for electronic music and playing live in their respective projects DREAM CONTROL and ELECTRONIC CIRCUS are proof that age is no barrier to continuing musical creativity.
Despite being from London and  almost unknown in her home country, Anne Clark became a cult favourite within Germany's vibrant alternative music scene. Growing up in South London, her aim was to put music to poetry and punk opened the doors for her. She said: "the punk thing exploded culturally in everything including comedy, theatre, dance and literature… the things that came after are still resonating"
On her love of electronic music, it was the energy that attracted her, particularly Giorgio Moroder and 'I Feel Love'. Although Clark has almost near anonymity in the UK, key figures such as John Foxx and Mark Reeder have worked on her music. On why her work has been more appreciated in Germany, she said: "I don't know, maybe in mainland Europe, people are much more open minded", although Clark still remembers there was disbelief when 'Sleeper In Metropolis' and 'Our Darkness' became German hits as she "didn't fit into the pop star mould".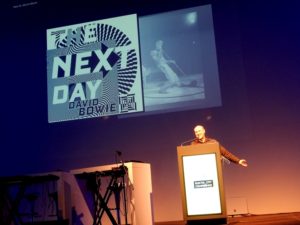 The first day of talks was concluded with an excellent presentation by Jonathan Barnbrook entitled 'Designing Bowie'; "It sounded like someone doing an impression of David Bowie" remembered the Grammy award winner on when the much missed legend phoned Barnbrook about becoming his graphic designer, after seeing his work on a Damien Hirst monograph. He found Bowie to be a charming man who made the process of working with him really enjoyable and fun; this in turn got the best out of Barnbrook.
Referring to designers such as Peter Saville, Malcolm Garrett and Vaughan Oliver, Barnbrook said: "when the magic of the graphics works, it makes something better of the album's music and the artist, and it's beyond marketing and something almost spiritual"
On the polarising artwork for 'The Next Day' which was the "Heroes" album sleeve with a white square over the top, Barnbrook said it questioned why a new image was expected of an artist every time they released an album, especially with an artist like Bowie who was often shackled by his past.
Also as Bowie hadn't done an album for 10 years, it was a direct reference to 'Where Are We Now?', the lead single from the album. So the artwork effectively subverted Bowie's whole history by defacing it.
Although the process took six months to get to the white square, various studies had been carried out using the 'Aladdin Sane' and Pin Ups' sleeves, as well an old photo of Bowie performing in New York with a particularly isolated look.
Of course, the artwork was not entirely embraced but with good humour, Barnbrook gamely showed screen captures of some of the more critical responses he received. One was "@barnbrook the Bowie cover? come on, it really is bollocks right?", but maybe this was actually referring to DEPECHE MODE's recent live reinterpretation of "Heroes"? 😉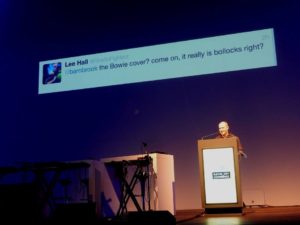 But 'The Next Day' artwork became a viral marketing sensation with the public, something that had not been planned at all, with cats inevitably figuring later on. While the passing of Bowie in January 2016 inevitably lingered over the follow-up 'Blackstar', its graphics and various 'secrets' were again an internet talking point.
"It's a system and not an album cover" reflected Barnbrook, referring to how modern visual representation of albums ranges from iTunes, CD and vinyl to posters and advertising boards.
Remembering a question the young Barnbrook asked William S Burroughs about the future of typography, the Texan replied "it's between Egyptian hieroglyphics and airport pictograms…" – inadvertently, the postmodernist writer had predicted emoticons!
So this was discussed with Bowie and the idea for using the Unicode U+2605 pictogram came into being, with the eventual black-on-black vinyl edition of 'Blackstar' becoming a much talked about art piece on its own. Barnbrook's fascinating insight into his work proved to be one of the highlights of the conference.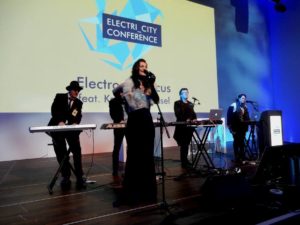 The musical programme was opened by ELECTRONIC CIRCUS, the combo led by Chris Payne featuring his wife Dominique Hemard plus college buddies Nigel Bates and Mike Stewart.
The emotive gallop of 'The Trapeze' and the midlife reflection of 'Roundabout' provided a captivating start, with Hemard providing her sweetly naïve Gallic voix. Meanwhile, with Trump and Kim treating the 38th Parrallel like a school playground, the frantic 'Direct Lines' was a stark reminder that nuclear war is still a real threat
Mid-set, Payne remained on stage for the arrival of Katja von Kassel to showcase three magnificent songs that the pair had co-written over the last few months. 'Someday' captured the beautiful melancholy of Billy Mackenzie while 'Radio Symphony' exuded pure electro Weimar cabaret.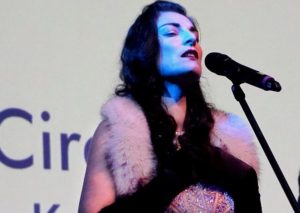 A new song 'Walking In West Berlin' gave an indication of what is to come on Fraulein von Kassel's new EP, before the chanteuse and the band swapped positions again for some 'Space Invaders'.
Returning to the stage to join ELECTRONIC CIRCUS for their final number, those present were treated to a wonderful synth laden version of 'Fade To Grey', the German No1 for VISAGE which Payne co-wrote with Billy Currie and Midge Ure.
CREEPS gave a suitably mysterious performance as per their name, the trio donning masks with hints of 'Twin Peaks' within their carefully thought out presentation. However, the illusion was tempered slightly when they thanked the audience at the end, rather than moodily walking off stage which would have suited their aura better.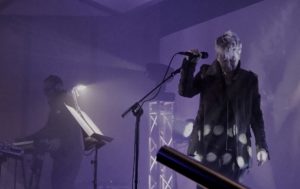 A good proportion of the crowd were gathered for Anne Clark to savour her stark observations on the darker side of the human condition. Beginning with dramatic 'Sleeper In Metropolis', she kept her audience entranced. With electronic backing provided by Herr B, Clark has said her future live performances will be more selective, but she gave a confident performance which more than satisfied her enthusiastic fans, especailly when she encored with her big German hit 'Our Darkness'.
The second day of the ELECTRI_CITY_CONFERENCE 2017 had a more Germanic flavour and Dr Uwe Schütte, who compiled the academic guide 'German Pop Music', addressed the conference on KRAFTWERK who all but put the city of Düsseldorf on the world map, while Tommi Stumpff recollected the development of electronic body music with journalist Ecke Stieg.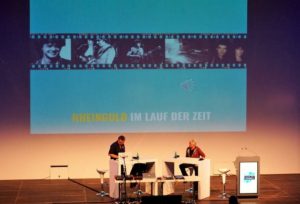 Bodo Staiger from RHEINGOLD made a rare appearance to talk about his career with Rudi Esch; the band never performed live despite the popularity of songs such as 'Fluss' and 'Dreiklangdimensionen' so have almost become lost whenever the history of German pop is discussed.
RHEINGOLD are certainly under rated and the excellent new album 'Im Laut Der Zeit' is a fine return after an absence of original material for many years.
With questions from Jochen Oberlack of Bellerophon Records, the enthusiasm of original KRAFTWERK member and multi-instrumentalist Eberhard Kranemann aka Fritz Müller brought a smile to proceedings. Talking about his new project KRAUTWERK with Harald Grosskopf, he enthused about taking their updated art school kosmische to places as far flung as China. Inspired by the lack of new material emerging from his former colleagues at Kling Klang, the talkative Kranemann certainly has the zest of a man half his age.
Following a presentation of visual and audio interpretations of DAF under the title of 'Der Räuber Ist Der Prinz' by students from Der Hochschule in Düsseldorf, it was fitting that the focus of the conference moved towards the duo who formed around the scene at the city's punk club Die Ratinger Hof.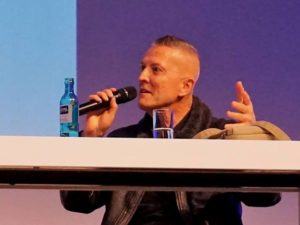 With the release of the 'Das Ist DAF' boxed set on Grönland Records, the profile of the EBM trailblazers is in the ascendancy again. While the music of DAF was aggressive by nature, drummer Robert Görl smiled a lot and revealed an endearing sense of humour during his chat with Rudi Esch.
This was especially evident when pretty photos of himself and partner Gabi Delgado-Lopez, that wouldn't have looked out of place in Smash Hits or Bravo, were projected on the big screen.
With a biography on the duo written by Esch as a companion to the boxed set on the horizon plus more new material too, new generations of electronic music enthusiasts have the opportunity to discover DAF.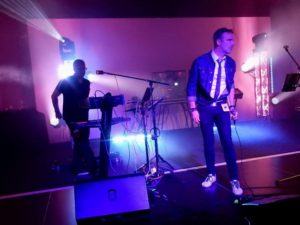 ARCTIC SUNRISE began the musical leg of the second day with their enjoyable brand of dark synthpop. Songs like 'Tell The Truth' and 'When Traces End' recalled CAMOUFLAGE and particularly DE/VISION whose singer Steffen Keth has clearly influenced the vocal style of Torsten Verlinden.
While mostly remaining behind his rack of keyboards, Steve Baltes dusted off a Roland GR77 bass guitar synth to use on 'Silent Tears'.
In the absence of his DAF partner, Robert Görl bravely performed along to a selection of pre-laid backing tracks comprising of material from his 'Glücksritter' live only project. Musically close to DAF but without the live drums, the material was laced with amusingly deviant lyrics while there was a techno edge in keeping with his more recent and largely instrumental output. However no songs from his brilliant solo debut 'Night Full Of Tension' were aired, but Görl's uptempo set was enjoyable with songs like 'Schieb Das Kind' and 'U.S. Acidboys'.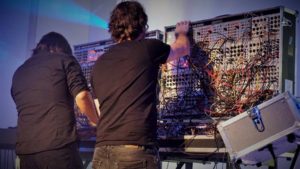 Modular trance duo STRÖME provided the musical surprise of the weekend. With their magnificent tandem Doepfer A100 systems in full view, the pairing of Mario Schönhofer and Tobi Weber kept the audience's attention, with their combination of pulsing electronics and moderate but energetic synthesized rhythms showing how modern EDM should be done.
And so ended another fabulous weekend with a friendly, intelligent cultured atmosphere that held plenty of insight and passion; the 2018 event promises a new central location and a big name speaker as the ELECTRI_CITY_CONFERENCE continues to develop and build its reputation even further.
---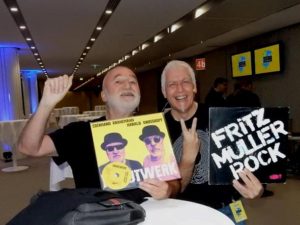 ELECTRICITYCLUB.CO.UK gives its grateful thanks to Rudi Esch and Carsten Siewert
Next year's ELECTRI_CITY_CONFERENCE will take place on 12th-13th October 2018
http://www.electricity-conference.com/de
https://www.facebook.com/ELECTRICITY.Conference/
---
Text by Chi Ming Lai
Photos by Chi Ming Lai, Kerstin Key and Anja Deerberg
6th November 2017