DEAD OR ALIVE frontman Pete Burns has sadly passed away from a heart attack, aged 57.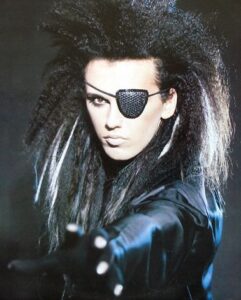 His manager and one-time band mate Steve Coy said: "It is with the greatest sadness that we have to break the tragic news that our beloved Pete Burns of (Dead Or Alive) died suddenly yesterday of a massive cardiac arrest. All of his family and friends are devastated by the loss of our special star".
While better known in more recent years for his appearances on 'Celebrity Big Brother' and reality shows about the complications of his botched cosmetic surgery, he first became known as a flamboyant personality from the Liverpool post-punk scene based around Eric's, the club on Mathew Street which spawned acts such as ECHO & THE BUNNYMEN, THE TEARDROP EXPLODES, OMD, WAH! and FRANKIE GOES TO HOLLYWOOD.
Born in Bebington on The Wirral, Burns worked at Probe Records, a renowned meeting place for local musicians on the Liverpool scene. His first bands were MYSTERY GIRLS and the proto-Goth NIGHTMARES IN WAX; it was the latter that morphed into DEAD OR ALIVE and with guitarist Wayne Hussey (who was later to join SISTERS OF MERCY) as one of its members, the group recorded a number of critically acclaimed, independently released singles including 'I'm Falling' and 'The Stranger'.
With the music came Burns' androgynous, ever-changing image and a sharp Merseyside wit. But with the emergence of HI-NRG in the club scene, Burns wanted to pursue a more electronic disco based sound. Signing to Epic Records in 1983, their Zeus B Held produced major label debut single was the wonderfully aggressive Goth dance hybrid of 'Misty Circles'.
With the classic line-up of Pete Burns, Mike Percy, Tim Lever and Steve Coy, DEAD OR ALIVE came close to cracking the UK Top 40 with the subsequent singles 'What I Want' and 'I'd Do Anything'. A cover of KC & THE SUNSHINE BAND's 'That's the Way (I Like It)' reached No22 and although the eventual album 'Sophisticated Boom Boom' was a disappointment, it did feature the brilliant Morrissey meets ABBA eloquence of 'Far Too Hard'.
At the start of 1984, DEAD OR ALIVE looked like they'd missed the boat when their rivals FRANKIE GOES TO HOLLYWOOD reached No1 with 'Relax'; "I was so jealous" Burns later told the BBC's 'Rock Family Trees' documentary series. Inspired by the success of 'You Think You're A Man' by transvestite starlet DIVINE, Burns secured the services of the song's then unknown production team of Stock, Aitken & Waterman to work on DEAD OR ALIVE's next single 'You Spin Me Round (Like A Record)'.
Released at the end of 1984, this catchy tune with its booming performance from Burns was not an instant hit. Eventually it reached No1 in March 1985. The song went on to become a huge international hit and was later sung by Adam Sandler's lead character in the 1998 movie 'The Wedding Singer'.
DEAD OR ALIVE's second album 'Youthquake' proved to be a mixed bag too, but included another hit single 'In Too Deep' and the magnificent eight minute epic 'It's Been A Long Time' as its closer. The 1985 concert tour featured Numan band members Chris Payne and RRussell Bell in the live line-up.
Payne said in tribute: "I remember him as being a very pleasant, eloquent and actually quite a reserved character. But on stage he turned into a colossus! And good grief did he have a voice on him. I remember one of my first days rehearsing with the band in Liverpool and he sang just next to my keyboard set up and I looked up and realised he wasn't singing into the microphone. We could still hear him above the noise!"
There were further hit singles like 'Something In My House' and a chart album in the self-explanatory 'Mad Bad & Dangerous To Know' in 1987, although DEAD OR ALIVE were suffering from being part of Stock, Aitken & Waterman's Hit Factory and their UK popularity began to wane.
By 1989, DEAD OR ALIVE had slimmed down to a duo of Burns and Coy but scored a No1 with 'Turn Around' in Japan, a territory where they continued to be successful for a number of years. 1995 saw the release of 'Nukleopatra' including a number of songs co-written with one-time JOHN FOXX and FRANKIE GOES TO HOLLYWOOD live keyboardist Peter Oxendale, but it was notable for featuring cover versions of DAVID BOWIE's 'Rebel Rebel' and BLONDIE's 'Picture This'.
Despite his decreased profile in the UK, Burns was invited by PET SHOP BOYS to collaborate on a song entitled 'Jack & Jill Party' which was released a download single in 2004. However as time went on, Burns became more known for his celebrity status rather than for music and although he had recently worked with Pete Waterman, he was declared bankrupt in December 2014.
A lavish 19 disc DEAD OR ALIVE boxed set 'Sophisticated Boom Box MMXVI' is scheduled for release by Edsel on 28th October 2016. It will now become a fitting epitaph to a colourful character who subverted the music scene with his entertaining, if occasionally vicious take on society.
---
Text by Chi Ming Lai
24th October 2016