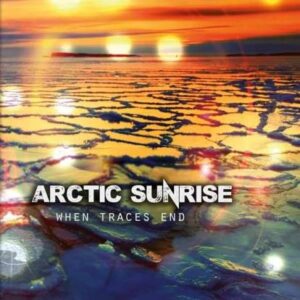 Citing influences from DEPECHE MODE, ULTRAVOX, HEAVEN 17, VISAGE, BLANCMANGE and other gems of the electronica era, Germany's ARCTIC SUNRISE are Torsten Verlinden on vocals and Steve Baltes in charge of production.
Having accomplished one album 'A Smarter Enemy' already plus a few EPs, the duo have already established themselves within the followers of synthpop beats, especially within the devoted fans of DE/VISION, due to the obvious sound similarities between the bands.
Indeed, taking the contemporary approach to otherwise classic elements of synth play, Baltes is capable of creating a decent collection of tunes. 'When Traces End'
follows its predecessor with a bunch of elaborate sound manipulations, and the inclusion of few dance numbers further enriches the outing.
Although the unavoidable DE/VISION comparison cannot be ignored, specifically on 'Tell The Truth' or 'Forever Yours'; the former reminiscent of Keth/Adam's works on 'Two', it has to be said that both songs carry a powerful concoction of atmosphere and clever treatment of sound.
'Let It Rain' provides further connection to the D/V boys, with the exception of enhanced vocal techniques, while 'Changing' is deliciously synth laden with a perfect bass line. The title track evokes positive emotions thanks to ERASURE-esque background noises, wrapped around irresistible sound treatments and fresh vocals by Verlinden.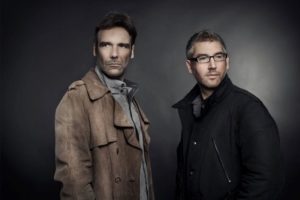 'Silent Tears' is a mix of vintage SIMPLE MINDS and THE CURE, with a pinch of grunge-laced tonality on the lead vocal. The foundation for the track is built on Roland System 100M arpeggios with bass guitar played by Verlinden himself. The slower paced 'Mine Forever' shines with simplicity of the production and 'Over Me', sounding like the works of AND ONE, only a bit dirtier, is wholesome and polished.
The closing 'Your Eyes' wraps up the release with classic HUMAN LEAGUE sound effects combined with those modern noises made by APOPTYGMA BERZERK on their latest long player. All that, plus poignant lyrics and a complex musicality, add up to the most notable track on the opus.
Even with the very obvious influences from their countrymen DE/VISION, ARCTIC SUNRISE definitely have a lot of potential to shine in their own light. The second album syndrome doesn't apply here and the duo certainly did their homework.
It is clear that the LP was recorded with the help of many a vintage synthesiser and drum machine, and Baltes isn't a stranger to capable productions.
'When Traces End' is an accomplished body of work, worth a repeat listen.
---
'When Traces End'
is released by Echozone in CD and digital formats
https://www.facebook.com/wearearcticsunrise/
---
Text by Monika Izabela Trigwell with thanks to Simon Worboys
30th October 2016